BEFORE YOU GO...
Check how Shufti Pro can verify your customers within seconds
Request Demo
No thanks
Due to the Coronavirus Pandemic, many businesses are grounded or are enforced to work from home. As an imperative to protect employees from the harm of Coronavirus and as a government mandate, most if not all employees are working from home. But businesses need to protect not only their employees but their organizations as well. Now,  what can you do to protect your company from harm? Are you concerned your systems credentials may fall into the wrong hands in the depths of the dark web? Someone posing as a senior manager can email your corporate controller to send money to a fake account. As employees are working from home using different servers can attract cybercriminals and end up losing precious data. The best-prepared companies can be vulnerable to cyberattacks as data hacks are everywhere. Email phishing, SIM cloning, and social engineering are constant threats that are urging businesses to take measures for cybersecurity. These types of cyberattacks have escalated dramatically in recent days due to coronavirus pandemic making your business even more vulnerable. 
What is Identity Verification for WFH Policy?
Identity verification solutions help businesses comply with Anti-Money Laundering (AML) and Know Your Customer (KYC) regulations. To combat the risk of fraud and to authenticate an identity while onboarding these solutions play a vital role. We are now living in a digital sphere, so knowing who we are dealing with is an important but an uphill task. Identity verification ensures that the user or customer information is real. It is to know who we are dealing with. But the point to ponder on is that if the staff is working from their homes how can we properly secure the company from fake identities causing harm to businesses? The answer lies in deploying digital ID verification solutions that provide contactless technology to conveniently carry out cumbersome procedures of authenticating identity in real-time. This technology provides a remote solution for verifying and screening out the fraudsters before they can cause any harm to businesses. 
Challenges Faced in Working Remotely:
When you are in offices, you know who is with you in a meeting and with whom you are sharing business information. You are always sure of each chat and everyone who is around you. But this is not the case when working remotely as the teams are flung far away and you do not really know to whom you have just given the keys to your kingdom. You are exposed to more cyber attacks now. As the other person is not sitting in front of you so cannot be sure of anything right? But Identity verification solutions have answers to such uncertainty.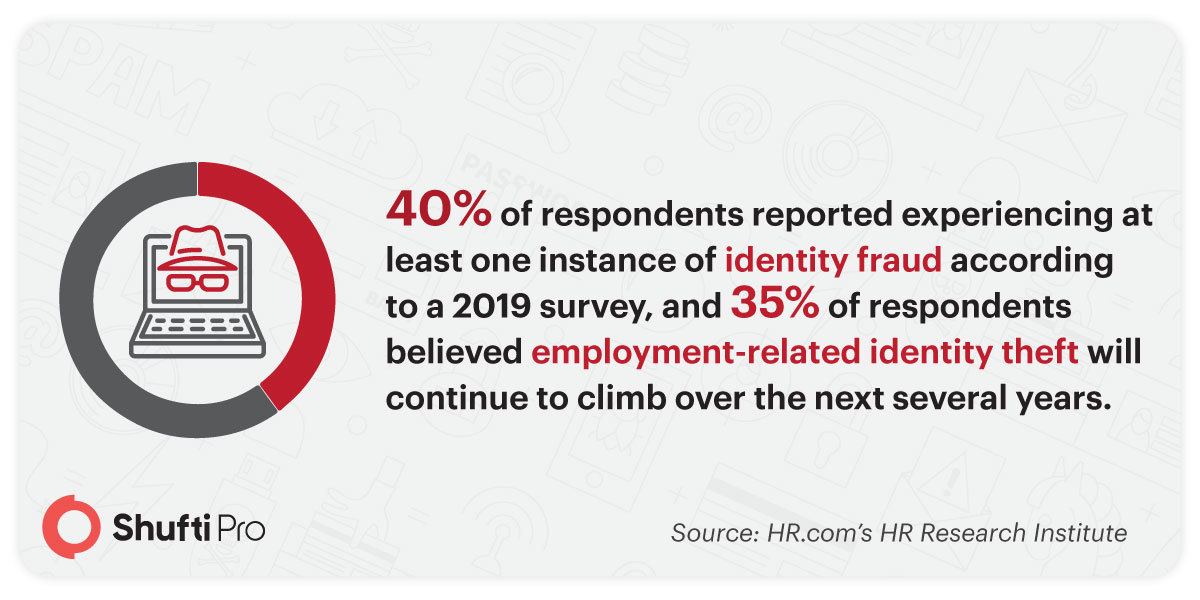 Know Your Employees Remotely
Identity verification solutions help you offer an immediate biometric identification and authentication service that can harden your WFH process. Employees can quickly capture a selfie and upload a government ID to verify identity. So you can gain assurance that the employee who attended the meeting with you is the same as the one who is working from afar.
Drive Identity Certainty Throughout your WFH Processes
You can always identify anyone with digital solutions by using biometric technology. With a face verification solution using a 3D liveness detection feature, you can authenticate that the real identity is present from the other side.  Using these solutions, any corporate transaction you deem of high-value or high-risk can be monitored to comply with AML regulations.
Know your Candidate for Remote Hiring:
Due to maintaining social distancing in this pandemic season, even new hirings are done online. It is obviously risky to hire someone online and trust him with all the business matters right? So digital identity verification solutions along with document verification cover this stream as well. For distance working opportunities, companies have to hire individuals without directly meeting them beforehand. They are being interviewed via Skype or a telephone call and hired based on what they present. The provided documents can be fake and the person applying for a position may be a cybercriminal with no good intentions for your business.  So during onboarding them their documents need to be verified to know they are original using digital document verification solutions. 
To get hired, candidates may present forged documentation, depicting fake certifications, so to curb these issues, digital identity verification becomes essential. By using OCR technology the data can be extracted from documents and verified using authentic techniques. Furthermore, if the potential employee is a scammer, their identity documents may be counterfeit, or worse, stolen. So to combat such risks and to maintain social distancing digital solutions play a vital role.  It is essential to catch the suspects before they can posit any harm to the businesses hiring them. 
Read Also: Employees' Digital Identity Verification for Remote Hiring
Digital Identity Certainty With No Integration
Without any complex integration or costly hardware, digital identity solutions assurance can be at your fingertips in minutes. That's all it takes to drive identity certainty across your WFH processes and provide increased assurance to your business during these uncertain times. Facial verification and pattern recognition ensures that the image on the document and the original person's face match. Even to hire new employees and remote workers in any part of the world digital ID verification solutions can reveal the true identity of an employee with the help of an ID card but it can also authenticate digital identity with the help of driving licenses and passports as well. Online ID verification is done in real-time so that no time is lost in verifying the true identity of an employee.
To conclude, in order to contain viruses and to fight back fraudsters while working from afar it is needed more than ever to have a sound identity verification solution. By knowing who you are dealing with it becomes a lot easier to curb frauds. You can always be sure of who you're interacting online only if you have stringent measures to authenticate the identity.