BEFORE YOU GO...
Check how Shufti Pro can verify your customers within seconds
Request Demo
No thanks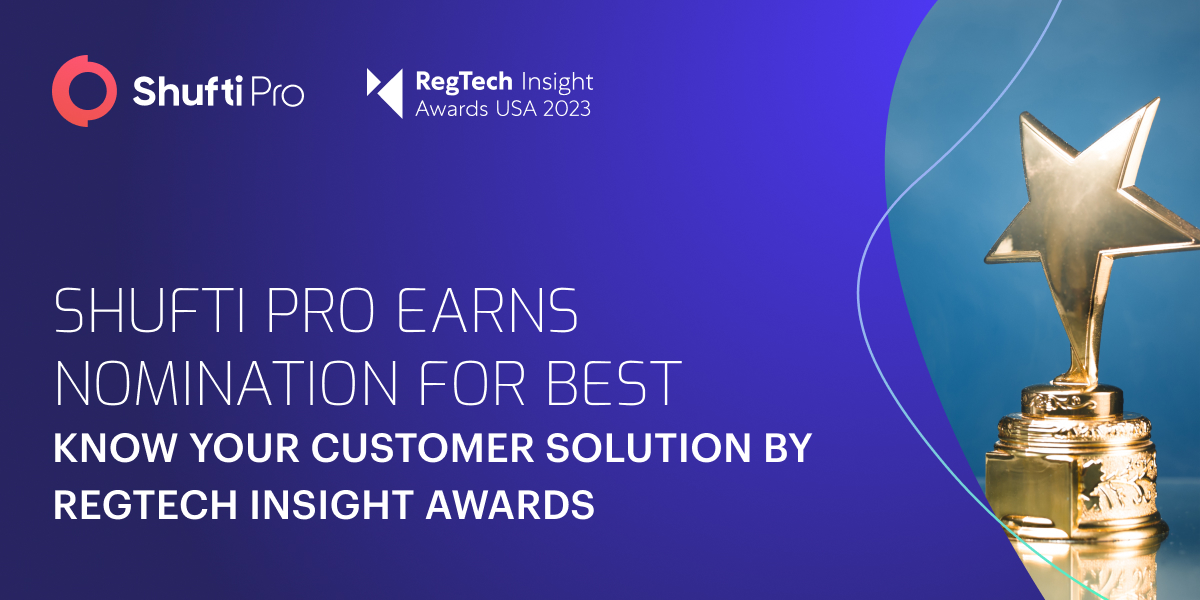 Shufti Pro Earns Nomination for Best Know Your Customer Solution by RegTech Insight Awards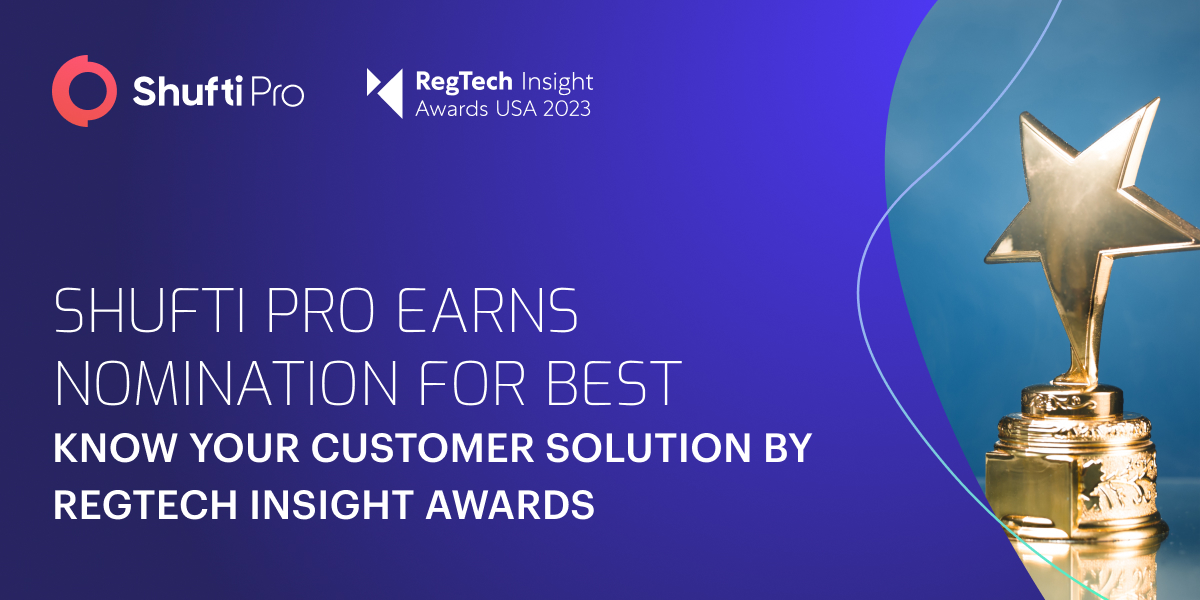 Initially Published on PR Log
London, UK – August 25, 2023 – Shufti Pro, a leading KYC solution provider, has been nominated by RegTech Insight Awards 2023 under the category of "Best Know Your Customer Solution." This nomination represents the company's dedication to providing innovative and advanced KYC solutions to help global organisations fight ID fraud and increase their online security.
RegTech Insight is an independent online publication that focuses on providing knowledge regarding regulatory technology. Their annual award ceremony honours RegTech service providers operational in Banking, Crypto, Gaming, Forex, eCommerce Healthcare, and Insurance for providing exceptional and reliable regulatory technology solutions.
Users can show their support by voting for Shufti Pro in "Best Know Your Customer Solution," here. Voting lines will close at 5 pm (UK) on September 15, 2023. The award's winner will be announced at a celebrity drinks reception that is scheduled to be held on November 16, 2023
"We are honoured to be nominated by the RegTech Insight Awards under the "Best Know Your Customer Solution" category. Shufti Pro's focus is to combat ID thefts and facial spoofing attacks through our AI-driven ID verification services. This nomination has motivated the Shufti Pro team to work more diligently in the KYC journey," said Victor Fredung, CEO of Shufti Pro.
Shufti Pro's AI-driven KYC services assist businesses in fighting ID fraud in Banking, Crypto, RegTech, Gambling, and many other industries requiring identity verification services. The company claims to provide IDV solutions with up to a 99.77% accuracy rate in less than 30 seconds. Shufti Pro allows global businesses to comply with the latest IDV regulations and empowers them by providing flexible and innovative KYC solutions.
About Shufti Pro
Shufti Pro is a leading IDV service provider offering KYC, KYB, KYI, AML, biometric verification, and OCR solutions, accelerating trust worldwide. It has six international offices and has launched 17 complimentary IDV products and solutions since its inception in 2017. With the ability to automatically and securely verify over 10,000 ID documents in more than 150+ languages, Shufti Pro proudly serves customers in 230+ countries and territories.
For more information, please contact:
Paul Keene
Snr. Digital Marketing Manager | Shufti Pro
[email protected]
+44 020 3435 6498
Market Pro
Marketing Partner | Shufti Pro
[email protected]