BEFORE YOU GO...
Check how Shufti Pro can verify your customers within seconds
Request Demo
No thanks
With the COVID-19 pandemic bringing challenges every day for businesses, the rate of identity fraud has significantly increased. Furthermore, the realisation of Brexit is another major concern for businesses in the UK and EU. The rapidly changing corporate ecosystem requires robust KYC solutions that can help businesses in fighting fraud, complying with rigid KYC regulations and onboarding legit customers. However, the pandemic has raised many concerns for businesses regarding KYC. We receive several queries about KYC identity verification and to clear doubts, here are the top five questions regarding KYC compliance that can help you. 
What is KYC Compliance?
KYC or Know Your Customer compliance refers to a set of regulations and systems that assist businesses in verifying the identities of customers during onboarding. KYC allows companies to combat fraudulent activities and save non-compliance penalties. This system incorporates document and face verification checks to ensure the legitimacy of customers.
Top 5 Questions about KYC Compliance
According to our co-founder and CTO, Shahid Hanif, here are the top five questions about KYC compliance that must be addressed. 
Criminal Activities Increased During the Pandemic. How to Combat Fraudsters Effectively?
The pandemic locked everyone at home and the finance sector became the target of fraudsters to fulfil their  illegal activities. Surprisingly, the Global Identity Fraud Report 2020 from Shufti Pro identified a 3.36% increase in identity fraud and the finance industry experienced a significant rise in criminal activities. In the face of the COVID-19 pandemic, FATF and various regulatory authorities issued guidelines on how to fight criminal activities effectively. 
The increased utilisation of digital methods of operations resulted in ease for businesses and customers and also brought a spike in fraudulent attempts. As per the new guidelines, digital identity verification or a non-face-to-face identity authentication system can help. With digital KYC, companies can effectively combat fraudsters and onboard customers in real-time.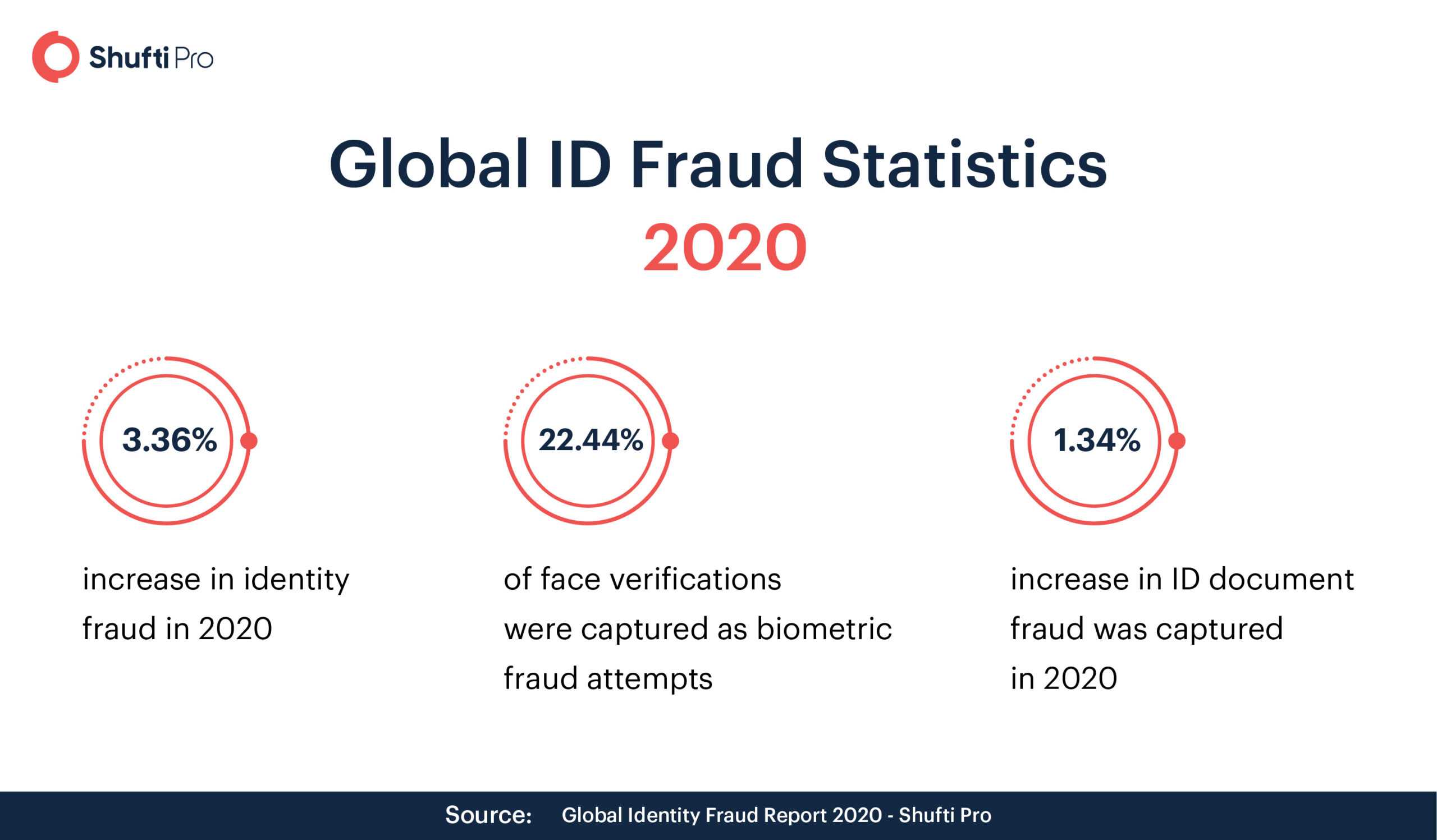 Ongoing KYC. Why Do Businesses Need it Now More than Ever?
Businesses nowadays need a more robust solution that can verify the identities of customers not just once but whenever the company wants. In simpler words, an ongoing or perpetual KYC will be the new normal soon because fraudsters have developed sophisticated techniques to surpass identity verification checks. 
According to a PwC report, companies reported a 40% rise in cyber attacks within the first week of lockdown. Criminal activities have increased ever since. To control the rising fraudulent activities, businesses are in dire need of an ongoing KYC system that can verify every customer; existing and new. Moreover, this can help in preventing false chargebacks, account takeover fraud and identity theft. 
Suggested: NFC – Building New Grounds for Identity Verification 
What is the Post-Brexit Situation for Businesses in the UK and EU?
After years of debate, the United Kingdom is no longer a part of the European Union. However, the post-Brexit situation has greatly impacted businesses. UK-based companies who want to conduct business activities in the EU have to obtain a license before operating. This requirement is more specifically related to financial institutions. 
Next, is the difference in regulatory requirements in both regions. The corporate world has to abide by all the KYC regulations in each region to ensure compliance. 
Customer Onboarding is a Challenge Right Now. Is Video KYC the Best Option?
Digitisation in the customer onboarding process can be seen now more than ever and digital onboarding has become an important part of businesses. There are numerous options for remote customer onboarding but it is the first time that the world is experiencing this level of automation so, not every option available is reliable. After several challenges, video KYC has been accepted as the best option for digital or remote onboarding. 
Video KYC provides a more personalised and real-time experience. A live video call between the KYC expert and the end-user ensures legitimate onboarding in a minute or two. Apart from the ease of onboarding and acquiring more customers, video-based KYC increases the security of the business and proves to be beneficial while screening high-risk entities. 
What Makes KYC the Best Solution Amid this Turbulent Time?
The KYC solution has several features or unique attributes that make it the best option to fight fraudsters amid this turbulent time. Here are some of these characteristics that you must consider while choosing KYC in 2021 and beyond. 
A robust solution that can identify fraud in no time

Reliable and highly accurate service that leaves no chance for fraudsters to surpass ID checks

Globally acclaimed service so that your business can keep ethnicity issues at bay and allow you to comply with multiple regulations without hassles 

A solution that is user-friendly and can be used on the web as well as mobile

What Makes Shufti Pro the Most Viable Choice?
Shufti Pro has been serving many industries for more than three years and assisting thousands of businesses in their fight against identity fraud. Shufti Pro employs thousands of artificial intelligence models to increase the robustness of the service and ensure that merchants onboard legit customers only. 
The Know Your Customer (KYC) identity verification service has the following checks that provide 98.67% accuracy of the validation results within 30 to 60 seconds. 
Document Verification: The government-issued ID document (ID card, passport, credit/debit cards, or driving license) is verified for forgery and tampering. Certain AI-driven checks are performed that authenticate the rainbow prints, folded/crumpled edges and other fraud attempts. Next, our OCR technology extracts all data from these documents for verification. 
Face Verification: A selfie is obtained and matched against the image on the government-issued ID document submitted previously. This stage ensures that fraudsters are not making any spoof attempts to dodge biometrics. 
Consent Verification: Consent verification checks let businesses detect the live presence of the end-user. Here, the customer has to submit a handwritten or typed customised note to ensure liveness.    
Address Verification: A secondary identity document or Proof of Address (POA) is required for the purpose. The address on the ID document (for document verification) is cross-matched against the address on the secondary document. 
The KYC service from Shufti Pro is an all-in-one solution for businesses enabling them to combat fraudsters, comply with the KYC regulations and onboard customers in real-time. 
You can find out more about Know Your Customer service from our experts.