BEFORE YOU GO...
Check how Shufti Pro can verify your customers within seconds
Request Demo
No thanks
One might be good at identifying faces. People find it a cinch to recognise a friend's or family member's face. This is because they are familiar with their looks — eyes, mouth, nose. That's how face verification technology works but on an algorithmic scale.
Where one sees a face, the recognition service sees data. Many people are aware of how face recognition technology works. However, many individuals don't know how it gets the job done— verification. It's not only Tech experts who are discussing the potential of this technology; human rights advocates and politicians are also examining its features. It is wise to stay informed about the technology to make businesses free from fraud.  
What is Facial Recognition?
Face verification uses AI algorithms to authenticate customers' faces by cross-matching them with the image on their identity document. It reduces the probability of spoof attacks, deep fakes, reply attacks, and 2D and 3D face masks during client onboarding. Face verification not only makes businesses free from fraud but also makes them compliant with KYC regulations.  
Long gone are the days when face recognition was the only concept of sci-fiction movies. With the rising number of identity and data theft cases, verification services have been widely adopted by businesses across the globe.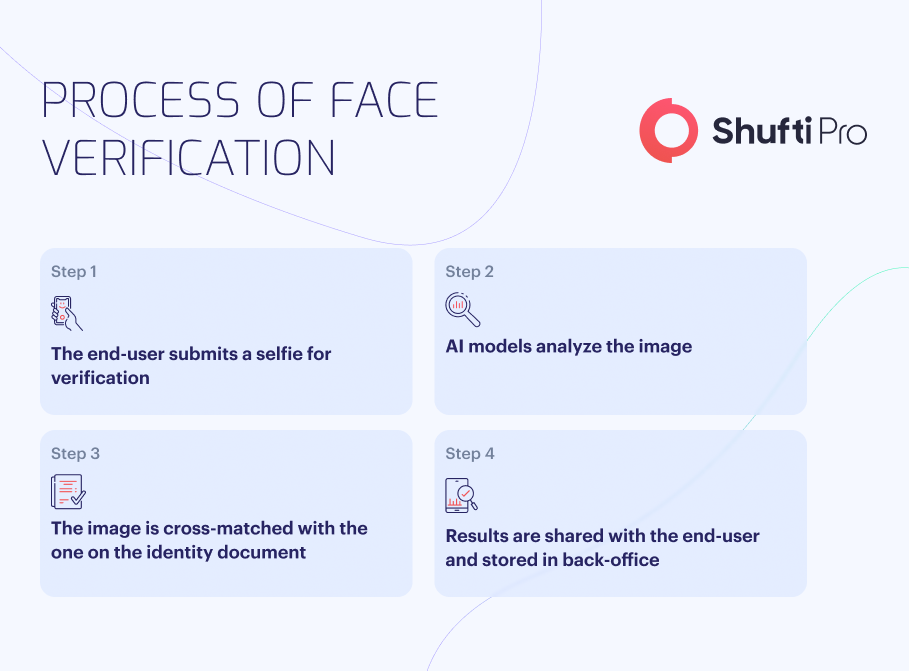 Features of Face Recognition Online
Besides just verifying individuals' authenticity, face verification also has some other features that a few people are aware of. Thus, before deploying this advanced biometric technology, businesses should know what it has in store for them. 
People have privacy and ethical concerns regarding face verification, but its benefits outweigh the two.  Here is how an AI face recognition service is a great bet in this age of digitisation.
 Suggested Read: AI face recognition for total automation
1. Facial Recognition Can also Identify Objects
Face verification technology uses more versatile tools than an individual can think of. It is not only restricted to recognising people but can detect objects too. This means that algorithms can be taught to identify and categorise things such as colours, trees, cars — really anything and everything one can think of — and do it at a massive scale. It is estimated that the facial recognition market will be worth $12.67 billion by 2028. 
2. It's Just as Good as the Data it is Trained with
Face recognition is an artificial intelligence-powered technology that relies on the data it is trained on. Thus, it is naturally inclined towards developing biases. The leaders should use technologies and best practices to ensure fair and ethical use of AI. 
3. It Makes Customer Experience Much More Secure
Face verification proves to be a great bet as it offers an extra layer of security to any user experience. However, laws can limit the capacity and scope of businesses that can use this service. Thus, educating companies and consumers about the changing regulatory landscape has become a need of the hour. It is crucial to know the data privacy laws that vary from jurisdiction to jurisdiction. Moreover, companies should be crystal-clear about how collected information will be stored or used. 
Suggested Read: Identity Verification Forecast: How Will KYC Evolve in 2023?
4. It Streamlines Many Aspects of Daily Life
Face verification identifies and authenticates an individual using their facial features. Although there are some limitations and policy issues that must be addressed, it has the potential to simplify different aspects of everyday life. It is streamlining travelling and financial transactions, diagnosing different conditions and detecting any possible risks. Not only this, it helps businesses identify legitimate customers across the globe. 
5. There are more Pros than Just Convenience
Face recognition technology is convenient to use and more than this. Law enforcement can use it to find the missing children and identify any suspects. The technology is also used to create a mobile application that helps blind ones read others' facial expressions. 
6. ​​Current Legislation is a barrier to its Widespread Adoption
Existing rules are the major barrier to adopting a facial recognition system. Many countries have banned its use as it can be used without permission and for illegitimate purposes. Countries not only have to decide how they regulate their use but also what level of government should establish regulations or laws for it. Otherwise, there would be a lot of regulations that make it complex and confusing for the service providers to develop and sell it. 
7. It is Difficult to Hack Facial Recognition
Face verification, unlike other authentication methods, is difficult to hack. The reason is that it uses facial features to verify an individual and give them access to a particular service as compared to passwords that have a higher rate of being hacked by cybercriminals. 
How Shufti Pro Fits in the Puzzle
As technology advances, fraudsters are also revising their tactics to bypass verification services and fulfil their malicious intentions. It is concerning for businesses, be it a bank, educational institution, healthcare, or any other sector, prompting them to have an advanced verification solution in place. This is where Shufti Pro steps in. 
Shufti Pro is offering face verification services that are trusted across the globe and uses AI algorithms to verify the live presence of an individual. It can detect deep fakes and spoof attacks in less than a second. In addition to this, Shufti Pro offers verification services in 230+ countries and territories, supports 150+ languages, and has a remarkable accuracy of 99%. 
Are you confused about how facial recognition online helps businesses prevent fraud and non-compliance fines?