BEFORE YOU GO...
Check how Shufti Pro can verify your customers within seconds
Request Demo
No thanks
Money laundering has become a global issue, and almost all countries are facing this threat in various forms. Especially after rapid digitization, financial services now largely depend on online services, which eventually provide space for cyber criminals to defraud digital businesses. The global financial watchdogs, including Financial Action Task Force (FATF), European Union (EU), and Interpol, are actively working to address this challenge, but financial crimes are still prevalent, affecting the economies and businesses. It is estimated that money laundering costs 2% to 5% of the global GDP every year, raising alarm bells for all countries.
Colombia is the fourth largest economy in South America which has witnessed unprecedented growth in the past few years, attracting global investors. With all the new business opportunities, criminals have also started exploiting the loopholes in the system, carrying out financial crimes like money laundering and terrorist financing. Colombian law enforcement organizations have estimated that there are around $20 billion in the country directly or indirectly connected to money laundering, which is 6% of Colombia's annual GDP.
Money Laundering in Colombia – A Brief Overview
South America is a continent that has always remained associated with drug trafficking, money laundering, and many other criminal activities. The most significant drug lords of all time have their roots in this region and which is the primary factor that money laundering has remained prevalent in all the South American countries, including Colombia. Although it is not on the FATF's grey or black list, the financial watchdog has recommended several instructions to the country to eliminate the chances of financial crimes as it is pushing the economy towards high inflation. Moreover, it has also been highlighted that several banned terrorist outfits are working in the country as well that are using laundered money for terror financing.

Colombia's Financial Information and Analysis Unit (UIAF) has detected 570 channels, including crypto, banks, and insurance companies, through which criminals were moving their illicit funds out of the country. Another important factor is that online gambling is legal in Colombia, which aids criminals in investing their black money in this sector and converting it into legal assets. As per the report by UIAF, public corruption, smuggling, drug trafficking, and international trade are the primary departments contributing towards money laundering, and law enforcement authorities are primarily targeting these sectors to regularize while halting financial crimes.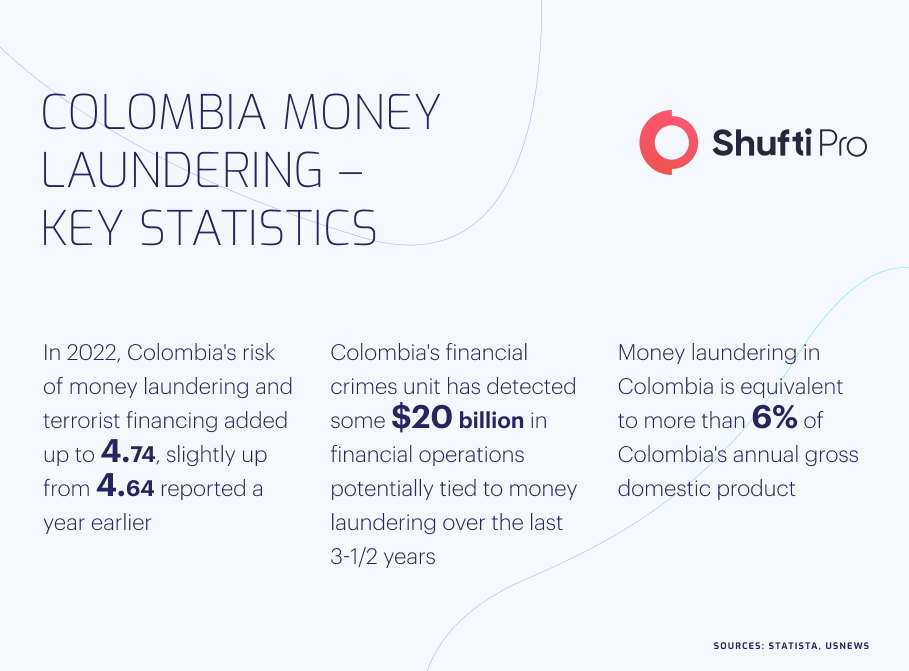 Colombian Law Enforcement Authorities' Efforts to Counter Criminals
After the warnings by the global financial watchdogs, the Colombian government has taken a strict stance towards the fraudsters by carrying out raids and crackdowns to arrest money launderers and terrorist financers across Columbia. In the recent past, a large number of cases have surfaced in the whole country and criminals have been arrested while the courts are tirelessly working to penalize them.
Let's take a look at some of the high-profile money laundering cases in Colombia:
Colombian Gang Laundered $100 Million in a Year
Colombian law enforcement authorities have identified a gang that is suspected to be involved in a $100 million money laundering scheme. Police have stated that they have arrested 12 criminals who are the primary perpetrators of the crime structure. It has further been found that all these individuals were involved in drug trafficking and were using cryptocurrency to launder illicit money out of the country. The investigations are still going on to find more evidence against the criminals to decide their penalties.
19 Indicted in International Drug Money Laundering Scheme
The US court has indicted 19 people who were found to be involved in a complex money laundering scheme to transfer illicit money from Colombian drug cartels through US banks. Authorities have said that criminals have been working for more than four years, and during this time, they successfully managed to launder $6 million from Colombia to the USA. Police are still making raids to arrest more criminals linked to this case and seeking extradition for the ones residing in other countries.
Colombia's AML Regulations
The law enforcement authorities in Colombia have legislated several anti-money laundering and counter-terrorist financing laws, which have further helped the Police to counter criminals and bring them under the law. In the recent past, several cases of drug trafficking leading to money laundering have surfaced highlighting the importance of strict regulations.
Let's have a look at some of the prominent anti-money laundering laws in Colombia:
Law 526 of 1999
Law 526 is the primary AML law in Colombia, as per which it is a criminal offense to launder money out of the country using illicit means. The Financial Information and Analysis Unit (UIAF) is the authoritative body that is working to fight all types of monetary crimes in the country. As per the law, it is also mandatory for all businesses to implement stringent measures against criminals and report to law enforcement agencies in case of any suspicious activity.
Law 1121 of 2006
Law 1121 of Colombia has all the provisions related to Know Your Customer (KYC) measures. All digital businesses have been instructed to implement customer identification practices to keep a record of all their users and use it in case of any violation of the law. Law 1121 is considered a major hurdle in the way of crime as after the implementation of this law, all the companies are obliged to record data of their users with an aim of using them as proof in case of any criminal activity comes into the light
FATF's Recommendations for Colombia
Colombia is a member of the Financial Action Task Force (FATF) and complies with its standards. Although not on the grey or black list, FATF has made a lot of recommendations for the country to comply with, avoiding any further sanctions. In the latest meeting of FATF officials, a survey was conducted, and it was established that the Colombian government has improved its performance in curbing money laundering and other financial crimes.
Here are some of the major FATF recommendations for Colombian law enforcement authorities:
The Colombian government should apply additional measures to counter cross-border trade and other financial matters with different countries.

Customer Due Diligence (CDD) and Enhanced Due Diligence (EDD) have been made mandatory for all financial institutions, particularly banks, crypto exchanges, and insurance companies.

FATF has also advised the responsible authorities in the country to form a comprehensive framework and establish AML guidelines for all financial institutions.
To add to it, FATF has warned the Colombian law enforcement authorities to adhere to these guidelines, and failing to do so strictly can lead to the country's name falling on the sanction list.
Key Takeaways
Combating money laundering and terrorist financing is quite crucial for Colombian law enforcement authorities to ensure transparency in the financial system. Colombia is an important country in the South American region with billions of dollars in exports, and it is crucial for the stakeholders to invest in AML solutions offering better business opportunities.
Shufti Pro's AML screening solution presents the ideal option for financial companies to comply with global standards. Powered by a smart AI algorithm, it has access to 1700+ sanctions lists by financial watchdogs. Shufti Pro's AML solution screens data of the users against these lists and generates results in seconds with a ~99% accuracy.
Are you ready to explore more about the AML/CFT screening solutions?