BEFORE YOU GO...
Check how Shufti Pro can verify your customers within seconds
Request Demo
No thanks
There is no doubt that social media has its benefits in contemporary times. With the growing technologies, fast spread of mobile information and social media, businesses and individuals have largely become dependent on online platforms for all the information, from social communication, academic learning for community building, and professional networking to virtual interaction social media has become an essential component. However, emerging technologies while providing multiple advantages poses threat to individuals as social media platforms are becoming safe havens for criminals. 
However, crimes including online harassment, cyber stalking, social media-incited violence, identity theft, and money laundering are skyrocketing which is an eye-opener for the regulatory authorities. In addition to this, the factor of anonymity and fakeness in the social media platforms are also becoming the prime reasons for the increase in cyber crimes amongst individuals of all age groups which poses a problem at a global level. The threats posed by such websites can be notably seen in the security, data privacy and dignity of users.
Social Media and Prevailing Crimes 
The increase in popularity and adoption of social media platforms like Instagram, Facebook, and various others have reshaped the way individuals understand and experience crimes or victimization. However, social media has developed new concerns regarding crimes yet it's not all bad news. Social media have also emerged with new opportunities for the regulatory authorities to solve the proceeds of crimes, among other things. Hence, like many other transformations in communication technology, social media have both pros and cons when it comes to its relationship with criminal justice and regulations.
However, social media fraud continues to cause problems for both users and businesses, while companies have managed to determine the need to leverage social media as a significant sales tool and help to connect with global customers. Over the years, social media crimes have been increasing, with victims losing more than just money. Moreover, with digitization, the online scam industry is becoming more organized and involves heaps of criminal groups. In 2022, cybercriminals are going to a new level of scam attack automation. Now, frauds are less focused on non-targeted users and are victimizing specific groups to increase conversion rates. This is becoming a bigger problem, particularly when social media platforms are often becoming the prime point of contact between cybercriminals and their potential victims.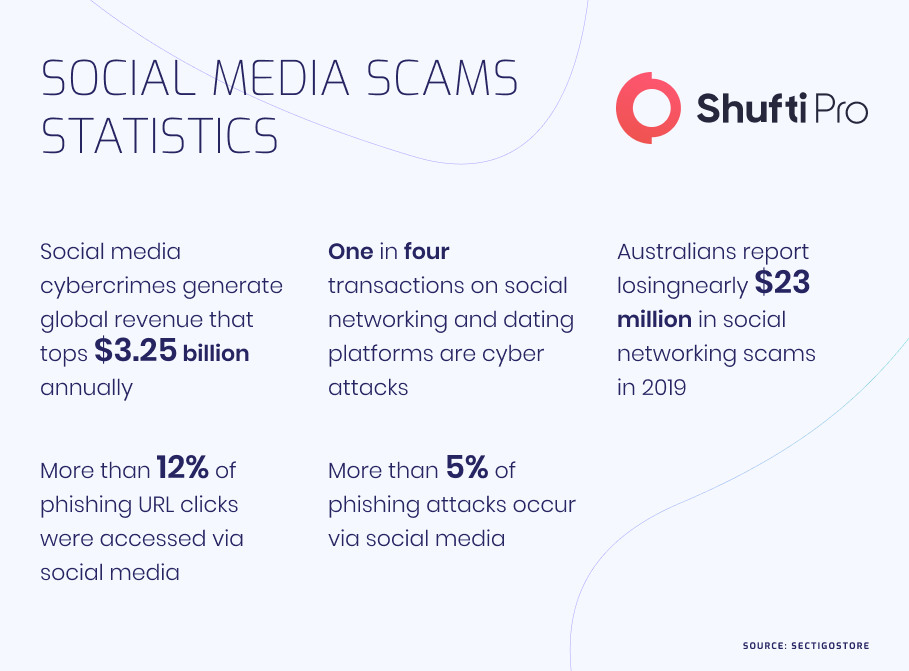 FTC Blames Social Media Platform for $1B in crypto scam losses in 2021
According to the US Federal Trade Commission, nearly half of the customers who reported crypto-related fraud in 2021 said it just started with a post, message or ad on social media platforms. The regulatory authority has also labelled social media sites and cryptocurrencies an ignitable combination of scams.
Published on Friday the FTC Report found that around $1 billion worth of cryptocurrencies has been lost throughout the year, which is five times the number in 2020. According to the key findings, Instagram (32%), Facebook (26%), WhatsApp (9%) and Telegram (7%) were among the top applications through which crimes were carried out. However, Twitter being widely adopted by the global cryptocurrency community was not mentioned in the reports despite being trolled with spam and scam bots circulating false crypto giveaways.
Based on scams reported to FTC's Consumer Sentinel Network, the most common form of cryptocurrency fraud was related to investment schemes, making up $575 million of the total figure. "These scams often falsely promise potential investors that they can earn huge returns by investing in their cryptocurrency schemes, but people report losing all the money they 'invest.'"
According to the FTC, a crypto investment scam includes cases in which the fake investment manager contacts victims through social media platforms, ensuring promising returns, but only if customers invest using cryptocurrencies. Other methods included impersonating a celebrity who can multiply and digital currency that a user sends them or promises easy cash or cryptocurrencies. Additionally, the law enforcement authority has also listed several other scams like investment in fake art, rare coins, false investment seminars and much more.
FCA Raises Major Concerns about Bogus NFTs Investment Schemes Circulating Over Social Media 
While cybercriminals becoming sophisticated to exploit emerging technologies, the Financial Conduct Authority (FCA) has issued a warning emphasising the critical risks involved in dealing with investors' money linked to cryptocurrency assets investment by portraying that NFTs may lead to speculative trading, terrorist financing and money laundering. However, as the NFT market is developing at a greater rate, it's expected to reach $40 billion at the end of this year. However, major considerations have arisen regarding its non-compliance with AML regulations which is becoming the reason for compromising customer safety. In this regard, China and Hong Kong both have published warnings about potential financial crime threats associated with NFTs and metaverse in the past month.
Moreover, UK citizens were also warned not to fall to scams used by cybercriminals in prompting investments through false celebrity endorsements depicted massively through social media ads and posts. Exploiting such websites have been a major reason behind online social media scams as per local regulatory authorities as dupes were dependent on Facebook or Twitter for investment tips.
UK-Based Regulatory Requirements for Social Media Platforms 
On March 17, the Department for Digital, Culture, Media and Sport of the UK submitted a revised version of the Online Safety Bill to Parliament. It's the prime proposal to increase regulatory sight over social media platforms and internet search engines while preserving their role as public websites for instant and robust communication regarding emerging issues. Parliament still holds the power to modify the details of the proposal, but the general outlines are crystal clear to provide the complete guidance to overcome regulatory challenges. However, the proposed changes include requirements for dealing with illicit materials, special duties to safeguard minors, exemptions from content moderation rules for privileged content, obligations about bogus advertising and determining the verification rules.
In addition to this, in accordance with the policy an independent agency would be empowered to implement a system of regulations systematically designed for the special characteristics of social media businesses and search engines. However, the UK's bill treats social media platforms as unique in the media landscape, develops its regulatory requirements to accompany special features, and assigns the implementation along with an enforcement role to the Office of Communications (Ofcom), the UK's traditional media regulator. In addition to this, the UK's regulatory structure also focused on systems and procedures social media platforms use to manage content on their end and to take appropriate actions against content that violates their terms of services. Specifically, the UK's bill accomplishes this by mandating disclosure of content rules, due process protections, risk assessments, transparency reports and removal of measures for harmful content. Additionally, this bill also gives government authorities the power to enforce measures or order social media websites to remove illegal content with an aim of enhancing content moderation.
How Shufti Pro Can Help 
Like the financial sector, social media has also become prone to cybercriminal activities. People along with businesses are under stress of getting victimized by the fraudsters. Therefore, it is the social responsibility as well as regulatory obligation of social media businesses to integrate rigid identity verification solutions along with anti-money laundering screening services so that cybercriminals could be identified before they get on board.
Shufti Pro's all-in-all identity verification services are an ideal solution for social media platforms as it allows them to comply with the ever-evolving regulatory regime. Powered by thousands of AI models it can also help to identify the true identities with 98.67% accuracy in less than a second, that's not all, Shufti Pro's robust AML background checks screen customers against 1700+ global watch lists.
Want to know more about IDV solutions for social media platforms?