BEFORE YOU GO...
Check how Shufti Pro can verify your customers within seconds
Request Demo
No thanks
Thailand has become quite a popular and well-reputed financial hub, attracting investors worldwide. Thailand has free trade agreements with more than 10 countries across the globe which is the prime reason for huge investments by business owners. Due to the influx of money into the country, criminals have also found opportunities to carry out money laundering and terrorist financing. The fraudsters are manipulating the existing laws and exploiting them in their interests.
It is estimated that 33% of the financial companies in Thailand have experienced fraudulent activities, particularly money laundering, in the previous year. In the wake of this, global financial watchdogs have termed Thailand a soft target for money launderers and instructed the government to take rigorous steps to counter financial criminals. Thai law enforcement authorities have responded positively to this warning by international monetary organizations and implemented Anti-Money Laundering (AML) and Counter-Terrorist Financing (CFT) measures which have brought positive results.
Thailand – A Safe Haven for Money Launderers
Thailand is among those countries which have made its image as an entertainment hub in the past few years. This factor has attracted tourists and business tycoons from around the globe to invest in various projects. Due to the influx of money in the country, organized crime groups have started exploiting loopholes in the economic system and abusing them to carry out several heinous crimes. The global financial regulators have also highlighted the need for stringent AML and CFT measures in Thailand that are efficient enough to counter the bad actors and bring them under the law.
The criminals usually invest their black money into different sectors, particularly tourism, and construction, ultimately selling these valuable assets while converting their illicit cash into legal money. A few years back, the Financial Action Task Force (FATF) put financial sanctions on Thailand for not complying with the global money laundering regulations, urging the local law enforcement authorities to find an efficient solution to curb this menace. This is the prime reason that in the recent years, Thai Police have arrested many criminals allegedly involved in money laundering and terrorist financing while initiating legal lawsuits against them.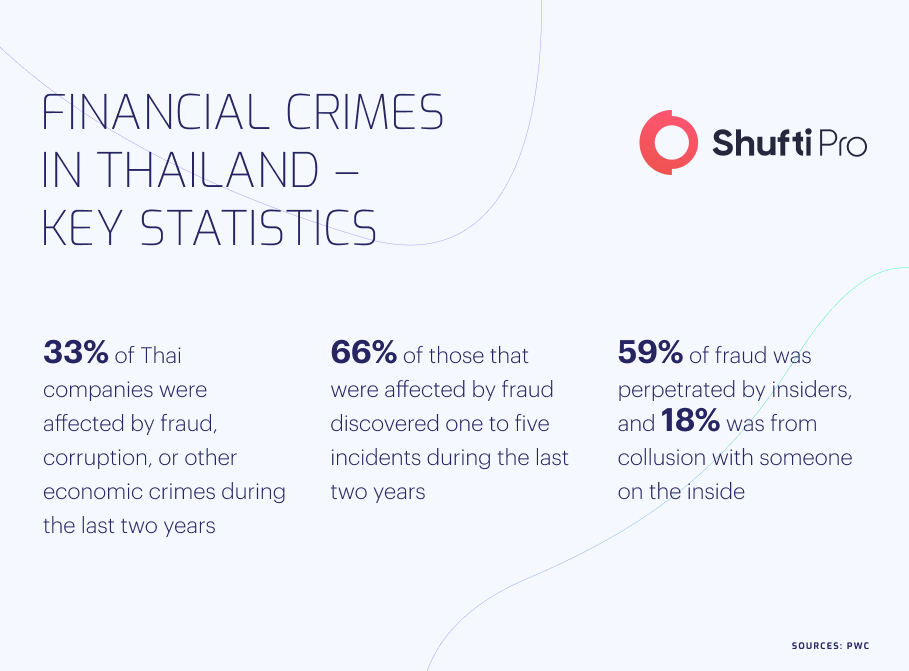 Financial Losses and Role of Thai Law Enforcement Authorities
In the time span of a few years, fraudsters have inflicted billions of dollars of financial losses on users in Thailand through various scam schemes. The country has also highlighted in multiple international conferences on money laundering, which ultimately urged the authorities to take decisive action against the perpetrators.
Let's have a look at some of the cases where Police took strict action against criminals:
Gang Arrested for $23 Million Money Laundering
Thailand law enforcement authorities have arrested a criminal gang involved in money laundering activities by running different fake schemes. Police revealed that they had been tracking down the criminals for more than a year, and investigations have found that during this time span, they successfully laundered $23 million to different countries. All the fraudsters have been charged in court, where their penalties are yet to be decided.
The Chaimat Case – Illegal Logging and Money Laundering
The Chaimat case is one of the leading cases in Thailand where fraudsters were arrested for smuggling Timber wood to other countries and laundering the profit money through several channels. Thai law enforcement authorities have revealed that criminals smuggle wild species worth more than $200 million Baht every year, further spreading this illicit money into different businesses. All the criminals linked to this case have been arrested, and the case is still going on in court. The authorities have further vowed to track all the bad actors involved in smuggling and bring them under the law.
Recommendations of Thailand's Law Enforcement Authorities
The Anti-Money Laundering Office (AMLO) in Thailand has proposed a comprehensive framework to eradicate the chances of financial crimes in the economic system. On a national level, the local government is holding several events to guide the common people to participate in seminars related to anti-money laundering.
Customer Due Diligence (CDD)
Customer Due Diligence (CDD) is the process used by financial institutions to collect and analyze users' information. Through an efficient CDD, banks and other organizations can have their users authenticate and make a record of them, which can prove helpful in identifying criminals.
Know Your Customer (KYC)
Know Your Customer (KYC) is considered the most crucial solution to authenticate users' true identities. The Thai government issued a report last year where it has been highlighted that the majority of money launderers are using fake identities to carry out their heinous crimes. It has been critical for all financial institutions to implement robust KYC measures to verify users' true identities in real-time by comparing the details with the ones on their documents.
Anti-Money Laundering Laws of Thailand
The Thailand government has shown quite a responsiveness towards the increasing financial crime by implementing several new laws in the country or amending the existing laws. Under all these laws, the courts are trying the criminals, ultimately helping the government tackle the issue.
Let's have a look at some of the rules which have presented considerable resistance to money launderers and terrorist financiers:
Anti-Money Laundering Act B.E 2542
Anti-money laundering Act B.E 2542 is Thailand's primary law, which has all the provisions against money launderers and other financial criminals. It has been made mandatory for banks and other monetary organizations to report any transaction above $1600 to the relevant authorities. Moreover, the act also terms any attempt to invest the black money as a criminal offense which could result in imprisonment of up to 15 years.
Counter-Terrorist Financing Act Amendments
Although Thailand had the Counter-Terrorist Financing Act in the past, it lacks provisions related to the use of financial organizations and money laundering in spreading terrorism. The authorities have amended the CFT law, and all the financial irregularities resulting in any terrorist activity are termed criminal offenses.
Key Takeaways
Combating money laundering and terrorist financing is crucial to ensure the rule of law in Thailand. It is one of the growing economies in the region, and investing in AML/CFT solutions can bring positive results for financial organizations.
Shufti Pro's AML screening solutions are the most viable option for businesses operating in Thailand to ensure compliance with global regulations and counter financial criminals. Shufti Pro's AML solution has access to 1700+ sanctions lists and screens users' data against them while providing results in seconds with 99% accuracy.
Are you ready to learn more about the AML/CFT solutions for Thai companies?