BEFORE YOU GO...
Check how Shufti Pro can verify your customers within seconds
Request Demo
No thanks
With technology evolving every day, online gambling is one of the sectors that has revolutionized altogether. The trend of remote gambling witnessed a huge hike during the pandemic due to the closure of brick-and-mortar casinos. In 2020, online gambling revenue was $66.67 billion and it is expected to reach $100 billion in 2026. It was observed in a survey that 96% of the gamblers preferred to gamble while sitting in their homes.
The large stakes of money involved in online gambling have made it a soft target for financial criminals like money launderers and terror financiers. Bad actors are exploiting online gambling platforms to convert their illicit funds into legal ones through several money laundering techniques. It has become imperative for online casinos to implement AML compliance measures to curb all such activities from the platform.
Money Laundering and Terror Financing Risks in Online Gambling
Global digitization has helped the online gambling industry to use digital platforms for its operations. Currently, online casinos are providing a myriad of services including; sports betting, lottery, video games, and many others. Although all these services are a huge source of entertainment and earnings for gamblers, they have also become safe havens for money launderers to carry out heinous crimes like terror financing and investment fraud.
It is estimated that 17% of the world population is using online gambling platforms and the trend is increasing every year. Moreover, it has become a need for all online gambling platforms to introduce digital payment options to facilitate global players. Due to this high saturation and digital payment methods in remote gambling, it has become a gruesome task for online casinos to identify criminals and keep them away from the system. Money launderers are using a variety of techniques like buying casino money through illicit funds, Fixed-Odds Betting Terminals (FOBTs), or investments in online casinos to convert black money into legitimate cash.
Conversion of illegal funds to legal ones is not the only issue, but money laundering is being used for terror financing and promoting terrorism in the world. All the countries and financial watchdogs like Financial Action Task Force (FATF), Interpol are working tirelessly to eradicate money laundering from online gambling. In UK, all the gambling companies are working under Proceed of Crime Act (POCA) while in US, Financial Crimes Enforcement Network (FinCen) is the regulatory authority that is responsible for enforcing AML compliance in online gaming. The FATF has also issued guidelines to curb ML/TF through online gambling and several online casinos have been fined or banned for not following guidelines.
Online Gaming Company fined by Maltese Financial Watchdog
In January 2022, Malta's Financial Intelligence Analysis Unit (FIAU) fined "Online Amusement Solution Limited" with an amount of €386,567. FIAU mentioned in their statement that online gaming company has been penalized for not following 11 AML regulations.
According to FIAU, there were several illegal investments made by gamblers that were not regulated through AML measures by the company.  Investigation took three years and every aspect of the case was observed in the light of FATF guidelines.
Annexio Limited & Rank Digital Gaming in UK fined for Money Laundering
UK gambling commission has fined Annexio Limited and Rank Digital Gaming Limited for breaching AML regulations. Both the companies were fined heavily with the amounts of £612,000 and £700,557 respectively.
Commission has released an official statement mentioning that both online casinos were not following anti-money laundering and counter-terror financing regulations. The Director of the commission further warned all online gambling platforms to adhere to AML laws, companies failing to stay put with AML/CFT standards may face hefty fines, reputational damages, and strict sanctions.
AML Compliance for Online Gambling Industry
Online gambling was introduced for entertainment and earnings purposes alone but it has become a soft target for money launderers and terror financiers. Not only the money launderers but a large number of gambling platforms are equally responsible for these financial crimes. Lenient T&Cs and loopholes in their existing AML system are encouraging criminals to take advantage of them. It is need of the hour to mitigate these activities by following FATF and other local agencies' guidelines
All the players on-boarding the platforms should be screened through effective Know Your Customer (KYC) measures. The global watchdogs have assembled various sanctions and PEP lists that should be taken into account to adopt a risk-based approach. Providing awareness regarding financial crimes involved in online gambling can also serve the purpose as a lot of online casino operators do not even know about AML regulations.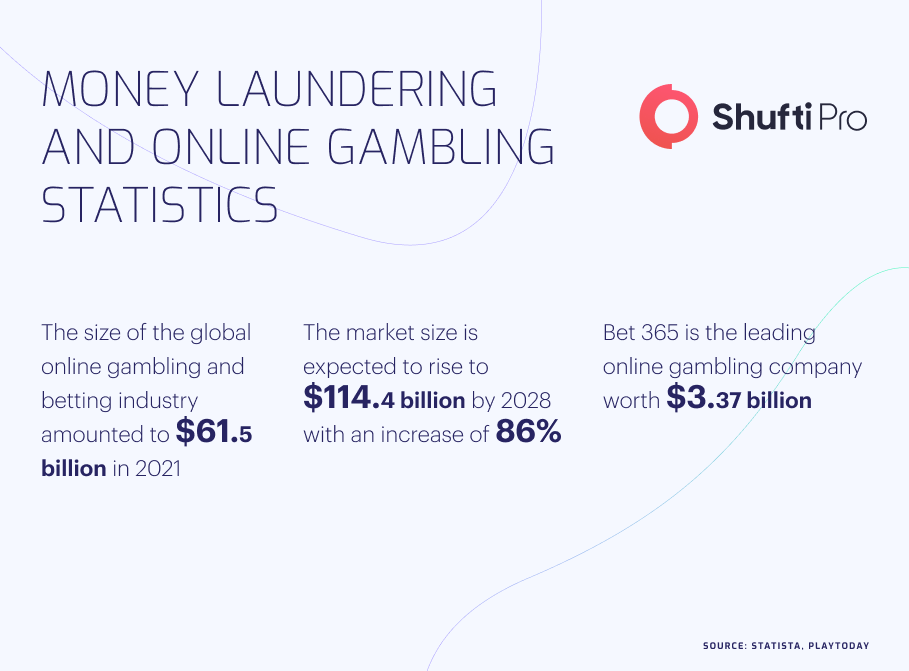 Global Regulations for Curbing Money Laundering in Online Gambling
Since 9/11, all the responsible countries and international institutions have declared laundered money to be the primary source of terror financing. The rising concerns of terrorism have compelled AML regulators to put stringent measures to eliminate all the bad actors.
FATF
Financial Action Task Force (FATF) has termed online casinos highly vulnerable to money laundering and terror financing. FATF has further suggested all gambling platforms implement Risk Based Approach (RBA) to combat criminal activities.
FATF has also issued detailed guidelines for all the countries which they need to follow to restrict money launderers from abusing loopholes in system. FATF has highlighted the vulnerabilities in online gambling which could further help institutions implement AML/CFT compliance measures.
Malta Gaming Authority
Malta is considered home to online gambling, which has compelled the government to have Malta Gaming Authority (MGA) to regulate online casinos. A large number of parameters have been set by MGA based on which they provide licenses to online gaming platforms. Malta Gaming Authority reserves all the rights to fine or ban any online casino failing to comply with regulations.
MGA has made it compulsory for online gambling operators to have stringent measures for fraud management, Know Your Client (KYC), and AML. All gambling operations are monitored to build a secure environment and keep money launderers away.
National Betting Authority (NBA) Cyprus
Cyprus is another country where all types of on-site and online gambling activities are considered legal. National Betting Authority (NBA) was established with the aim of curbing money laundering practices in online casinos. The betting law of 2019 contains all legal rules which are key to preventing money laundering, terror financing, taxation, and consumer protection.
What Shufti Pro Offers
Shufti Pro's advanced AML screening solution is powered by thousands of AI algorithms that can help online gambling platforms stay compliant with AML/CFT regulations. Online casinos can easily monitor and report money laundering attempts by incorporating AML solutions.
Curbing financial crimes, particularly terror financing and money laundering will not only boost revenue of the industry but will also make them credible. Shufti Pro's AML services can screen gamblers against 1700+ sanction lists and provide results with 98.67% accuracy in a matter of seconds.
Want to know more about AML/KYC solutions for the online gambling industry?