BEFORE YOU GO...
Check how Shufti Pro can verify your customers within seconds
Request Demo
No thanks
With emerging technologies continuing to proliferate faster and rapid digitization all around us, naturally the use of cryptocurrency is picking up the pace. Instead of using fiat currencies for a number of use cases, users are now utilizing crypto, which has proved quite profitable for consumers especially with the ease of money transfer. The industry is a relatively newmarket and has unique characteristics which were never dealt with before. In November 2021, the overall value of cryptocurrency crossed $3 trillion, with the expectation of rising more in the coming years. Due to the lack of regulations in the crypto industry, it is prone to a high amount of financial crimes, particularly money laundering and terrorist financing which increases the urgency for stringent regulations.
All major jurisdictions around the globe are working to form a comprehensive framework regularizing the cryptocurrency industry and making it a safe place for consumers, businesses and investors. Although still enormously lagging behind fiat currencies, crypto has the real potential to replace a big chunk of them. A large number of online businesses are also accepting digital payment methods for their services. That being said, crypto firms need effective Anti-Money Laundering (AML) solutions to circumvent financial crime in the sector. 
Digital Currency Landscape [2022]
The crypto landscape is constantly evolving hence it is crucial for investors to stay up to date with national and global regulations. Although Crypto has been down heavily in the first half of 2022, it is estimated that it will rise again in 2023-2024 which has convinced many of the early adopters to keep their investment in the market. Bitcoin and Ethereum, the top two crypto coins are down more than 50% from their all-time highs in 2021. It is difficult to predict where things are going in the short-term but experts have pointed out that stringent regulations in the crypto industry will not only secure the users' investments but will also increase its adoption, which can eventually lead to rising in its market value in the long-term.
High-Profile Crime Cases at Crypto Exchanges
It has been just over a decade since cryptocurrency entered into the mainstream, which is the primary reason for a weak regulatory structure. Money laundering and terrorist financing through crypto exchanges has become prevalent, raising alarms for financial watchdogs to implement stringent laws eliminating criminals from the system. Let's look at some recent crime cases where scammers tried to exploit loopholes in the digital financial system and carry out several crimes.
Two Arrested for $4.5 Billion Money Laundering Through Crypto
A police raid in Manhattan led to the arrest of two criminals who were involved in money laundering through multiple cryptocurrency coins. It has been established that scammers got their hands on $4.5 billion through cybercrimes and were trying to launder this money to other countries by investing in various crypto exchanges and coins. Law enforcement authorities seized $3.5 billion in crypto assets thus far and presented the criminals to court for further proceedings. The police have vowed that they will not let digital currencies become safe havens for money launderers and terrorist financiers.
£21 Million Cryptocurrency Fraud in  UK
Law enforcement authorities in the UK have convicted four offenders who were found to be involved in obtaining and laundering millions of pounds worth of Bitcoins from Australia to England. The investigations uncovered that criminals were investing £21 million in drug money in various crypto exchanges with the ultimate aim to launder the funds.. The court has already convicted all the scammers and their penalties have yet to be decided.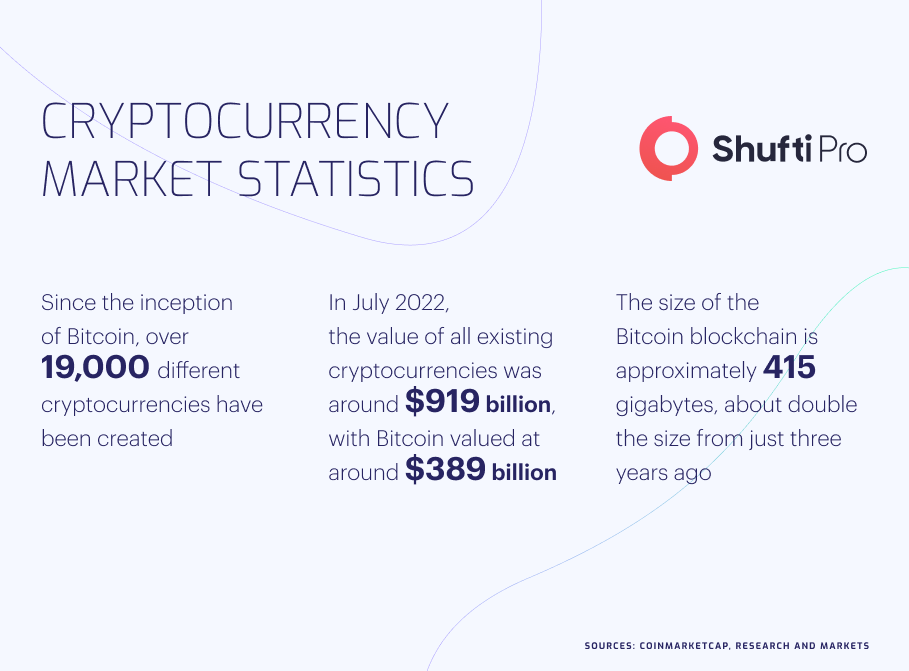 Global Regulatory Authorities Monitoring Cryptocurrency
While criminals are using advanced techniques to exploit loopholes and carry out various financial crimes, all the major jurisdictions are working tirelessly to legislate and implement stringent up to date AML/CFT regulations. Here are some of the laws prevailing in different countries related to cryptocurrencies:
US
The Financial Crimes Enforcement Network (FinCEN) is the primary regulatory body in the US responsible for monitoring crypto exchanges. Although it does not consider digital currency as legal tender, it terms it as a significant mode of money transfer and suggests strict laws for curtailing crimes. Crypto platforms are legal in the United States, and it is essential for all of them to register themselves under Bank Secrecy Act (BSA) and ensure AML/CFT compliance while maintaining proper records of all financial transactions.
UK
The English government can seem quite lenient towards cryptocurrency exchanges, but all the platforms have to follow strict rules and regulations. The Financial Conduct Authority (FCA) has instructed all Crypto service providers to keep records of all the users and implement Know Your Customer (KYC) measures to track criminals in case of any violation. In the recent past, UK law enforcement agencies have arrested several criminals and penalized them under digital currency laws showing a zero-tolerance policy towards financial scammers in this new and upcoming sector.
Canada
Cryptocurrencies are not legal tender in Canada like in the USA but there are a lot of online stores which are accepting cryptos for their services. This is the primary reason that the Canadian government has begun to regulate  crypto exchanges making it  mandatory for platforms to register themselves through Canada Revenue Agency. The authorities have stated that they are monitoring the usage and evolution of cryptocurrency on an ongoing basis and will legislate more laws to regulate it over time.
Australia
Australian Transactions Reports and Analysis Center (AUSTRAC) has made it mandatory for all cryptocurrency exchanges to register and identify their users while maintaining a transparent record of all financial transactions. In 2021, law enforcement authorities in Australia clamped down on a large number of digital currency platforms which were not registered under the law and were out of compliance with AML/CFT regulations.
Singapore
In Singapore, cryptocurrency trading and exchanges are legal but the authorities have made it mandatory for all the service providers to register their users and implement anti-money laundering measures to counter financial criminals. The Monetary Authority of Singapore (MAS) has stated its position clearly by stating that it will not let any crypto platform operate without the license and strict KYC and AML/CFT measures.
South Korea
South Korea is one of the countries which has quite a strict stance on  money laundering through cryptocurrency. The Financial Supervisory Service (FSS) is the main authoritative body regulating digital currency platforms and made it mandatory for them to implement stringent AML measures and share the identities of their users with the banks to maintain a culture of financial scrutiny.
Key Takeaways
Combating money laundering and terrorist financing is crucial for all crypto exchanges, which will secure them from financial losses and keep their users investing safely. Shufti Pro's state-of-the-art AML solutions are the most feasible option for crypto firms which will help them in staying compliant with global regulations. Shufti Pro's AML solution has access to 1700+ sanctions lists and screens user data against them providing results in seconds with ~99% accuracy.
Would you like to get more information about KYC and AML screening solutions for cryptocurrency exchanges and how Shufti Pro solutions can help?