BEFORE YOU GO...
Check how Shufti Pro can verify your customers within seconds
Request Demo
No thanks
Businesses and people in the gambling sector are aware of the risks involved and what are their possible consequences. A few years back, gambling was illegal, but now countries are moving to make it legal as it is a booming industry and can contribute to the economy. It is closely related with the financial sector as the online payment gateways are used for funds transfer, this makes it vulnerable to money laundering and illegal funds transfer. According to BBC, Star Entertainment – Australian gambling giant alleged for money laundering. 
Post Covid-19 Landscape of Casinos 
Like other sectors, the gambling industry is also influenced by advanced technology trends and is now available on the internet. There has been a debate about regulations in the gambling industry. Experts think that the industry's prosperity is subject to the regulations imposed on it. Recently, it has entered the class of big sectors, being called a billion-dollar industry.
The gross gambling revenue of Europe is forecasted to reach 29.3 billion in 2022. (Statista)

In 2020, online gaming witnessed a 393% increase in players, with the UK exhibiting  261.9% growth. (CNBC)

In the United Kingdom, online casinos accounted for

£

5.51 billion. (United Kingdom Gambling Commission)

During the fiscal period 2021-26, the online gambling market is forecasted to grow with the CAGR of 11.94%. (Mordor Intelligence)

In 2020, United States gambling revenue skidded 31% to USD 30 billion. (Statista)

During the pandemic, US casinos lost 27% of normal operating days. (American Gaming Association)

Around one half adults of New South Wales gamble. (Responsible Gambling)

The Australian authorities received 6000 gambling scam reports in the first quarter of 2020. (Forbes Advocate)

In 2022, the share of regulated gambling will be 80.1% in Australia. (European Gaming and Betting Association)
Leg-pullers for Online Gambling
Without a doubt, the online casino market is thriving. Nevertheless, it is also true that most gambling companies fail in the initial two years. Although, poor management, research and planning, inadequate structure, and scanty marketing are the reasons behind this. But in modern times, online frauds and scams have become the  most crucial leg-pullers for the online gambling sector. 
Hackers and cybercriminals use extended and sophisticated means to disrupt the online gambling environment. Let's discuss what are the vulnerabilities in the digital betting industry.
Multiple Accounts Scam: Biased Gameplay
Fraudsters create multiple accounts over a betting platform using fake and synthetic credentials. This means that the information that is given to the website during account sign-up is completely fraudulent or a mixture of false and authentic user data. For acquiring authentic data, scammers often use phishing techniques. 
The intention behind this is to pocket wins for only one particular account. The other players do not get a fair chance of gaming and the service providing platform loses the reputation in this case.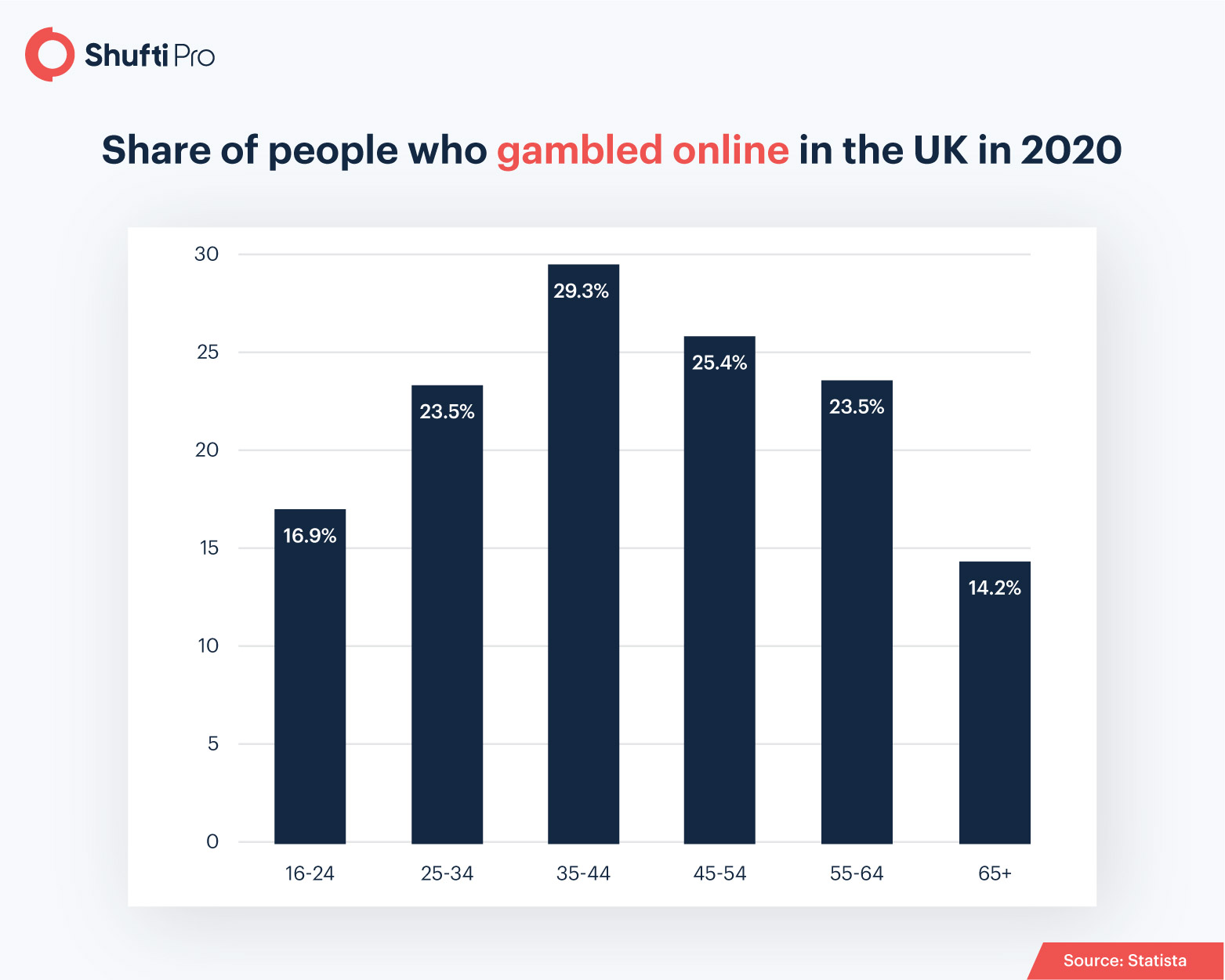 Money Laundering: An Indictable Financial Crime
Everyone in the market knows what money laundering is and how it is done. Because of solid security measures implemented by financial institutions, money launderers have targeted other sectors, gambling being one of them.
As online casinos deal with money directly, it becomes easy for financial criminals to place, layer and extract their illegal funds. 
Chargeback Abuse: Fake Claims
Chargebacks are filed by customers where they restrain the (betting) payment by contacting the bank or the card issuer claiming that their card was used without their permission. Fraudsters claim fake chargebacks as it is difficult for gambling sites to fight against friendly frauds because it can damage their relationship with the card issuer.
Enhanced Due Diligence: A Robust  Solution for Eliminating Risks
Know Your Customer
Recently the UK and the US have tightened the rules for e-gambling platform providers. This is done considering the increasing cases of online scams and money laundering related activities in the gambling industry. The UK has mandated gambling sites to confirm the ID and age of the players before onboarding them.
Know Your Customer (KYC) is a method of identity verification of online users mostly used by financial businesses. It is a software-based online, automated and AI-powered process in which the users' (or gamblers') identity is verified by examining their government-issued identity documents. Below are the verifications performed in the KYC process.
Facial Recognition:

Matching the gambler's live captured selfie with the photo ID

Address Verification:

Extracting and validating the residential address from legitimate documents
Age Confirmation: Calculating the age by drawing out DOB from ID documents and confirming that it falls under the specified range
Anti Money Laundering Screening
To counter money laundering or any other illegal transfer of funds, anti money laundering solutions can be used which screen the gambler names against the global watchlist, sanction lists and PEPs (Politically Exposed Persons). It filters the players by their risk profile, where the gambling platform can get to know about previous criminal history of players. Moreover, Enhanced Due Diligence is performed on high-risk customers
In the EDD process, transactions that exceed USD 5000 – USD 10,000 threshold go through transaction monitoring and background screening. In the banking sector, EDD has proved an effective method for combating identity frauds and money laundering. 
Gambling sites can comply with KYC laws set by global regulators through enhanced due diligence. It is a robust method and expedites the speed of the onboarding process. Once implemented, the players feel safer since there is a less likelihood of losing funds to criminals and money launderers 
Key Takeaways
Today's tech-savvy fraudsters have found advanced ways of social engineering, making account taker over and identity theft easy. To address this dilemma, governments are planning to regulate the gambling sector. Additionally, rising AML penalties demand automated  AML/KYC solutions for compliance purposes.  AI-powered AML/KYC solutions that perform identity verification and AML screening in real-time can help gambling industry in combating frauds.
Want to know more about regulatory compliance of gambling sector?