BEFORE YOU GO...
Check how Shufti Pro can verify your customers within seconds
Request Demo
No thanks
Like other industries, the gambling industry is also becoming a prime target of criminals. However, the gambling industry's global market size is $59 billion which is expected to increase to $92.2 billion by 2023. Rapid and mass adoption of online gambling services has unfortunately increased the number of crime cases. Money launderers are widely using casinos as they don't focus much on improving their KYC/AML framework. In fact, most of the service providers are least interested to know about their customers, if clients get loads of money they are welcomed without verifying their identities or source of income.
Hence, the gambling industry is subject to the Proceeds of Crime Act (POCA), Know Your Customer (KYC), and Anti-money laundering (AML) regulations. The regulatory authorities like FATF, Moneyval, FinCEN and various others are working together and have come up with multiple compliance measures to curb money laundering along with other financial crimes happening through the gambling industry.
Gambling Industry and Financial Crimes
Global digitization has completely transformed the gambling industry. Now new products, innovative payment gateways, and emerging technologies are making this industry more vulnerable to criminal activities. However, the recent growth of this online gambling is accelerated by the covid pandemic, thus, financial crimes, as well as the focus of regulatory authorities, are increased. In addition to this, digital gambling websites are prone to cyber-attacks and software manipulations.
The gambling companies and financial watchdogs are aware of the potential money laundering risks and various AML standards have been introduced across the world to limit this risk exposure. However, organized crime groups are becoming more sophisticated, giving rise to evolving financial crime threats. According to the National Risk Assessment (NRA), "casinos, off-course betting and all online gambling (excluding lotteries)" is identified as the higher money laundering risk within the global gambling industry. 
Furthermore, the NRA also elaborated on various other financial crimes that are fueling the risk of money laundering. On another hand, the gambling sector is exposed to high-risk entities like Politically Exposed Persons (PEPs). This is why most of the recent fines imposed on the gambling companies were linked to PEPs as it's quite hard to verify their source of income.
Let's have a view on recent gambling crime cases 
Boylesports faced a £ 2.8 million fine for violating AML Regulation
The UK's Gambling Commission (UKGC) imposed a fine of EUR 2.8 million on online gambling website Boylesports for violating AML regulations and failing to detect money laundering activities. Both the platforms "Boylesports.com" and "Boylescasino.com" were not compliant with the regulatory obligations. Other than this, the investigations also concluded that the gambling operators also breached the UKGC standards and policies. After the Commission's assessments, their operation license was put at stake due to the major AML failure. However, the regulatory authorities are making efforts to enhance the standards and laws for the gambling industry, as the platform was practicing AML procedures that were unfit to determine the presence of money launderers. 
Executive Director at Gambling commission, Richard Watson said: "It is vital that all gambling businesses have effective anti-money laundering policies and procedures firmly in place, and as part of our ongoing drive to raise standards we will continue to take tough action against operators who do not."
Fraudster Arrested For Stealing Identities, Funding 1800 Online Gambling Accounts
The New Jersey Division of gaming enforcement along with the local police financial crime unit cracked down on criminals that were involved in stealing identities and creating fake gambling accounts for personal gains. Various victims reported to the financial watchdog regarding false gambling accounts that were set up with their names and their identities. In addition to this, these accounts were used to launder money. Considering this fact, identity fraud has now become the most occurring type of fraud across the globe. Thus this incident has signified the need of securing digital identities.
UKGC imposed EUR 3.8 Million Fine on Genesis Global for Money Laundering Violations
The United Kingdom Gambling Commission (UKGC), after carrying out investigations for two years, has imposed a EUR 3.8 million fine on Genesis Global for money laundering violations. Due to the rising number of money laundering activities, the regulatory authority has issued warnings to the gambling businesses, stating to take all necessary approaches to secure the clients' protection rights at the highest possible level. Just a day ago, an all-parliamentary panel created a report of the Commission, deeming the UKGC "too harsh" in enforcing the gambling regulations. However, in July 2020, the company was banned for the first time, but after three months the ban was lifted as Genesis Global successfully made some major improvements in its regulatory framework.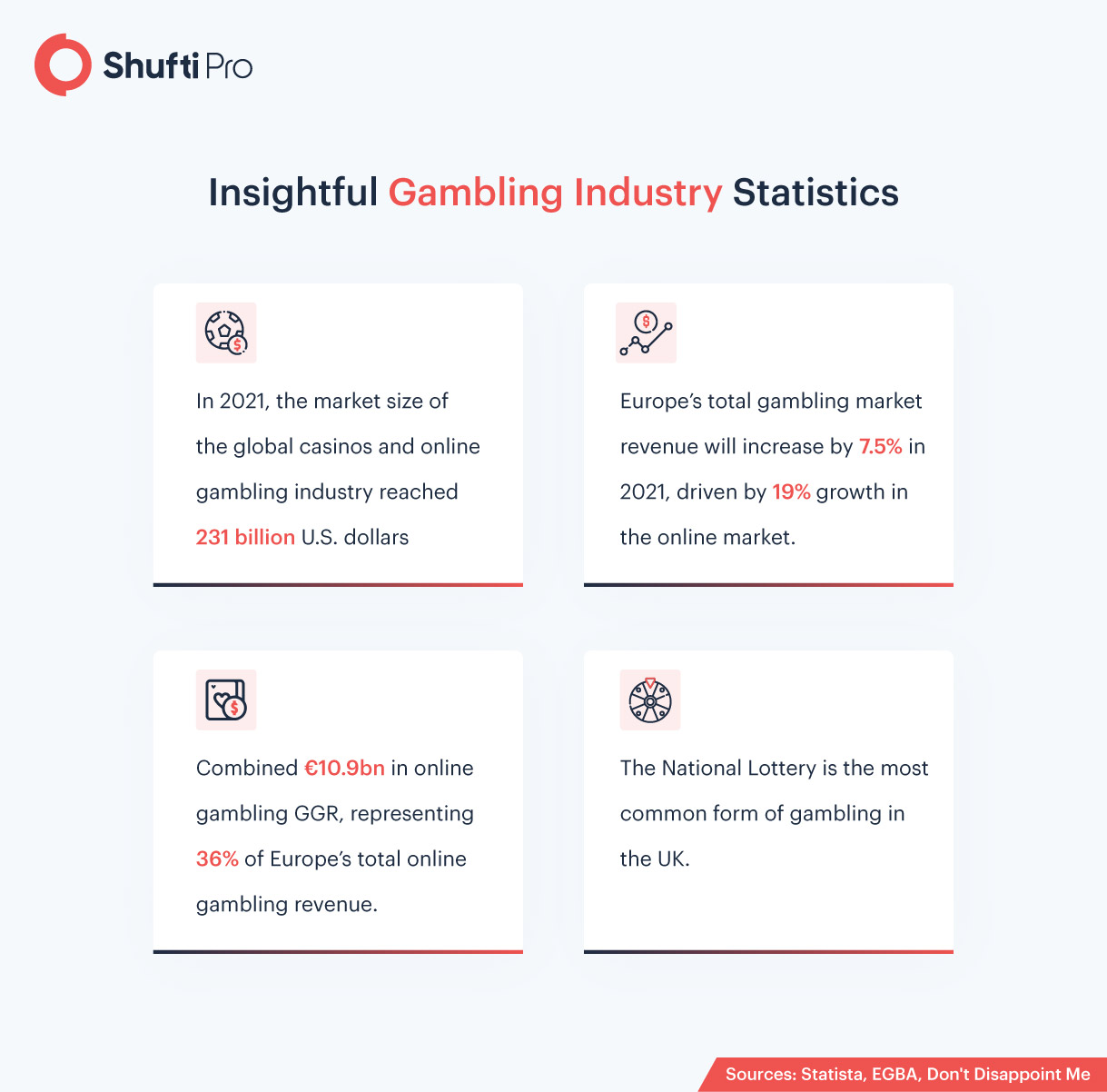 Global Regulatory Regime to Secure Gambling Operations 
All the gambling companies across the globe are subject to local as well as international anti-money laundering regulations.  The core objective of these laws and standards is to reduce the money laundering and terrorist financing risk in this sector. To do so, know your customer, customer due diligence, enhanced due diligence is recommended by regulators.
Following are the global regulations;
United States (US) 
The US regulatory bodies have legislated laws and regulations for gambling states.  One of the main financial regulators including the Financial Crimes Protection Network (FinCEN), Internal Revenue Services (IRS), Bank Secrecy Act (BSA) has developed strict anti-money laundering and counter-terrorist financing regulation to curb financial crimes. IRS is the authority that imposes sanctions on casinos and gambling websites in case of non-compliant with the regulatory obligations. In addition to this, these law enforcement authorities work together to detect and curb financial crimes from the US. 
Hong Kong
Certain forms of gambling are permitted in Hong Kong as long as they are overseen by the Hong Kong Jockey Club (HKJC). The HKJC is a government-sponsored non-profit organization that oversees Hong Kong's only authorized forms of gambling. The HKJC allows residents to place bets, while all other kinds of gambling are prohibited in Hong Kong. Under the HKJC, horse race betting, international soccer betting, and the Mark Six lottery are all legal kinds of gambling. There are around a hundred venues where residents can participate in the festivities.
It is prohibited not only to operate an unauthorized gambling operation in Hong Kong, but it is also illegal for visitors and residents to place bets with such operators, even if they are based outside of Hong Kong. Dealing with illegal or international bookmakers can result in a 9-month prison sentence and a $30,000 fine.
Macau
Macau has a much higher gambling tolerance than the rest of China. In reality, Macau's gambling winnings eclipsed those of Las Vegas in 2007. Macau is by far the world's most popular gambling location. Macau's casino business generated more than $45 billion in revenue in 2013. Traditional casino-style games, poker, and limited kinds of horse racing are all legal forms of gambling in Macau. With the exception of local internet betting possibilities for select casinos, all of these kinds are only available offline. Online gambling is not addressed, licensed, or even acknowledged in Macau. As a result, there are no legal gaming sites operating in Macau.
The Gaming Inspection and Coordination Bureau is in charge of all gambling activities in Macau (DICJ). The organization is in charge of regulating, enforcing, and managing the gaming sector as a whole.
Australia
The Australian gaming industry is subject to stringent regulations. They are permitted to provide some gambling services to citizens, but only traditional sports betting and lottery-style activities are now permitted. But casino games and live sports betting are prohibited. However, because these sites are outside of Australia's government's jurisdiction, there are no laws prohibiting Australians from utilizing them.
Unlike many other countries, New Zealand has clear and explicit legislation regarding online gambling. In 2003, the government approved a new statute to ensure that its rules were clear and easy to understand. Surprisingly, the statute stated unequivocally that using websites from other countries is perfectly legal. Advertising on such sites is, however, prohibited in New Zealand.
How Shufti Pro Can Help
The implementation of anti-money laundering regulations has become a necessity for the gambling industry as multiple record-breaking AML fines were issued by regulatory authorities on both online and land-based casinos. 
Shufti Pro's state-of-the-art anti-money laundering services are an optimum solution for the online gambling businesses as it allows to verify the identities of gamblers along with their source of income against 1700+ global watchlists with 98.67% accuracy in less than a second.
Want to know more about AML screening services?