BEFORE YOU GO...
Check how Shufti Pro can verify your customers within seconds
Request Demo
No thanks
The most recent fraud statistics will make you uncomfortable.
Fraud cases are rising – relentlessly. Over 5% of corporate revenue is lost to scams every year, which is worth $4.7 trillion globally.
The rising cost of living would continue presenting criminals with opportunities to try a "get-rich-quick" strategy, take a chance on a riskier investment, or choose a supposed deal from an unauthorised seller.
With 2023 fast approaching, here are the latest trends in bank scams to help everyone avoid handing their money to a fraudster.
Banking Scams to Look out for in 2023
1. Money Mule Requests
Organised criminals seek out "money mules" who use legitimate bank accounts to wash illegal money. Social media posts, phoney job postings, and emails are the most common methods they use to target youngsters.
There's a significant rise in the number of user-generated posts urging individuals to work as money mules.
A total of 2469 money mules were arrested in a global crackdown against money laundering.
These may be offered as simple investment opportunities or as "jobs" that guarantee quick and effortless money. Techniques include requesting people to apply for bank cards on another person's behalf or persuading them to move funds received to their account (while keeping a share for themselves) as a favour.
Money mules might face a 14-year jail term.
How to Stay Safe?
Inform the local police if anybody approaches to transfer money through your account or if you fear someone is enlisting others to do the same.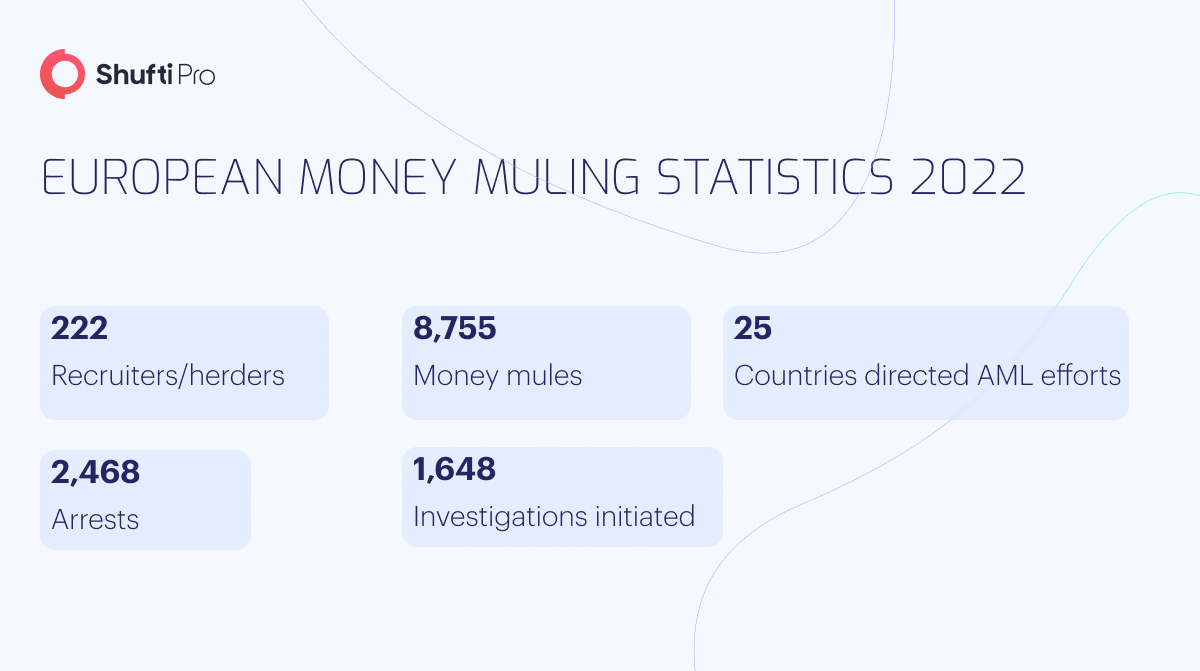 Suggested Read: Combating Money Muling Activities With Shufti Pro's AML Screening Services
2. Card Theft and Shoulder Surfing
Although there is a rise in cybercrime, offline crimes, including credit card theft and commerce fraud in retail stores are seeing no signs of slowing down.
UK Finance reports that losses from contactless and face-to-face card theft in retail stores were £33.6 million within the first half of 2022.
Banks claim that these mainly include low-tech techniques like "shoulder surfing" and entrapment gadgets at ATMs, spying on individuals while they enter their PIN numbers.
Identity theft involving credit and debit cards more than doubled during the first half of 2022. Here, fraudsters apply for a card in someone else's name or hijack an existing card account using stolen or falsified documentation.
How to Stay Safe?
Keep a sharp eye on personal finances (the majority of institutions give text or email alerts, highlighting anything out of the ordinary immediately). Try to use ATMs located inside bank branches only since these are less prone to be tampered with.
Suggested Read: 5 Ways how IDV Provides an Active Defence Against Fincrime
3. Fake Apps Targetting Bank Accounts
With fraudsters leaving no stone unturned, people are encouraged to use two-factor authentication. It adds an additional level of protection while entering sensitive information like passwords.
This added layer of security is well known to fraudsters, and Pradeo experts at a mobile security company found a bogus application, "2FA Authenticator", on Google Play that was downloaded over 10,000 times prior to its being taken down.
Due to the fact that it offered a genuine service, this phoney app gave off the impression that it was fully legitimate. However, in the background, it deactivated system security screening on victims' smartphones and installed malware covertly to steal their banking login information.
How to Stay Safe?
Official stores like the Google Play Store or Apple's App Store are the safest methods to download applications. Always check the ratings for an app as well as the developer because fraudulent apps still manage to get past security measures.
Suggested Read: Compliance and fraud Losses in the Banking Sector
4. Spoof Calls and Texts
Never believe calls and messages that seem to be from the bank or credit card provider. Sometimes they fake the caller's identity so that it looks to be someone calling from an official bank.
Some people make "robocalls" that are automated and play pre-recorded messages asking users to dial a number to speak with them about a fictitious issue, like an unusual payment on their account.
To make the deception even more believable, scammers usually already know some of your personal information. Many fake bank texts invite users to click on a link to a phoney website or contact a fraudulent helpline that connects them directly to hackers. The goal is to persuade users to give the fraudster access to their device via screen-sharing, transfer money to a purportedly "secure account," or provide sensitive data.
How to Stay Safe?
Never rely on the caller's ID, and disregard any links sent to you via SMS. Notify the bank or card issuer via a reliable channel, like their mobile app or direct phone line, when you have any concerns about the veracity of a communication.
Suggested Read: Securing Banks and Curbing Financial Crimes with Shufti Pro AML/KYC Solution
5. Online Purchase Scams
Scammers generally establish bogus websites promising low costs for high-value items like mobile phones, computers, designer clothing, and gaming consoles and then pay for false or deceptive advertisements on social media sites and search engines.
Paying through a bank transfer has much lower levels of protection than using a credit or debit card, so exercise particular caution if one is asked to do so. Avoid merchants who request payment through PayPal's "Friends and Family" method as well since if anything goes wrong, customers won't be protected by PayPal Buyer Security.
When anyone is waiting for an item to be delivered, they must be wary of phoney SMS and emails that need them to reschedule the delivery and that frequently leads to attractive clone websites that collect their personal information and payment information.
How to Stay Safe?
Try to shop from reputable merchants and pay with a card. Check reviews from previous customers if they have used the website or purchased from the seller previously.
Suggested Read: How Identity Verification Eliminates Social Media Scams to Enhance User Experience
Gear Up to Avoid the Unavoidable-Scams
Yes, scammers are smart. Yes, they will continue stealing others' money in very sophisticated ways. And yes, businesses need to step up their game if they want to curb financial crimes. 
Companies need to invest in an AML screening solution that is up-to-date. This is where Shufti Pro fits in the puzzle. Screening against 1700+ global watchlists, Shufti Pro's AML screening solution onboards legitimate customers with 99% accuracy and proves to be a great bet to keep fraudsters at bay. 
Still, have any queries about how an AML screening solution gets the job done?