BEFORE YOU GO...
Check how Shufti Pro can verify your customers within seconds
Request Demo
No thanks
With transforming technologies and growing digitization, the global art industry has also embraced advancement. Since 9/11, the majority of financial institutions have imposed stringent checks to curb money laundering which has led the criminals to find alternative ways. Due to the involvement of high-net-worth antiques, money laundering in the art market has become a feasible choice for criminals. Organized groups are integrating black money into the legal circle by selling and purchasing high-value artworks.
FATF has estimated that out of the $67.4 billion global art market, $6.3 billion are linked to transnational crime. Although global regulators are working tirelessly to eradicate money laundering, financial crimes through art and antiquities remain an area of concern. Countries with rich histories particularly the US, UK, Syria, and Egypt are the most targeted ones by the money launderers.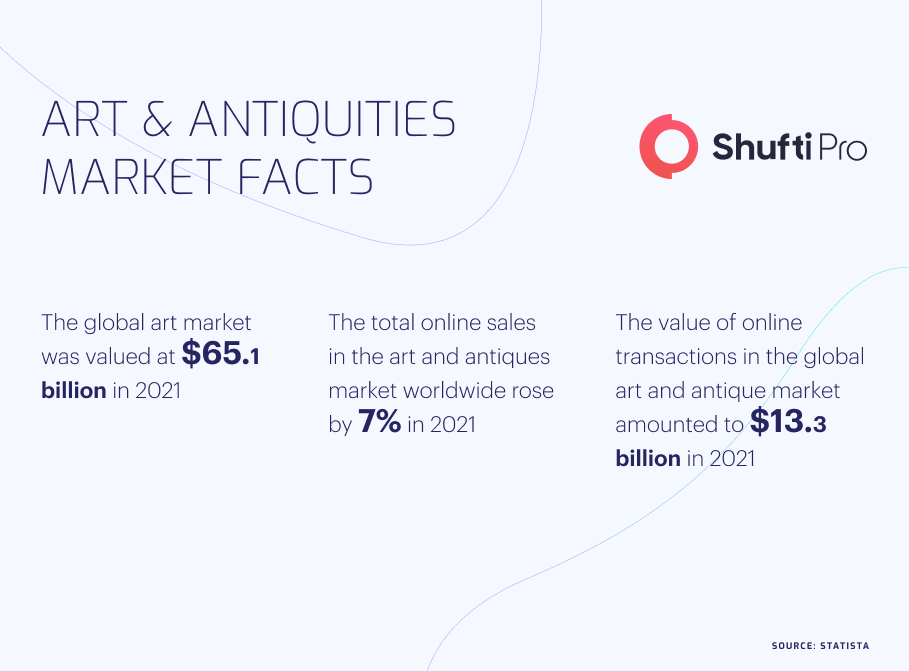 Art Industry – A Safe Haven for Money Launderers
Entire history of planet Earth is thought to be buried under the surface and with evolving geological technology, scientists are getting access to ancient artworks. Collectors across the globe buy these cultural objects and huge demand for the artwork has raised their prices. Due to the high stakes of money involved, criminals have found opportunities and they are exploiting the art sector to carry out money laundering. Fraudsters purchase expensive art pieces using black money, move them to freeports and then sell them to other interested buyers to get legitimate cash.
Some criminals also use bank loan schemes to get cash by showing lease purchase of cultural antiques and in this way, get their black money converted into legal cash. During the anti-terrorist wars in Afghanistan, Libya, and Iraq, a large number of cases surfaced where criminals used art and antiques for terror financing. Especially the online auction of ancient artifacts has simplified money laundering for criminals as the majority of these transactions are going unmonitored. Considering all these risks of money laundering and terror financing, it is imperative to implement robust AML screening measures to keep criminals out of illegal art and antiquities deals.
Cases of Money Laundering through Art and Antiquities
Art and antiquities have adopted the form of an easy source of money laundering which has raised concerns for all the countries and global regulators. Numerous cases have been witnessed where money launderers were involved in terror financing and other financial crimes.
Antique Paintings Recovered During Raid at Drug Dealer's House in Philadelphia
Federal agents in the US raided a drug dealer's house in Philadelphia where they found marijuana and $2.5 million in cash stashed in the secret compartment. The team was surprised to discover 14 ancient paintings on the walls and 33 more hidden in a secret storage room near the house.
The investigation showed that the culprit was using cultural objects to legitimize the drug money. The total value of all these paintings has not been estimated and the court is yet to penalize the criminal.
Egypt Recovers 29,000 Smuggled Antiquities over the Past 7 Years
Egypt is home to ancient civilizations and the geological departments have discovered a large number of art pieces during mining at different places. Due to its vulnerability to smuggling and money laundering, the Egyptian government and other global watchdogs have taken several measures to confront illegal activities.
In the past seven years, anti-money laundering organizations have conducted raids in several countries and recovered 29,000 antiquities belonging to Egypt that were being used for money laundering. A regional conference on AML and CFT has also been conducted in Egypt with the pledge of countering the smuggling of cultural and ancient objects.
Global AML Regulations to Secure Art Industry
Involvement of high risks in art industry has compelled all the responsible countries and global watchdogs to legislate regulations for countering money laundering through antiquities. All the reports have shown an increase in ML/TF through the ancient art and recommended implementing strict anti-money laundering screening in the sale/purchase of cultural objects.
FATF
The Financial Action Task Force (FATF) has termed the art market a huge threat to the existing financial system. As per FATF, money laundering and other financial crimes associated with art and antiquities account for $3 billion. FATF has proposed several guidelines which suggest all countries implement effective anti-money laundering screening measures to halt criminals from carrying out illicit activities.
EU's 6th Anti-Money Laundering Directive (AMLD)
EU has always remained quite diligent towards money laundering through the art world. 6th AMLD regulates all the stakeholders particularly traders, third parties in sale, and store-art in free ports. 6th AMLD has made it mandatory for all the parties to verify the involved participants in case if value exceeds EUR10,000.
AML screening and Customer Due Diligence (CDD) have been made compulsory for all the participants and scope of money laundering has also been increased by adding offenses like aiding, attempting, and inciting.
United Kingdom
The UK has also adopted the European Union's Anti-Money Laundering Directives (AMLD) and made it compulsory for all the stakeholders of art market to implement robust AML screening solutions.
The UK government has also issued "Guidance On Anti Money Laundering for UK Art Market Participants" which proposes the parties verify all transactions above EUR10,000. The government has also recommended involved parties develop a risk-based approach under the guidelines of FATF.
AML Screening in the Art and Antiquities Sector
Due to the increasing threats of money laundering and terror financing in art market, it has become imperative to implement stringent AML regulations. Global watchdogs like FATF and Interpol have accumulated several sanctions and Politically Exposed Persons (PEP) lists which should be consulted to filter the data of the buyers and sellers. In 2022 alone, between the months of January and May, $5.7 billion were generated through the art and antiquities sector which shows the overall potential of the market.
Terror financing has also adopted the form of a huge threat to existing system and it is estimated by FATF that a large portion of terrorism's revenue is generated through different means of money laundering. The only viable solution to counter money laundering and terror financing in the art sector is through implementation of a system that has access to global financial crime databases and sanction lists.
How Shufti Pro can Help?
Anti-money laundering screening, a risk-based approach, and enhanced due diligence are the most practical options to eliminate money laundering and terror financing from the art industry. Strick AML checks will ensure that criminals are not incorporating illegal money to purchase artwork and further using it for money laundering purposes.
Shufti Pro's AML screening solutions powered by AI algorithms can assist the stakeholders to identify the buyers and verify their source of income along with monitoring suspicious activities. Shufti Pro's AML solution has access to 1700+ global watch lists against which it screens the data and verifies entities in less than a second with 98.67% accuracy.
Want to know more about the Anti-Money Laundering screening solutions for the art industry?