BEFORE YOU GO...
Check how Shufti Pro can verify your customers within seconds
Request Demo
No thanks
The first paper-based photo identity document was in May 1876, developed by William Notman for the US Centennial Exhibition. The e-IDV industry has come a long way since then. Fast forward to today, paper-based identity verification documents are rooted in people's lives. Approximately 90% of the world's population is using some form of paper-based ID, such as ID cards, driver's licence, birth certificates, and more. Alternatively, the World Bank reported that 850 million people globally do not have an official ID for identification.
However, paper-based documents have been in widespread use for 150 years, but in the last three years, there has been a shift from papers to electronic versions. After the coronavirus outbreak, there was a significant rise of over 68% in the use of smartphones, ultimately fueling global digitisation. This drove the need for electronic verification and digital IDs.  
So what's next? Here is the breakdown of electronic verification:
Digital IDs – The New Norm?
To completely understand the idea of identity verification documents, we must first examine how people used physical, paper-based IDs and their transformation in recent years. From document-based verification to face-to-face verification to online Know Your Customer, how banks and other industries verify customers has changed completely.
Digital IDs further uplift the verification process. The core of this innovation doesn't lie in automating the e-ID verification process but instead, digitising the documents themselves. Electronic IDs are simply digital versions of paper-based, traditional ID documents, typically stored on digital wallets. This new form of ID promises more security and creates a privacy-centric approach to secure the information.
The Challenges of Paper-Based Verification
Physically handing over identity documents has been the norm since the emergence of paper-based IDs. This required the customers to visit the bank or office within the working week and time to provide the documents. This was tiring, troublesome, and inconvenient for clients to some extent, especially for those without easy access to transportation.
Other than this, the customers do have the leverage of sending scanned copies of documents via email. Convenient, yet it also comes with its own complexities and problems. One spelling mistake in the recipient's email can lead the information to an unknown person – it might be a fraudster. Besides this, the images of official documents can be easily tempered or altered and used to carry out fraud, all while the victim remains unaware. 
So what's the solution?
The Emergence of Electronic IDs and e-IDV
Electronic identity verification and digital IDs are increasingly being used to automate and redefine how people assess professional services instead of mandating customers to provide paper-based documents, asking them to schedule face-to-face meetings and hand over personal information.
eID can offer a secure connection between the business and the customers, where the documents can be sent digitally at any time and from anywhere. They are verified using e-IDV solutions that are more efficient, accurate, and robots than the human eye or conventional means of verification.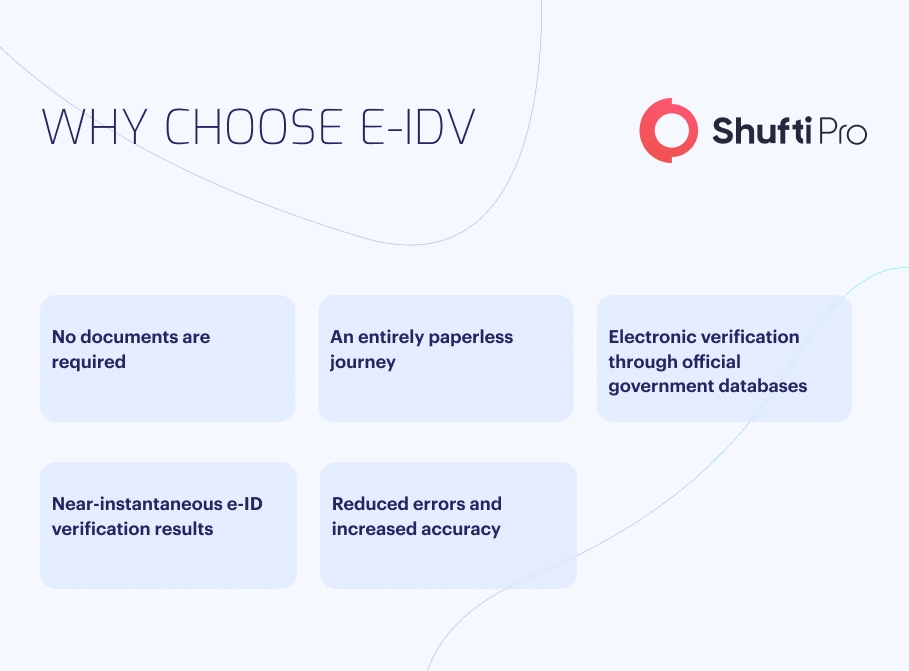 Balancing the Art of Security and Compliance
Remote customer onboarding is becoming the new standard as the inherent risk is neutralising, but should not be taken for granted. The client risk should be assessed as a part of secure operations. Though using eIDS and e-IDV comes with lower to no risk in specific scenarios, it still retains risk centred around crime, cyber risk, and data privacy.
Ensuring compliance involves securing customers' data and privacy rights and standing against fraudulent identities employed to launder money gained from the proceeds of crimes. The Financial Action Task Force (FATF) has released guidance regarding digital identities as a reference for global businesses to understand the level of certainty when onboarding customers remotely.
Digital ID Milestones Till 2023
Before looking at the future, first, review the progress the world has made concerning eIDs. Here are some of them:
At the ID2020 summit held in New York in 2016, the United Nations (UN) initiated debates regarding digital identities and blockchain technology whilst diving into the benefits for the underprivileged.

Multiple governments, including Australia, Argentina, Denmark, Austria, China, India, Japan, etc, have taken the initiative to develop digital IDs and encourage businesses to practise electronic verification checks.

Like India, China, and other countries embracing digitisation, the UK government also launched a platform called Gov.Verify in 2016, and later on, in August 2021, the state came up with a new version of its initiative named digital identity and attribute trust framework.

The Australian government designed its first phase of the digital identity program in August 2017

Germany, in February 2021, announced that citizens can now create and store digital versions of government-generated documents on their smartphones as digital IDs with the PIN by fall 2021.

Canada has also contributed toward the digital-first world and progressed in developing digital identities for its citizens. The government has created a federal digital identity scheme, named Pan-Canadian Trust Framework, a pilot project driven and monitored by the Digital ID Authentication Council of Canada (DIACC​), a non-profit organisation.

India also has come up with a digital ID, named Aadhaar, that crossed 1 billion users in 2016. Fast forward to 2021, the number reached 1.3 billion. 
Electronic Identities: A Key to Empower Developing Communities
As per the insight into global communities provided by the World Bank's Identification for Development Initiative (ID4D), in 2021, it came to light that almost 11% of the world's population which makes about 850 million people, failed to prove which country they belonged as they have no physical, paper-based or digital identity documents.
The most impacted are marginalised groups living in low-income and underdeveloped countries. Without proper identification documents, such groups can not access the services, benefits, and opportunities such as voting rights, medical care, bank accounts, house ownership and sims.
Recoginsing and eliminating these challenges, governments, institutions, and FinTechs are responding effectively. For example, the Bill and Melinda Gates Foundation has shown a commitment to accelerate digital ID development schemes and made a $1.27 billion investment that supports global health and development schemes along with $200 million for developing digital public infrastructure and eID and civil registry databases.
Thus, as technological advancements come up with both pros and cons, eIDs are beneficial for both democracy and the economy however, criminals can also take advantage to avail illicit gains – Hence, e-IDV is the solution to ensure secure operations.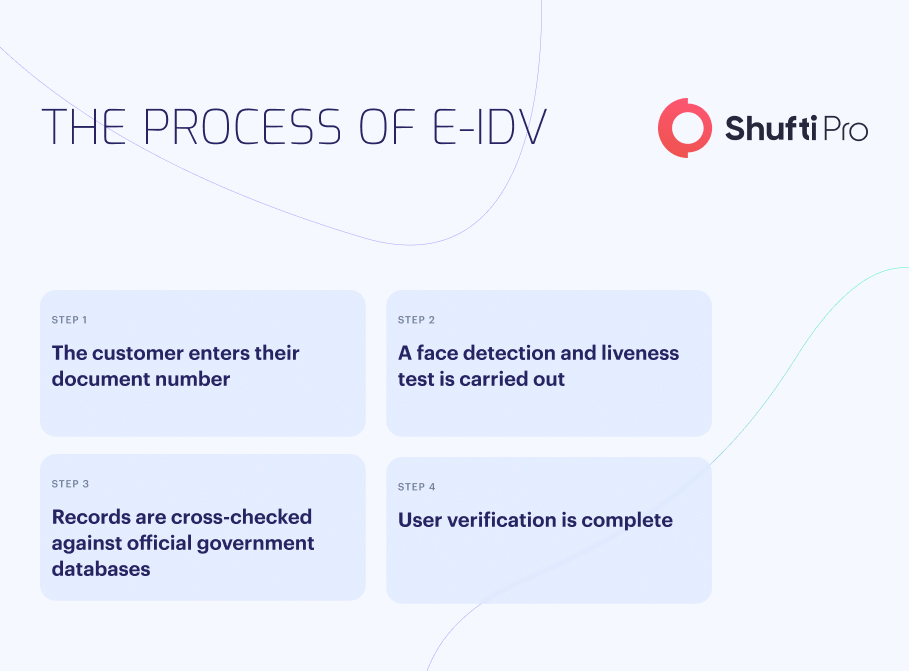 Electronic Identity Verification (e-IDV) with Shufti Pro
Identity documents and verification methods have been completely redefined compared to what they were a decade before. The global pandemic greatly contributed towards digitising processes and documents while making e-IDV and e-IDs the standard. Most businesses, as well as governments worldwide, now accept and recognise the potential of digital verifications and identity documents – due to which e-IDV has emerged as the new form of verification.
However, electronic identity verification standards vary business-wise. The strategies and processes totally depend on the industry, risk tolerance, customers, and jurisdiction. Shufti Pro's one-stop e-IDV solution makes it easier than ever to develop and execute an electronic ID verification strategy for your business. We offer dual ID authentication methods, including active and passive verification tailored to your business needs. Diving deep, Shufti Pro's e-IDV solutions come with both 1+1 and 2+2 checks to streamline onboarding processes whilst ensuring state-of-the-art security measures. Offering services across 40+ countries and territories, with the support of 10,000+ documents in 150+ languages, Shufti Pro is redefining KYC verification worldwide.
Want to Learn More About e-IDV?