BEFORE YOU GO...
Check how Shufti Pro can verify your customers within seconds
Request Demo
No thanks
Companies worldwide are undergoing a radical digital transition to keep up with today's lightning-fast digital ecosystem. Paperwork, manual inspections, and lengthy wait times are all past things regarding traditional onboarding processes. These approaches could be more efficient financially but often result in increased turnover rates and reduced customer satisfaction. The arrival of digital customer onboarding has been a game-changer for many different types of enterprises.
Companies increasingly emphasise identification document verification to maintain onboarding security and efficiency in the face of rising fraud, identity theft, and shifting regulatory requirements. However, verifying documents, timing, geographic reach, and available technology may take time and effort. To successfully onboard the right customers, businesses need a global identity platform that allows for a flexible, layered identity and document verification strategy.
The customer experience and developing the smoothest possible digital onboarding process are becoming increasingly important to financial institutions in today's digital-first environment. A recent report by GSMA states, "The number of banking users (online and mobile) exceeded 2 billion in 2018, and it has an expected 11% compound annual growth rate between 2019-2023."
Critical Issues in Customer Onboarding
Customer onboarding, whether digital or analogue, must be quick and efficient to ensure the happiness and security of the customer base. Even though it's slower and less convenient, manual brick-and-mortar onboarding can still be enhanced. To save time, businesses utilise automation software for data input, which can take handwritten or printed material and turn it into digital information.
However, digital onboarding presents its own difficulties, such as the 30% increase in reported fraud losses in 2022 and the 13% increase in deep fake assaults in 2022 compared to 2021. Furthermore, insufficient identification verification poses hazards. In the recent study of Global Economic Crime and Fraud Survey, 2022 found that 51% of businesses polled had fallen victim to fraud in the preceding two years. Because of these obstacles, identity verification has become critical to client onboarding.
Identity Document Verification Best Practices
In November 2022, industry trends in new online banking accounts, digital banking, and customer abandonment found some startling data. They discovered that 90% of companies saw abandonment rates of 40% or more due to difficulties encountered by customers during the digital account opening procedure. Too many manual processes, a lengthy process, and the hassle of KYC and identity verification regulations were frequently cited as reasons for giving up.
Organisations can use ID document verification features to confirm an applicant's identification and enhance the customer experience. Using document verification is a unique approach to digital identity verification that provides a robust alternative to conventional and in-person verification techniques, allowing businesses to maintain a fully digital workflow while decreasing the occurrences of desertion. By utilising real-time government ID verification, businesses can lessen the possibility of identity fraud and streamline the account opening process with Identity Verification solutions. 
Simplify Operations
To achieve their requirements, businesses frequently use a variety of identity verification strategies. Integrating these methods into a streamlined process is difficult since gaps in coverage can allow malicious actors to enter and slow down the onboarding of new customers. The Shufti Pro identity platform provides an adaptable, no-code setting where enterprises can combine verification processes. Using the layered verification method, companies can have direct control over their operations and develop strategic procedures that meet specific needs, regardless of location.
Layered Identity Verification
The Shufti Pro identity platform facilitates swift integration and quick verification for individuals and businesses. An organisation can plan for a customer's onboarding process, which may begin with a basic identity check and escalate through document and biometric verification if a particular risk threshold is met. Multi-factor authentication can boost customer confidence and build a reliable user experience. 
Document Verification
Businesses in today's digital economy can get the onboarding assurance they need with the help of identity document verification. Organisations can safely prevent fraud, maintain regulatory compliance, and onboard the right customers using a tiered verification approach through a single agile platform. Companies can gain an edge in the dynamic digital economy and succeed with the help of verification technologies.
Identity Checks for Seamless Onboarding Process
By 2027, Statista predicts the identity verification market will be worth 18.12 billion USD. This is primarily because more and more companies are instituting identification checks to reduce the prevalence of identity theft committed via the Internet. Verifying a new hire's identification is essential to onboarding for several reasons. They help businesses establish a person's identification before allowing access to restricted areas or resources. This verification method helps prevent fraud or illegal access and guarantees compliance with regulations.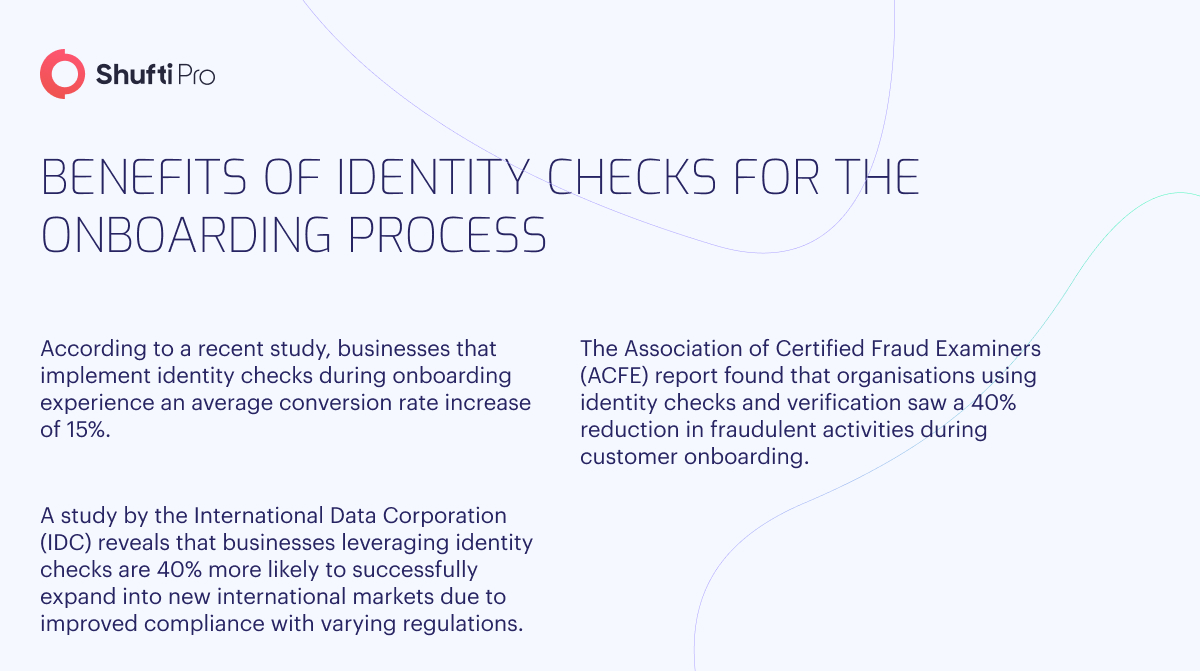 Importance of Identity Verification Checks in the Customer Onboarding Process
Companies primarily utilise identity verification checks to ensure that the individual being onboarded is who they say they are, adding further protection. This ensures that sensitive information and vital infrastructure are protected from prying eyes. When hiring new staff, banking institutions often need official forms of identification to ensure no impostors are given access to the building.
Profitability Growth through Improved Fraud Detection
During onboarding, identification verification can help prevent fraud and money laundering. Thanks to stringent checks, businesses may rest easy knowing they're dealing with legitimate customers who need improvement. The more legitimate customers take on, the more money the business will make. As a result, businesses can protect themselves from identity theft and other security breaches by doing thorough identity checks on new hires. To stop people from creating fraudulent accounts on an e-commerce site to take advantage of discounts, the site may require verification of personal information.
Limiting Financial Penalties
The storage and transmission of private data are governed by several laws in many sectors. Accurate identity verification processes help organisational compliance with KYC and AML rules. Cryptocurrency exchanges must do user verification to prohibit illegal activities like money laundering and provide a secure trading platform. Know Your Customer (KYC) and the risk they pose of unlawful activity might help avoid paying hefty fines. Remember that there are severe consequences for violating KYC and AML rules. U.K. and U.S. regulators fined Standard Chartered $1.1 billion in 2019 for failing to implement adequate money laundering procedures.
Improving Customer Experience
Customers have higher standards than ever before for the companies they patronize. 74% of respondents to a survey regarding creating an online bank account expressed a preference for having immediate access to their funds. Businesses need sophisticated identity verification solutions to verify customers' identities to provide high-quality service swiftly.
By streamlining the onboarding process and reducing the number of steps required of users, automated KYC solutions improve the user experience. If the sign-up procedure is simplified, consumers are less likely to give up in frustration and will be more likely to complete it. New drivers can easily give the required information and begin making money using a ride-sharing network that incorporates automated Know Your Customer checks.
Identity Verification Optimisation for Building Trust
What if improving identity verification processes presented a significant chance for companies to build their names? Yes, and this is a normal response to the growing pains of the digital economy and its potential dangers. The rising need for digital safety and openness is driving the expansion of the global identity verification industry. Companies who want to take the lead in their respective sectors today are the ones who worry about managing identity verification in digital onboarding.
As a result, companies need to find ways to foster reliable, long-term relationships with customers who are essentially strangers while working to lessen the threat of cybercrime. Incorporating more effective identity verification methods into the organisation's onboarding procedures can help establish credibility because it will: 
After verification, instantly recognising a customer's identity reduces complexity and increases efficiency when using a product or service.

Preventing cybercrime, since clients are more likely to continue doing business with reputable establishments that demonstrate a commitment to protecting personal information and that of the company.

Adapting identity verification methods to meet the requirements of various policies, such as KYC,

AML

, GDPR, and PSD2.
How Can Shufti Pro Help
The document verification service provided by Shufti Pro is a game-changer for companies seeking to improve customer onboarding procedures. Shufti Pro uses innovative methods, including OCR and AI-powered algorithms, to quickly and accurately extract data from paper documents, speeding up the verification process and decreasing human error likelihood. Its anti-tampering features, such as hologram and pattern detection, further strengthen document security and prevent fraudulent submissions. Real-time facial recognition also helps prevent identity theft by confirming that the individual presenting the document is the same as the one pictured. The service's global availability and scalability make it a flexible option for enterprises, allowing them to comply with mandates like KYC and AML more easily. By comparing internal and external databases, organisations may increase data reliability, leading to better user experiences, lower costs, and more effective compliance measures, all with the help of Shufti Pro.
In addition, Shufti Pro has built-in integration features, so it may be easily incorporated into an organisation's pre-existing procedures for verifying documents. This flexibility in the verification process allows businesses to meet the specific requirements of their field and boost productivity. With the rise of identity-related fraud, Shufti Pro has emerged as a reliable partner in the pursuit of safe and effective customer onboarding, protecting businesses and their most prized customers.
Want to know more about how Shufti Pro helps businesses in customer onboarding?