BEFORE YOU GO...
Check how Shufti Pro can verify your customers within seconds
Request Demo
No thanks
Continuous developments in the world of technology have led to many innovative solutions like facial recognition to protect different sectors in the world. Lately, there have been many reports indicating the rise in biometric frauds, and the UAE is no exception here. The digital revolution in the region has not only opened gates for domestic growth, but the rate of criminal activities is expected to increase too. Although the rate of biometric fraud was comparatively lower in UAE last year, predictions for 2021 are not very satisfying. New types of frauds are expected to emerge and dodging facial recognition is the new motive for cybercriminals. According to Shufti Pro's Global Identity Fraud Report 2020, the global identity fraud rate increased by 3.36% and some new biometric fraud attempts were reported too.
Given the rapid adoption of facial recognition technology in the UAE, it might give birth to various digital scams if not adopted wisely.
What is a Facial Recognition System?
Facial recognition refers to the use of advanced technology for ensuring the live presence of a user. The system deploys thousands of AI models to match the face of the individual against the image on government-issued ID documents. The technology enhances the security of the public and government sectors.
Digital Revolution in UAE and Facial Recognition
The digital revolution in the UAE and the Gulf region has increased opportunities for domestic growth. From FinTech to the retail sector, almost every industry is all set to enjoy digitisation. The process was slow but the pandemic has accelerated growth. Now, there's news about the surprising turn of events in these two regions of the world. Diversification in businesses is essential, otherwise, it might lose any chances of growth in the future. 
One of these digital advancements includes the use of AI-driven facial recognition in various sectors for increasing the security of the private and government division. Not all, but many areas in UAE will be soon implementing facial verification systems for protecting people.
Sectors where Facial Recognition will be Employed
Here's a list of some industries that have been touched by facial recognition according to The Gulf News.
Banking and Finance
The banking and finance sector has been using face recognition systems for a very long time now. UAE was far behind in technological advancements, but now, it has recognized the benefits of facial authentication. The finance industry will be the first of all sectors to use this technology for enhanced security and transaction monitoring. 
Suggested: Know your transactions (KYT) boosts your KYC efforts 
Healthcare 
Healthcare fraud is on the rise this year and without any verification protocols, things will get out of hand. According to the National News UAE, Dh3.67bn has been lost in identity fraud by patients. Given the digital revolution in the state, the probability of such frauds is likely to increase this year. This ultimately leads healthcare professionals to verify identities to combat fraud. 
Retail Sector 
For a more personalised and remarkable experience for the customers, the retail sector is also wondering about adding a facial recognition system. Due to the convenience brought by technology, customers can just scan their face for bill payments. Likewise, the retail staff can provide better services to their existing customers, thus increasing the chances of turning existing customers into loyal ones.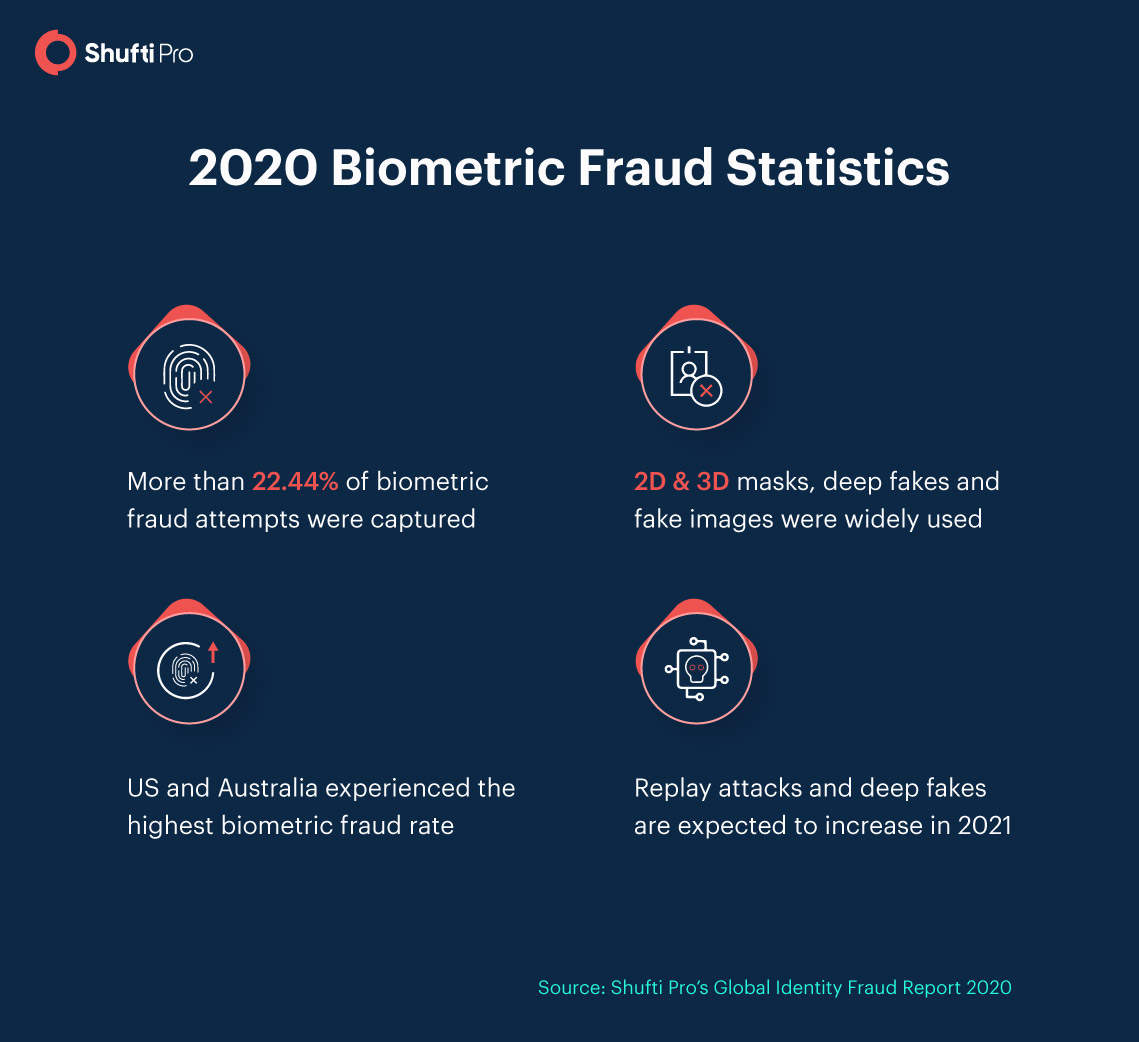 Security Department
Catching wanted criminals is becoming a tough challenge these days. For the same reason, the government has decided to use AI-based facial recognition in public transports. This will help them in arresting criminals on time. This will help them in securing the general public and preventing fraudsters from causing any trouble in the future. 
Border Controls 
Terrorist activities in different regions of the world have significantly increased over time. Human trafficking and other criminals activities are some of the major concerns but facial recognition for border controls can help the authorities in combating these challenges.    
Airport Clearance
Ensuring that legitimate people are allowed to travel requires enhanced identity verification protocols. With face verification, none of the criminals can use forged, fake or stolen identities that means enhanced security in the state.
Identity Verification with Facial Recognition
Verifying identities is an obligation for the majority of the sectors. Certain recommendations from FATF and laws from regulatory authorities make compliance mandatory. For better compliance, robust identity verification checks are important and face verification software makes the process error-free. 
Challenges that UAE Authorities are Encountering 
As easy as it sounds, adding advanced technology in every area is not a piece of cake. There are several obstacles that have to be tackled for seamless integration, and authorities in the UAE are also facing some challenges. Let's take a look at the major ones. 
Trust Issues 
Law enforcement agencies believe that facial recognition is far from perfect and not fully reliable for use. According to the raised concerns, face verification is biased and may not be able to identify different ethnicities. This is debatable though. If the UAE authorities use AI-powered face verification solutions, the chances of bias reduce. AI-based face verification solutions trained using real data are reliable and can deliver highly accurate results.
Increase in Cybercrime 
As said earlier, digitisation is not only helping for growth and advancement but it is also welcoming cybercrime into the region. Identity theft, account takeover fraud, synthetic identity fraud, and more fraudulent activities are likely to increase to dodge facial recognition. This concern, however, is argumentative because AI-based face recognition software is robust enough to identify almost any kind of criminal activity. 
Shufti Pro's AI-Powered Facial Recognition System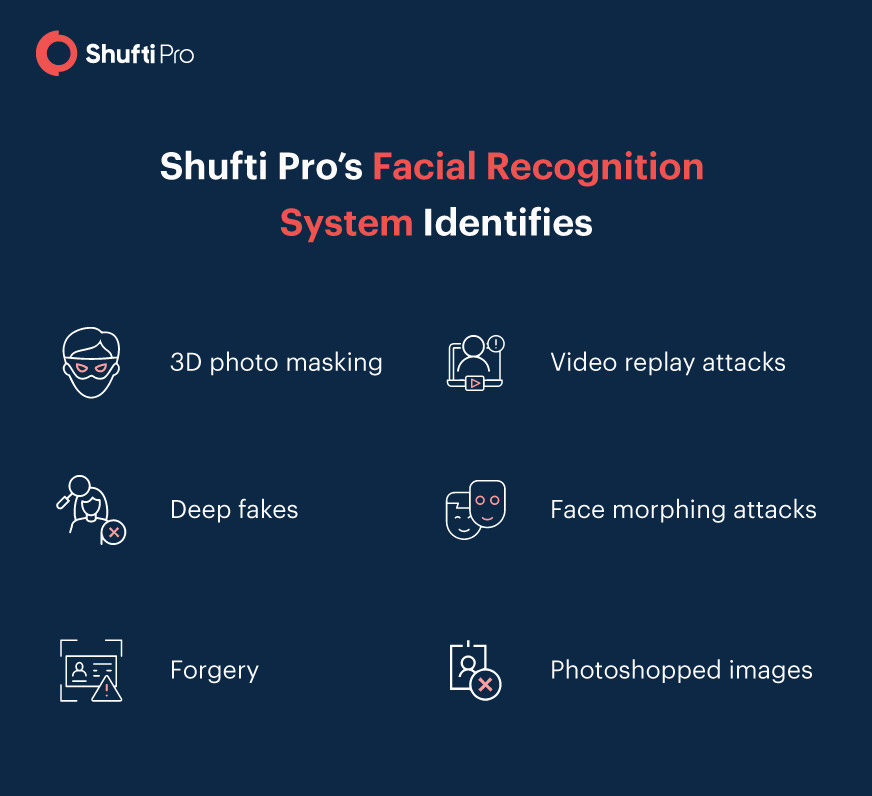 AI-driven facial recognition systems by Shufti Pro can help any sector in the UAE to combat crime or ensure the security of enterprises. The system requires a few seconds and guarantees 98.67% accurate verification results. From identity verification to compliance with the rigid KYC/AML laws, Shufti Pro's facial recognition system can help you in achieving all the goals. 
The three-step facial recognition system has the following process:
Clients enrol users with the help of face verification

Registered customers login with a selfie. No other protocols needed. 

Ongoing transaction authentication with KYC 
The system performs liveness detection checks, anti-spoof checks, facial authentication, and identity proofing measures to make sure fraudsters haven't used any of their ill techniques to fool the system. Being GDPR compliant, Shufti Pro ensures data security and can help concerned authorities in tackling the aforementioned challenges. 
To Sum Up…
In a nutshell, UAE's digital transformation has led to the adoption of an AI-powered facial recognition system to protect the private and government sector. Digitisation will not only lead to growth but criminal activities will experience a significant increase too. Retail, finance, security, airport clearance, and public transport are some of the areas where facial recognition will be employed. Apart from them, customer due diligence (CDD) measures will be utilizing facial recognition software as well for more accurate results. 
Eager to know more about AI-based face recognition systems in UAE? Talk to our experts and get all the information you need.