BEFORE YOU GO...
Check how Shufti Pro can verify your customers within seconds
Request Demo
No thanks
The growing digital fraud, stringent KYC and AML regulations put in place, and the increasing burden of compliance standards to safeguard customer data are raising challenges for organizations. How are businesses going to address these challenges?
As the digital economy continues to thrive, service providers need to deliver flexible and intelligent systems to cater to the ever-changing needs. By verifying the identity of end-users digitally through Shufti Pro's IDV solutions, companies are now able to prevent digital fraud while avoiding compliance costs.
Let's have a look at what Shufti Pro has to offer in the identity verification market. 
Enhanced AI Technology for Reliable Results
Identity-related frauds are trending as the world moves towards digitisation. This raises concerns for not only individuals but corporate entities as well. To address the problem of manual verification during customer onboarding, many service providers are offering automated solutions. Shufti Pro stays one step ahead by empowering its identity verification services with Enhanced Artificial Intelligence that comprises thousands of AI-based models for informed results.   
Trained on Real Data
Unlike other technology which is developed using a predefined set of examples, enhanced AI takes into account real data for reliable and more accurate identity verification. This allows businesses to identify and take down compromised IDs and mitigate identity fraud. The models get better with every verification since they learn from different forms of real data.  
Human Audits/Human Intelligence
Oftentimes, businesses don't find the automated systems reliable and always have concerns regarding the results. Shufti Pro intelligently addresses this concern by following a hybrid approach that synergizes the use of artificial intelligence and human intelligence for reliable and error-free verification results. All the verification results are manually cross-checked by our human experts that leaves no room for an error. Moreover, continuous human audits help refine the AI models.
Automated Course Correction
Shufti Pro is one of its kind to offer additional information about why verification failed to give another chance to the users to initiate verification again. The automated declined reasons are provided along with instructions for the users to successfully pass the verification checks. Though this is a simple practice, it tends to boost conversion rate by giving users another opportunity.
Auto Capture Feature
Shufti Pro has recently introduced an AI-powered auto-capture feature to enhance customer experience by streamlining the customer's verification journey. This feature automatically captures the user's face and document when shown to the camera during verification. Moreover, for successful capture, our intelligent system displays instructions for users to follow. 
On-Premises Services for Data-sensitive Industries
Data-sensitive industries like healthcare, banking and retail need to take extra measures to protect their consumers' data. In this regard, an in-house solution to onboard customers can prevent data breaches that often result in a loss of capital and customer trust. To help address data privacy and protection concerns, Shufti Pro's On-premises Identity Verification provides all-important control over customer data without any third-party interference. The solution not only comes with support for complex architecture but also helps companies meet data protection standards.  
One-time Installation
Shufti Pro's on-premises services for KYC and AML are hosted on the client's servers through a one-time installation. The ID verification suite offers multi-layered services across different platforms. This way, businesses can have comprehensive access to all the services necessary to verify and onboard customers.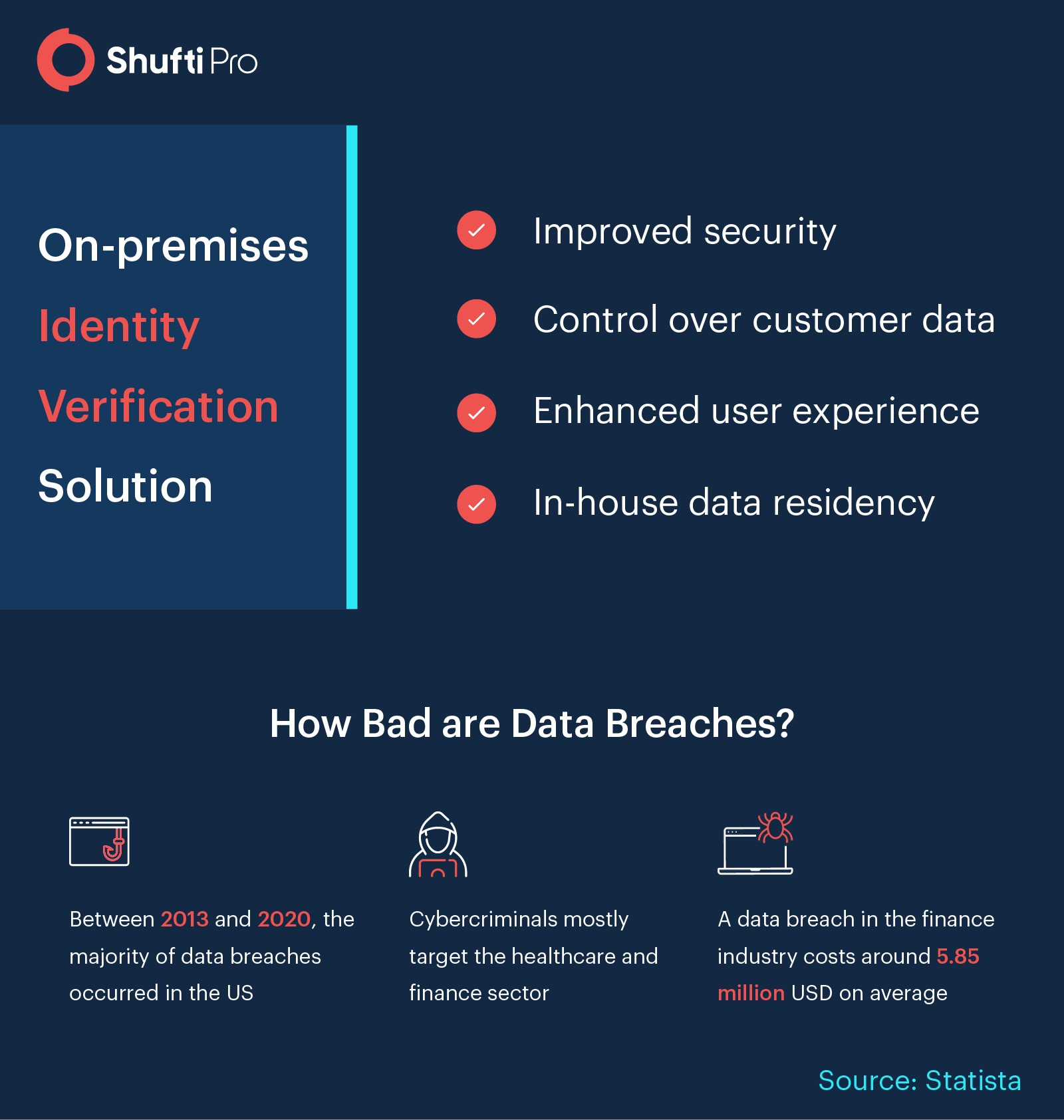 Robust Data Protection
Companies operating with sensitive user data can achieve the required level of security by deploying the on-premises identity verification solution. Since all the data is present in-house, it offers better data residency and eliminates possible instances of data breaches. 
Meeting Regulatory Compliance
Handling user data on-premises allows companies under regulatory requirements to stay compliant. For instance, in the healthcare industry, the Health Insurance Portability and Accountability Act (HIPAA) directs all relevant entities to ensure privacy standards while processing and sharing electronic data of patients. Shufti Pro's on-premises service provides businesses with the tools required to secure customer data and meet obligations. 
Flexible Technology to Cater to Business Usecase
When it comes to providing business services, user experience plays a crucial role in setting the pace. Around 76% of customers believe that enterprises should understand their needs to develop a good relationship with them. Shufti Pro offers global businesses flexible technology and solutions to design their own user-oriented solutions and workflows to provide their customers with the service they need.
Customized Hosting Page 
Shufti Pro's Hosted Verification Page (HVP) Solution offers businesses the liberty to design their own user-oriented webpage for identity verification services as per their business needs. It comes with the option of user-centric customization that is flexible and offers better scalability. Apart from that, a unique URL for the webpage is generated against the business' name.
With HVP, the business gets to decide what data will be acquired from the user. Keeping in view the requirements, additional KYC parameters can be provided through the hosted verification page. The client can select the business logo and colour palette for their webpage as well which allows better consistency with the brand setting.  
User-centric Interfaces
Shufti Pro is a global IDV solution provider supporting 150+ languages in 230+ countries and territories. With an aim to provide remarkable customer services, it offers user interfaces in various languages to omit the language barrier between the customer and the businesses. It allows global businesses to engage more customers and boost their conversion rates. 
Tailored Services
Business-tailored services provided by Shufti Pro allows companies to maintain their workflows better. By taking into account what services the client needs and any changes they may require to it, clients can get a flexible solution that fits their needs. When paired with customized UI and the Hosted Verification Page, it gives customers the liberty to make informed decisions as per their requirements.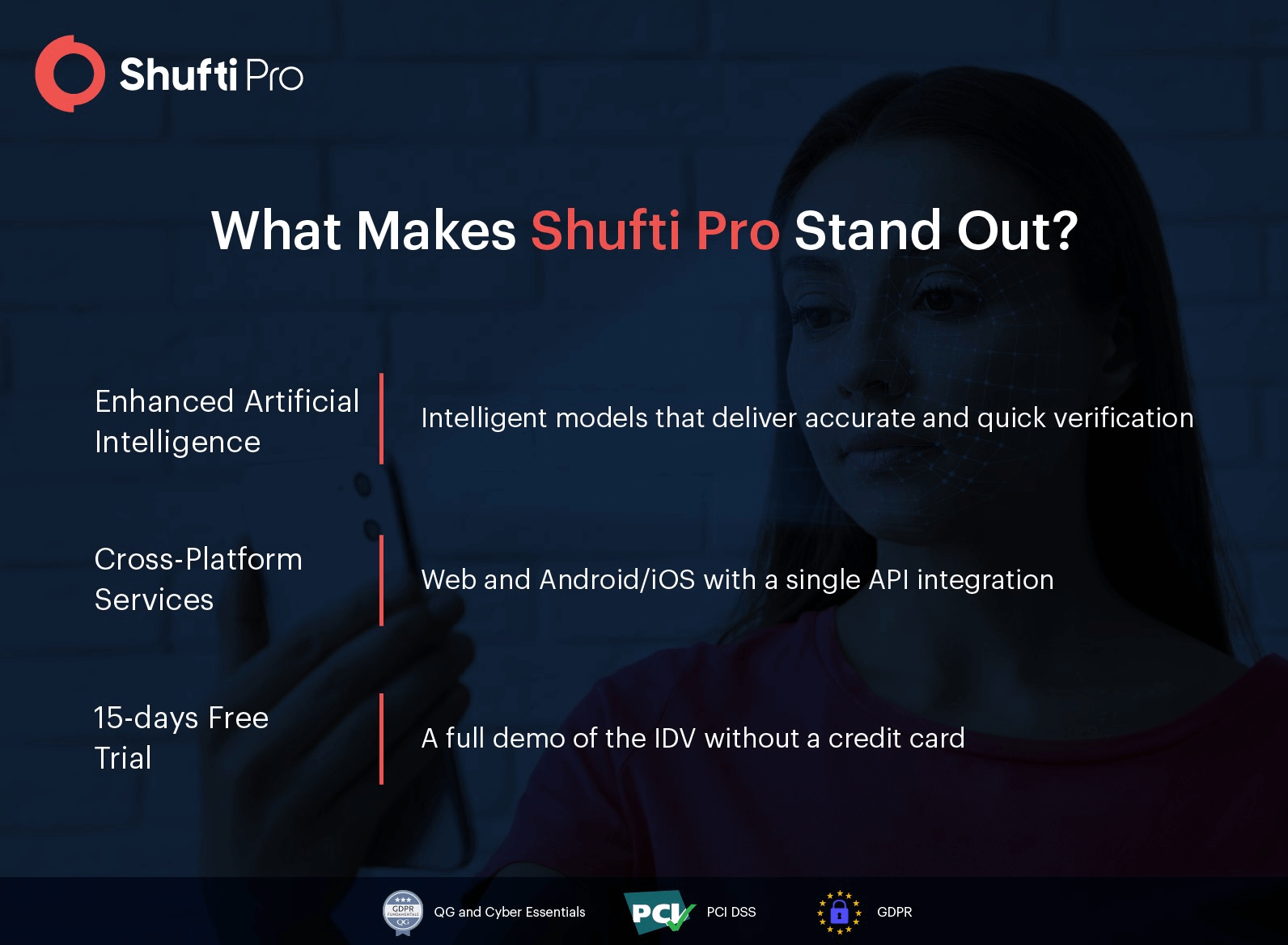 Features to Fulfill Your IDV Requirements 
Shufti Pro aims at providing customer-centric services that can efficiently meet business needs and offers state-of-the-art features under one umbrella. Our features are specifically designed keeping in view the consumers' demands. 
Global Coverage
When it comes to offering solutions in the identity verification market, service providers focus on reaching a wider audience. This is essential because many businesses have their own customer base and operate in different regions. To provide identity verification at a global level, Shufti Pro covers more than 230 countries and territories and 3000+ supported document types. The extensive collection of IDs provides accurate verification of documents used as identity proof.
Omnichannel Integration
Online businesses can now authenticate customers by offering them multiple platforms for identity verification. Enterprises can provide KYC and AML services over their website through single API integration. Moreover, for Android and iOS, a native SDK integration enables services through the mobile application with global coverage. 
Pioneering Free Trial in the IDV Market
A free trial or demo helps users understand the value they will get after actually buying a product or service. It allows prospects to make an informed decision while feeling comfortable with it. Considering this, Shufti Pro introduced the 7-day free trial for the first time in the market. Customers can get full access to KYC, KYB and other features to get a first-hand experience of what we offer without any pre-payments.
Public Pricing
Shufti Pro is the first one in the market to keep its pricing plans public. Moreover, we believe in offering consumer services to all global businesses irrespective of domains and sizes. That's why we have both monthly and yearly commitment pricing. In addition, unlike other service providers, we don't have a minimum verification threshold to get started. See Pricing Details.
Business Solutions Conforming to Compliance Standards
Shufti Pro has made its mark as an effective industry player in the IDV market. It empowers businesses through intelligent identity verification solutions in light of global compliance standards. 
Age Verification Solution – KJM
KJM, Germany's central regulatory body for minor protection, has approved Shufti Pro's Age Verification solution viable for German media distributors. The solution was analysed in light of technical and legal requirements after which it was deemed reliable. 
GDPR Quality Guild – QG Business Solutions
Shufti Pro is a GDPR-compliant service provider approved by QG Standards, an accreditation body in the UK. We make sure your consumers' data is secure with us and not processed without the consent of the user or shared with third-parties.
Have more questions? Get in touch with our experts.