BEFORE YOU GO...
Check how Shufti Pro can verify your customers within seconds
Request Demo
No thanks
The holiday season brings in a lot of joy and harmony for everyone. From thanksgiving to new year's eve, every day has some surprises for us. Businesses get a great opportunity to target potential customers and increase their revenue. The holiday season not only brings joy but many threats as well. Businesses are not safe from fraudsters throughout the year and this season fans the flame. Unfortunately, modern technology is not only helping organisations to streamline processes, but it is also helping criminals in developing more sophisticated strategies to fulfil their malicious intent. Protecting your firm from the holiday season scams is the need of the hour. 
The joyous season has one fantastic solution for your business that can help you fight fraud and also protect your customers from scams, i.e. Identity verification. It is one way of dealing with fraudsters and there are many ways it can assist your needs. Do you want to know more about the scams and the potential solution? Read this blog to find out everything you must know. 
What are Scams During the Holiday Season?
The common cyberattacks on businesses increase during the holiday season and the scams revolve around the same. Here are some of the common scams your business and customers might encounter this year. 
Business Email Compromise 

Gift card fraud 

Chargebacks 

Identity theft 

Payment fraud  

Account takeover fraud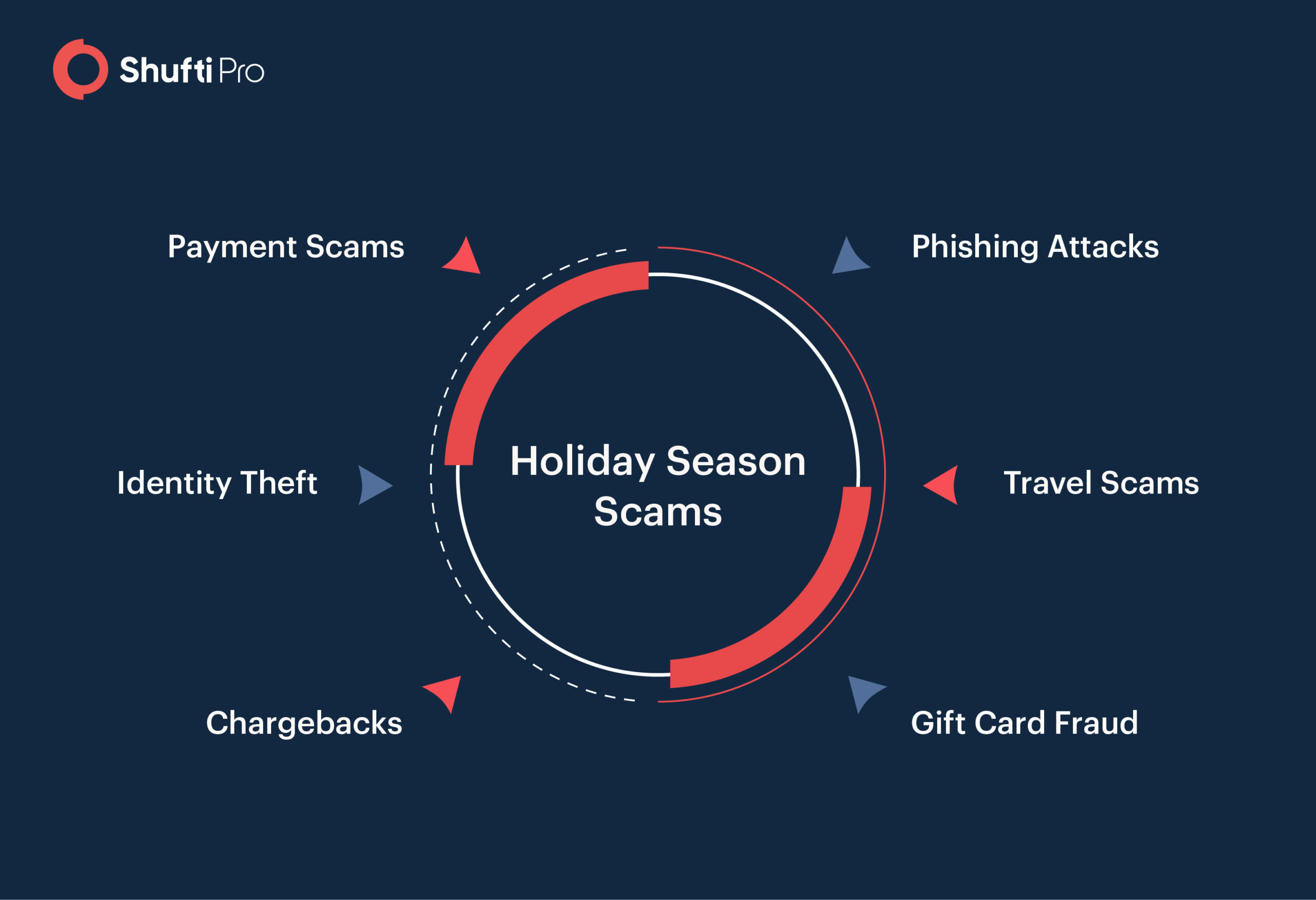 Phishing Attacks 
According to a report from Verizon, 22 per cent of the data breaches involved phishing attacks. Fraudsters target businesses for their illicit gains and none of the employees are safe. From C-suite to the first-line managers, everyone is targeted through BEC or spear phishing. During the holiday season, every scam email has a subject line regarding holiday offers. Compelling offers from vendors and third-parties will make it irresistible for the companies to not fall for the scam. 
Charity Fraud 
Fraudsters target businesses with a sentimental tone that encourages executives to donate during the holiday season. Out of the goodness of their hearts, employees provide information about their bank accounts for online transfer. In reality, fraudsters acquire sensitive information for other illegal activities. You end up with an empty bank account during the most awaited season of the year. With the rise in charity fraud, it is essential that you never provide your business details over the internet especially during the holiday season. Always verify the sender of such emails and messages before completing any transactions. 
Chargebacks 
Fraudsters make fake transactions with stolen or forged credit cards and claim reversals once they have received products. Such fraudulent activities are called chargebacks. Your eCommerce business will face severe financial losses this season because the majority of consumers are planning online purchases, which means fraudsters are all set for chargeback fraud.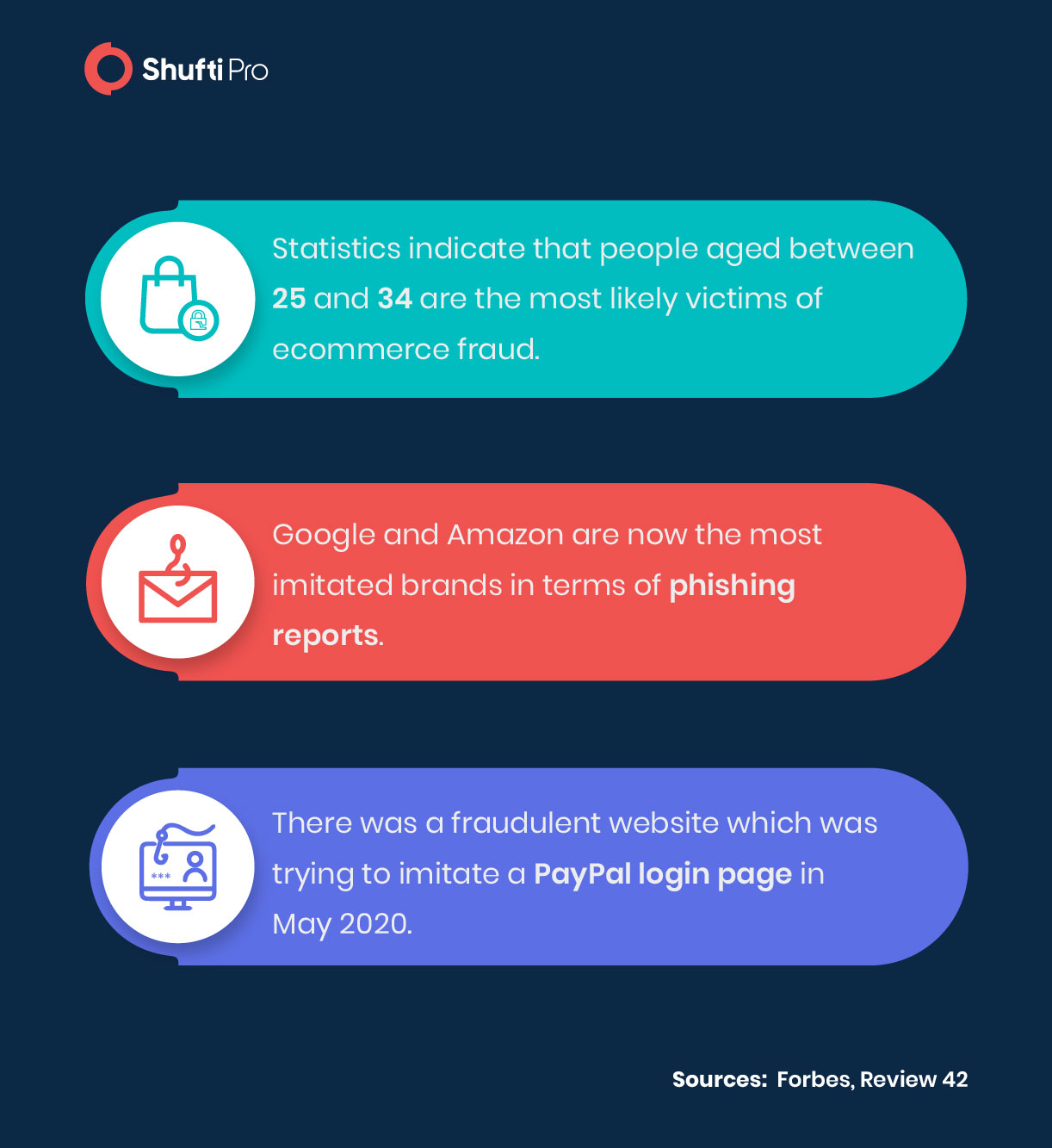 Identity Theft 
Approximately 71 per cent of the merchants are concerned about the identity theft they have to face this year during the holiday season. Identity theft occurs through various methods and the most common one is a phishing attack. Scammers acquire information through social media profiles or phishing attacks, and use it for their illegal activities. Fraudsters steal a person's personal identifiable information (PII) and this information is then used for personal gains. Maybe the stolen information is used for a chargeback fraud in your e-commerce business. On the contrary, a fake account is opened in a bank for money laundering.
Top 5 Ways Identity Verification Can Help
Identity verification is now a legal obligation for different sectors from the FATF and other regulatory authorities. The rapidly increasing fraud rate was unacceptable, so verifying identities online can help businesses to onboard legitimate customers only. Preventing fraudsters from causing any trouble for companies gets easier if industries comply with these regulations. Scams during the holiday season increase and here are the top five ways through which identity verification can help your business. 
KYC/AML Compliance
Complying with the stringent KYC/AML regulations from the regulatory authorities is not as easy as it sounds. Financial institutions, eCommerce platforms, crypto exchanges, and all online businesses have to follow the laws. The 40 recommendations from the FATF are a challenging task to fulfill. With digital identity verification, you can comply with these regulations and fulfilling all 40 recommendations would not be a problem either.     
Fraud Prevention
Preventing fraud is the primary concern of all organisations during the holiday season. Fighting fraud can get a lot easier for your company if you verify the identity of every customer that comes to you. Employing an online identity verification system will cross-check all the customers and make sure that you complete the transactions with legitimate identities only. Preventing fraud is simpler with identity verification. 
Transaction Monitoring
Chargebacks, money laundering, and other financial crimes increase as the holiday season gets nearer. Criminals get a chance to mess with transactions in any business they interact with. With the help of an identity verification system, you can monitor transactions of all the customers to make sure fake credit cards or documents are not used for purchases.  
Secure Customer Onboarding 
Securing customer onboarding processes is a challenge without robust solutions to fight spoof attacks and deep fakes. The customer onboarding process becomes secure with the help of identity verification solutions. The solution offers many other options to make your platform credible and secure customers. For instance, document verification can help you identify fake documents, whereas face verification can help you prevent spoof attacks from fraudsters.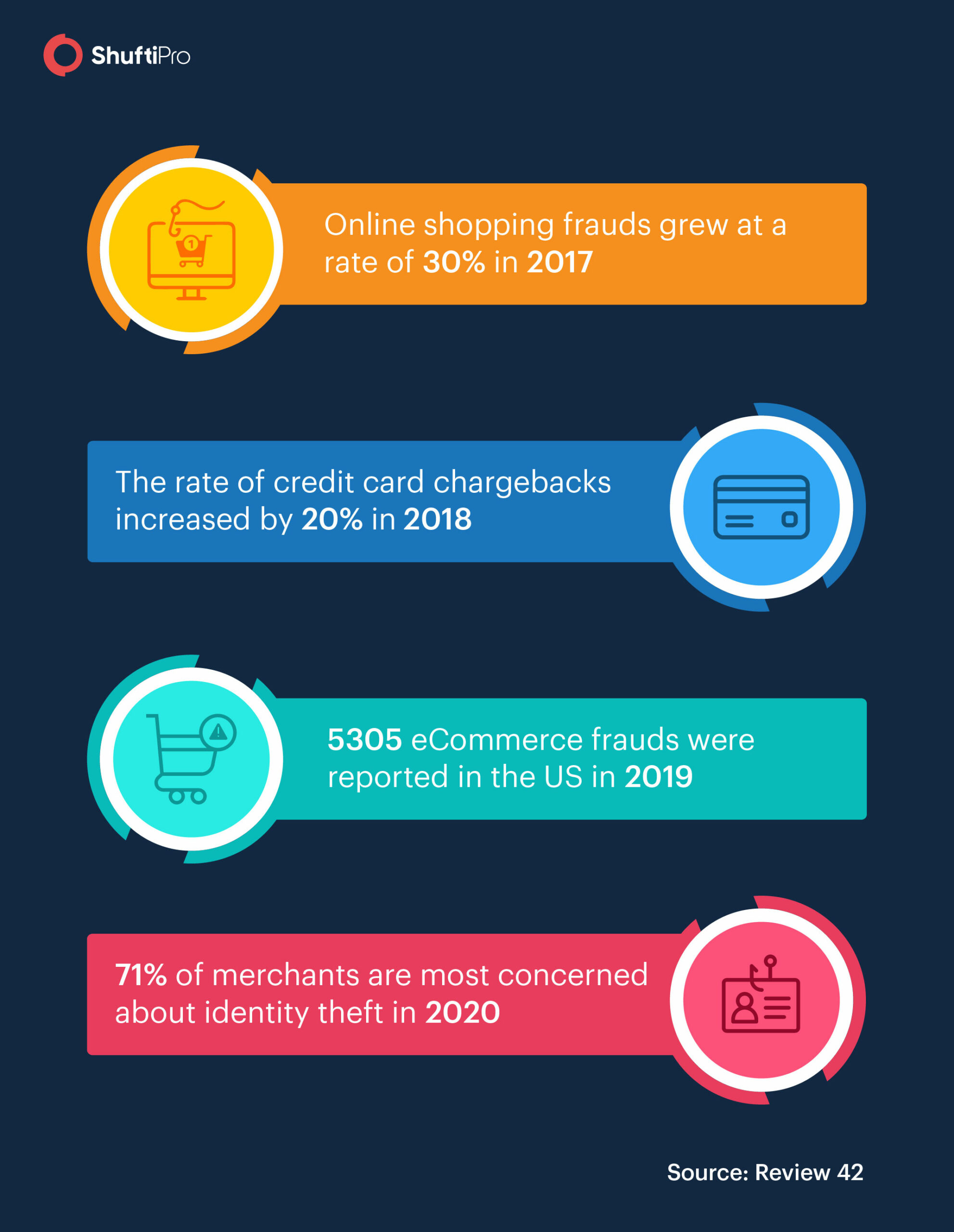 Remote Onboarding Process
Remote working and customer onboarding is becoming the new normal for all the sectors due to the COVID-19 pandemic. With the help of an online identity verification system, you can easily verify customers for all their digital transactions. This will reduce all the efforts for manual verification and save time as well. Customers can get themselves verified from the comfort of their home without any hassles.  
Read more: Onboarding Remote Employees: How Identity Verification Can Reduce Risks in Hiring Process
It All Narrows Down To…
The holiday season brings a lot of happiness and businesses have tremendous opportunities to target potential audiences. However, the season gives fraudsters a chance to fulfill their malicious intent as well. Unfortunately, the rate of scams exponentially increases during the holiday season. In order to fight these frauds, businesses need identity verification solutions. Chargebacks, identity theft, account takeover, and other crimes will increase this holiday season and all the businesses need robust verification solutions to combat them. Identity verification has numerous benefits in different sectors. Employing a robust solution can help your business enjoy all those benefits. 
For more information about digital identity verification, get in touch with our experts today.