BEFORE YOU GO...
Check how Shufti Pro can verify your customers within seconds
Request Demo
No thanks
Since the beginning of civilization, humans have always preferred to live in communities. This concept has given rise to match-making and caused a race among individuals to find the perfect match. With online operations becoming the order of the day, the methods for matchmaking have also evolved and people find it more convenient to find their partners on online dating apps.
As per the statistics, in 2021 there were 323.9 million users on dating sites with 42% of them aiming for marriage. Although there is a myriad of advantages to online matchmaking, fraudsters have also come forward to exploit these dating platforms. It has been reported by FTC that in 2021, there were five times more scams than in 2020.
Identity Fraud in Online Dating Platforms
Online dating platforms have revolutionized the matchmaking industry where users do not have to pass through hefty processes to find a perfect match. While searching for a partner, last thing users will want is to find scammers. Unfortunately, it has adopted the shape of reality and users are not only facing financial losses but also at constant risk of identity loss that could further lead to huge damages. By getting the identities of users, criminals can move towards more heinous crimes including; bank account fraud, fake social media accounts, loans, credit card fraud, and many more.
The online dating industry is considered a highly profitable one which can be estimated by knowing the fact that the dating site Bumble is valued at $3 billion. Moreover, Match Group which is the owner of websites like Tinder, and Match.com have a revenue of more than $1.7 billion. Not only for business owners but the dating industry has proved itself beneficial for users. It has been estimated by Cloudwards that 54% of online dating platform users have reported that their relations have remained successful.
Despite all these facts, the danger of identity theft is always linked with dating sites which is not only discouraging users but also give a bad name to the platforms. All the well-reputed dating apps have implemented stringent measures to curb all these activities but the issue is still persisting. The whole system is in dire need of strict "Know Your Customer (KYC)" measures so that all fraudulent practices and people can be discouraged and kept away from onboarding the system.
Prevalent Dating Scams
Dating scams are not only limited to financial frauds but fraudsters have found a myriad of ways to steal identities and further use data to blackmail and exploit users. Following are some of the major identity theft scams which users are facing nowadays.
Malware Scams
Malware scams have become a huge threat for users which is giving rise to cases of identity theft. Dating apps are the major platforms used by imposters to carry out such crimes. In malware scams, criminals ask users to leave the dating site and visit their personal Facebook, Instagram, or any other web page.
That particular page is usually illegitimate and once the users visit that page, they become a victim of identity theft. All such pages contain malware or span files that do not give second chance to users to escape without theft.
Code Verification Scams
Code verification scam is usually carried out on Tinder where fraudsters send the user a link to verify a Tinder account. The link is actually a third-party link, upon clicking it users can lose their identity like name, address, social security number, and even bank account details.
Tinder has stated multiple times that they do not send any link to the users to verify accounts but still cases are growing. In the span of 2016-2020, the scams related to code verification have increased four times.
Financial Scams
Besides identity theft, users are prone to a huge number of financial scams where criminals are using several tactics to fraudulently take money out of their accounts. For every age group, the number is increasing day by day and people are losing more money.
FTC has reported that users between the ages of 18 and 29 are mostly affected by financial scams. The number of cases in 2021 is ten times more than in 2017 and the median individual has reported a loss of $750.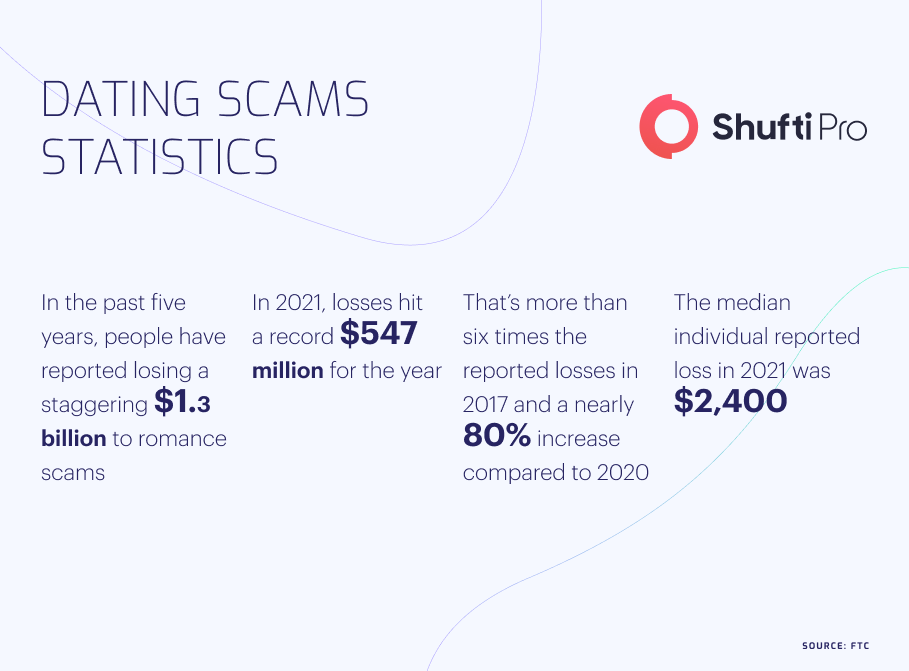 Global Regulations to Curb Dating Scams
Crimes involving online dating platforms have become a bad dream for the law enforcement authorities which has convinced them to take strict measures to control these activities. All the countries are putting their best efforts to curb this menace and make dating apps a secure and safe platform for users.
USA
USA is leading from the front to discourage criminal activities on online dating platforms. In 2005, International Marriage Broker Regulation Act (IMBRA) was legislated by lawmakers which has become a huge hurdle for fake dating service providers. As per this law, it is mandatory for dating sites to make a background check on the customers to get information about their marriage and criminal record status of users.
Majority of the states have put an age restriction on users to join all such platforms. New Jersey has gone one step forward and made it necessary for dating sites to inform authorities in case verification checks are not practiced.
UK
United Kingdom (UK) is a country where owners of online dating platforms have formed the Online Dating Association (ADO) which has taken responsibility for securing users from fraud.
Additionally, a new dating app has been launched in the UK which has vowed that it will biometrically verify users before joining the platform. In this way, they will eradicate the concept of joining online dating websites without any verification.
Role of KYC in Curbing Dating Scams
Integration of customer verification solutions is the first thing that all online dating businesses need. With help of "Know Your Customer" measures, it will become quite easy for platforms to distinguish legit entities from criminals and onboard those ones who only have the aim of matchmaking.
Facial Verification
Through facial verification, the physical presence of users can be checked using liveness features while onboarding. The facial imprint can further be compared with the picture on the document and in this way, the identity of a user will be verified without leaving any space for fraudsters.
Document Verification
The use of OCR technology in combination with a robust identity verification solution assists in onboarding legitimate customers. Verification through documents is considered the most secure way of verifying users, so any system configured with these stringent measures can serve the purpose.
How Shufti Pro Can Help
Statistics of fraudulent activities on online dating platforms show an alarming situation that immediately needs to be dealt with. Shufti Pro's IDV suite comes with document verification and biometric facial recognition, and is backed by powerful AI algorithms that can help online dating platforms to keep the bad actors away from the system.
Shufti Pro offers a compatible all-in-one solution for verification of customers from anywhere in the world, which filters out fraudsters effectively. With Shufti Pro's OCR technology and facial liveness features, dating platforms can verify their users with 98.67% accuracy in less than a second.
Want to learn more about our identity verification solution for dating platforms?