BEFORE YOU GO...
Check how Shufti Pro can verify your customers within seconds
Request Demo
No thanks
In the ever-evolving landscape of finance, having a solid defence against financial crime is crucial. This is where a robust Know Your Customer (KYC) process comes to the rescue, combating fraud in the digital age. However, the advantages of KYC go beyond merely safeguarding your company from criminals. It's an essential part of Anti-money Laundering (AML) regulations, and failure to abide by these requirements may incur hefty non-compliance penalties.
Diving Deeper into KYC Compliance
"KYC" and "AML" are sometimes used interchangeably, but the KYC process refers to a set of methods businesses may use to enforce compliance regulations such as AML laws. Companies must get to know their clients before and during a business relationship. As a customer can pose various risk levels throughout a business, obtaining extensive information from them is crucial. Thus, the KYC process helps banks and other firms understand the financial habits of their clients and swiftly detect illicit activity. 
Know Your Customer Checklist: Which Documents Are Needed?
The first step in online KYC verification is checking customers are who they say they are. To validate their identity, businesses need some standard documents, such as:
A government-issued identity card

Proof of Address (PoA), such as utility bills 

Official letter from a public servant or public authority

Bank passbook with a photograph

Bank passbook with a photograph

Voter's ID card

Employee ID card

Passport

Driver's licence

Board of Education or university card
In addition, your company has to stick to Know Your Business (KYB) standards. Corporations must confirm the legitimacy of the company they are dealing with and have knowledge of their Ultimate Beneficial Owners (UBO), business registration number, and its incorporation details.
Know Your Customer Checklist: What are the Procedures Needed?
With fraud rampant in the digital world, conducting efficient KYC is crucial to mitigate the risk of identity theft, data breaches, and other crimes. 
A robust KYC programme must include the following:
1. Customer Identification Program (CIP)
A CIP seeks to verify customers and ascertain that their funds come from authorised sources whenever any client opens an account. Otherwise, financial criminals could readily exploit your company to launder the proceeds of unlawful activities. The CIP usually occurs during the client's onboarding procedure for people and corporations. 
According to Section 326 of the USA PATRIOT ACT, it must contain the following information:
A written document of the programme

Four pieces of identifying information that includes the client's name, Date of Birth (DoB), address, and government-issued identification numbers

ID verification procedures

Bookkeeping

Cross-matching with government lists

Customer notice for subsequent steps
The business must ensure that all customer data and records are genuine. Employing security measures, like two-factor authentication and biometric verification, when authorising clients to access accounts online is crucial to ensuring that users are who they claim to be. Customers' finances must be traced back to their source, and high-risk sources—like cash-based enterprises, people who are politically exposed, and foreigners—must be monitored appropriately
2. Customer Due Diligence (CDD)
According to the Financial Crimes Enforcement Network (FinCEN), the CDD Final Rule mandates financial firms to enforce and maintain written policies facilitating the following:
Identify and verify the identity of customers.

Identify and authenticate the UBOs of the new company.

Design customer risk profiles according to their business's nature.

Conduct ongoing monitoring to check and report suspicious transactions. Moreover, perform risk assessments to ensure that customer information is up to date.
This stage requires businesses to investigate customers' past criminal activity and any suspicious behaviour to check the risk they may pose. Since FinCEN does not specify risk levels, your organisation must develop its own standards for identifying risk profiles.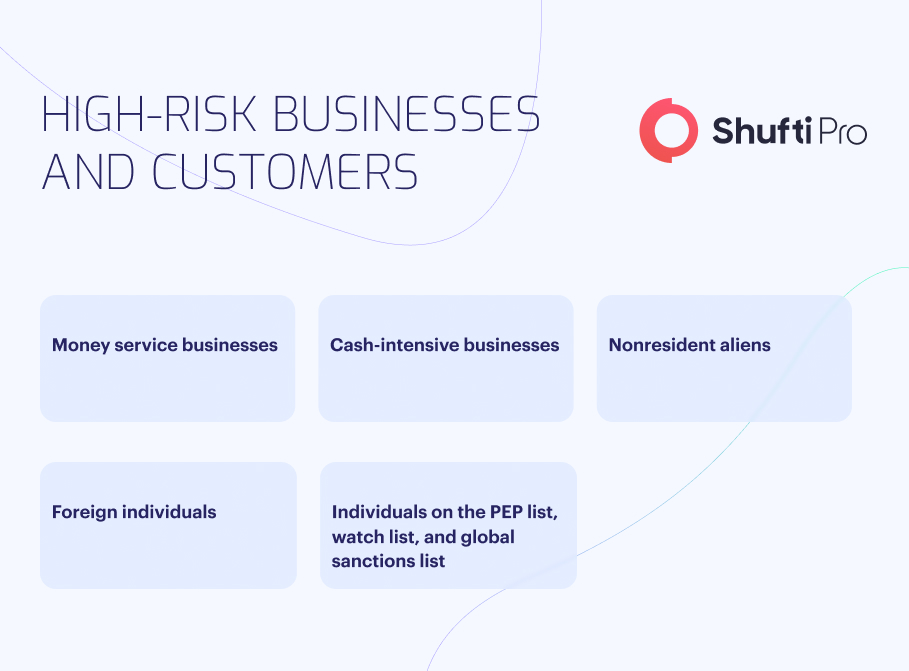 There is no one-size-fits-all approach to customer due diligence. Businesses use three different types of CDD to assess consumer risk:
Businesses perform simplified due diligence when the customer poses a low risk. They just check the client's ID and don't need to conduct further verification.

Standard Due Diligence (SDD) is carried out when a client poses a medium risk in which the customer's ID is checked, and their identity is further verified through a government database.

High-risk customers such as those on

Politically Exposed Persons

(PEPs) lists, sanctions lists, and watch lists undergo Enhanced Due Diligence (EDD). Besides acquiring Personally Identifiable Information (PII), the process also needs comprehensive details from the clients, like their source of money, the purpose of transactions, etc.




3. Ongoing Monitoring
Scammers are constantly developing new ways to avoid being caught, making ongoing monitoring necessary for businesses. What skilled money launderers do is that they keep things legal for a while before using their account for illicit purposes. Thus, a standardised strategy for detecting changes in risk should be a part of ongoing monitoring. Even though high-risk clients might be conducting their business wholly lawfully, AML requirements demand monitoring them tightly. You can't perform enhanced due diligence on everyone because some low-risk clients can engage in unethical financial behaviour. Companies must keep customers happy while also spotting suspicious activities.
Who Can Benefit from a KYC Document Checklist?
Business Owners:

Knowing your customers is crucial for business owners. This is where a

KYC

CDD checklist is needed that helps you assess any risks of doing business with specific clients.
Accountants:

Transactions involving money carry high risks; getting all relevant details about a customer is essential to evaluate potential threats.
Financial Service Providers:

Financial advisors are legally required to know who they are dealing with. They must verify customer information to mitigate the risk of money laundering and other financial crimes.
How Does Shufti Pro Connect the Dot for Your Business?
Shufti Pro offers an AI-powered KYC solution that onboards customers in 230+ countries and supports 150+ languages. The robust identity verification solution helps businesses meet regulatory mandates and mitigate the risk of fraudulent activity whilst offering a great customer experience.
Still, have any questions about an efficient KYC process?