BEFORE YOU GO...
Check how Shufti Pro can verify your customers within seconds
Request Demo
No thanks
The rising number of scams has put a dent in the financial sector's reputation.
More than two-thirds of the financial firms lost over $500K to fraud in the year 2022. The staggering monetary costs come from failure to understand who these institutions work with and negligence towards preventing money laundering risks. This is why Know Your Customer (KYC) processes have become a need of the hour. 
What is KYC?
KYC is a set of regulatory processes used to verify customers and ascertain what risks they may pose to any business. Running KYC checks is important to assess money laundering and other financial risks. 
What is KYC Compliance?
KYC compliance is legally binding on all financial and non-financial institutions. Although KYC laws vary from country to country, some have common requirements such as:
Develop an efficient customer identification process

Identify customers based on their official identity documents

Verify business through their corporation documents along with authenticating beneficial owners

Maintain customer's risk profiles as per the kind of risks they pose

Implement Anti Money Laundering (AML) measures when required 
Suggested Read: KYC compliance
KYC Compliance Trends in 2023
KYC regulations are constantly being amended as scammers are coming up with sophisticated strategies to bypass the loopholes. However, catching up with the growing need for compliance is nothing short of a challenge for the global market.
The only trick to navigate through this ever-changing era of the regulatory landscape is to be aware of the KYC compliance trends.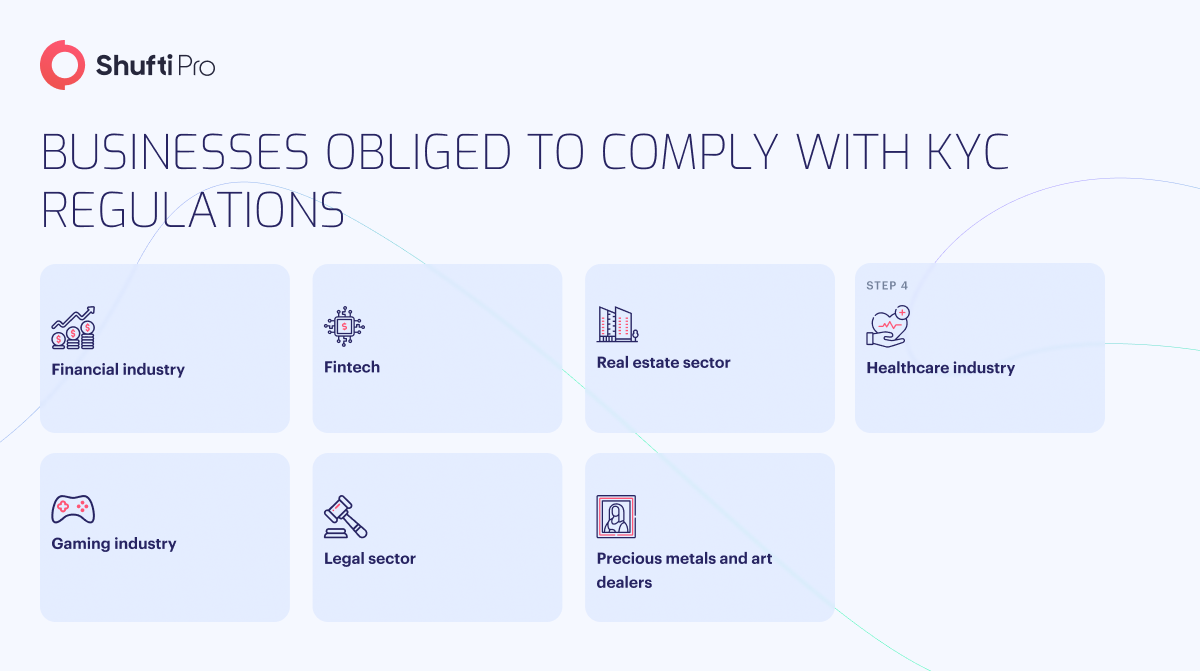 1. Regulatory Technology
Compliance solutions have undergone various adjustments in the wake of the COVID-19 outbreak. The integration of Regulatory Technology or "RegTech" was one of those. Businesses started relying heavily on technological solutions to stay KYC/AML compliant since the pandemic. Moreover, it is estimated that investment toward RegTech would be worth over $15 billion by the year 2023.
The growing demand and budget allocation towards regulatory technology are aimed at addressing compliance challenges. It simplifies KYC and Customer Due Diligence (CDD) procedures, minimises any human error, and helps clients to easily adapt to compliance developments. 
Suggested Read: Identity Verification Forecast: How Will KYC Evolve in 2023?
2. Automation in Compliance Checks
The review process of KYC and AML compliance is not only time-consuming but also reflects higher operating costs.
This is where automation fits in the puzzle. It not only makes compliance processes quick but also helps businesses to do away with the need of storing and managing data manually. In addition to this, an automated KYC review process contributes to a more standardised and sustainable approach to compliance. 
3. Perpetual KYC
Banks and other financial firms have to perform KYC checks to authenticate new clients. However, it is worth considering that KYC is not a "one-and-done" process completed during client onboarding, but rather an ongoing procedure to stay alert to the changing risk level of a particular customer. Perpetual KYC manages financial risks efficiently and will become the new norm in the digital era. 
Suggested Read: Improving Identity Verification Processes Through Perpetual KYC – How Shufti Pro Helps the Banking Sector
KYC/AML Compliance Laws to Look Out for
Besides looking at how KYC guidelines will evolve in the year 2023, there are certain regulations that would significantly impact the compliance ecosystem of several jurisdictions in the coming years.
The Corporate Transparency Act of the USA
The Corporate Transparency Act (CTA), enacted in January 2021, falls under the AML Act of 2020. Its main objective is to strengthen any country's efforts to safeguard its financial sector from money laundering and other fraud. 
FinCEN issued "Beneficial Ownership Information (BOI) Reporting Requirements" in September 2022.  Under this, all domestic and foreign corporations report their BOI to the bureau, providing stricter measures to combat illegal activities in the financial sector.   
The "Final Rule" would come into effect on January 1, 2024. However, all the firms established before this effective date would have to submit their BOI report by January 1, 2025. 
Suggested Read: The US Corporate Transparency Act – What's New? [December 2022]
Switzerland's Anti-Money Laundering Act (AMLA) Amendments 
Switzerland has also imposed stringent measures to curb money laundering, terrorism financing, and other financial crimes. The country revised its existing AML Act with stricter due diligence obligations. 
The significant changes made in AMLA are as under:
Financial intermediaries have to identify and verify beneficial owners prior to establishing the data required. 

Financial intermediaries have to check and update business/client relationship details periodically, instead of doing this when there's any suspicion. 

The Suspicious Activity Report (SAR) is to be filed with MROS in case of any suspicious activity.
The Challenges Ahead
Cyber Security Threats:

Digitization poses risks to both the organisation's and its customers'

security

. There is a dire need to stay compliant with regulations to avoid ethical and legal issues. 
Escalating Costs:

Although automation and RegTech would lessen the burden of operational costs, still costs are expected to rise considering the increasing number of regulations to comply with. 
Search for Efficient Services:

All firms need a highly skilled team and advanced technology to ensure compliance in true words. It is essential to consider different organisational areas that compliance covers such as ​​

ESG (Environment, Social, Governance), digital security, and UBOs.
Focus for 2023: Where Shufti Pro Steps in
Businesses facing non-compliance sanctions are making headlines each day which is triggering a vigorous response from regulatory bodies. The regulators would continue to act through enforcement and rules to clamp down on crime. 
It's high time for companies to consider investing in KYC solutions if they want to stay ahead of the curve. This is where Shufti Pro takes the lead, screening against 1700+ global watchlists, and that too in less than a second, making firms compliant with KYC/AML regulations.
Interested in knowing how Shufti Pro's KYC verification works?