BEFORE YOU GO...
Check how Shufti Pro can verify your customers within seconds
Request Demo
No thanks
The boom in digitisation forced businesses to opt for digital means of operations. Online businesses experienced many ups and downs, but the online identity verification market experienced the most changes. Fraudsters also benefited from the coronavirus outbreak and  criminal activities significantly increased in 2020. Thanks to online identity verification systems, it got convenient for businesses to combat crimes during these tough times.
Online identity verification market is expected to grow at a faster rate this year (USD 7.88 billion) and by the end of 2027, the expected market size will be USD 18.12 billion.
For businesses like yours, it is an alarming situation because an exponential rise in online frauds will result in hefty penalties for the company and damaged brand reputation. Before the situation gets worse than it already is, your business must employ online identity verification checks. With continuous changes in the industry, trends for the online identity verification market for 2021 are pretty surprising. Read this blog to find the top five trends for the online identity verification market in 2021.
What is Online Identity Verification?
Online identity verification or e-KYC is a method of verifying identities of the customers through digital means. It is a faster method that verifies identities for seamless customer onboarding in real-time within seconds. Online identity verification authenticates documents and checks the live presence of the end-user with face verification.  
Online Identity Verification Trends for 2021
Online identity verification checks will face various highs and lows in 2021 as well. Due to the rise in the Covid-19 related frauds, we can expect some new trends for 2021 as well. Let's take a look at the top five online identity verification trends to expect in 2021.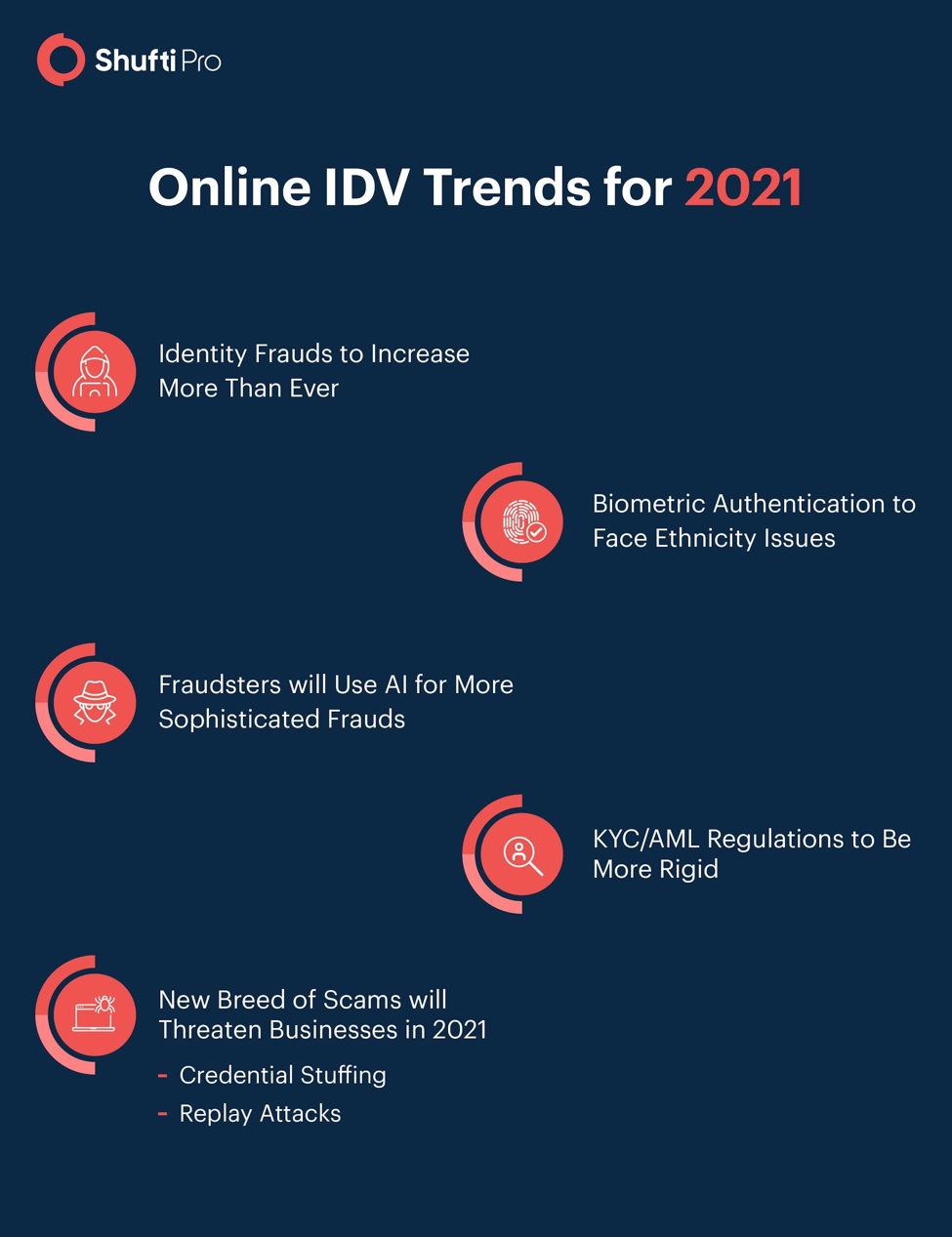 Identity Frauds to Increase More Than Ever 
After a distressing year 2020, fraudsters are all set to exploit businesses in 2021 as well. Identity frauds will increase this year at a faster than ever rate. According to Statista, identity theft is expected to increase by 82% in 2021. Among all types of identity frauds, synthetic identity fraud, and account takeover fraud will be the most terrifying. 
Recommended: Account Takeover Frauds – Impact, Causes, and Prevention
Fraudsters will Use AI for More Sophisticated Frauds
Artificial Intelligence has made all business operations convenient, but fraudsters are also using AI models for their malicious activities. Photoshopped images, counterfeit IDs, and synthetic identity fraud are some examples of sophisticated frauds. Unfortunately, the pandemic contributed to the significant rise in frauds, and we can expect higher intensity in sophistication of various fraud types in 2021. 
Biometric Authentication to Face Ethnicity Issues 
Ethnicity issues in biometric authentication have been debatable over the last few years. In 2021, the biasness issue will gain more hype. Why is facial biasness a major concern for people? Unfortunately, the biometric authentication checks designed for a specific region are trained for liveness detection and skin texture analysis. AI models are trained to identify people of a certain region that brings issues when the same checks are provided in other regions of the world. For instance, AI-powered biometric authentication services with customers concentrated in European regions may not be able to verify Asians with equal accuracy. Fortunately, Shufti Pro's AI models have been trained to verify every customer irrespective of their region. We are already serving businesses in every corner of the world, which enhanced the authenticity and accuracy of our biometric AI models. 
KYC/AML Regulations to Be More Rigid 
KYC and AML regulations have been stringent for all the businesses but after the coronavirus outbreak, these regulations are expected to become even more rigid. The significant rise in online scams and frauds has led regulatory authorities like FATF to enforce more rigid regulations. On the other, the European Union has enforced 6AMLD to make sure countries in the EU can combat crimes in a better way. The crux of all these rigid laws is to bridge any gaps in customer due diligence protocols. 
Suggested: Customer Due Diligence Checklist – Is Your Business Compliant?
New Breed of Scams will Threaten Businesses in 2021 
As mentioned earlier, criminals are becoming more sophisticated in their job. Considering the increase in digitisation, a new breed of scams is expected in 2021. These new scams will make it more challenging for businesses to fight crimes and secure customers. However, online identity verification can help businesses in countering these new frauds as well. Here are the two new frauds that Shufti Pro encountered during online identity verification checks. We are also expecting an increase in the two frauds in 2021. 
Credential Stuffing
Have you ever wondered about the passwords lost due to a data breach? The passwords are used for another cyberattack called credential stuffing. Using the stolen credentials makes it simpler for fraudsters to get unauthorised access to the company's accounts. To combat this crime, it is better to activate two-factor authentication, and set complex and different passwords for all the digital accounts. 
Replay Attacks 
This year, replay attacks were identified during the customer verification process. In a replay attack, the fraudster submits the same document with a few alterations every time. Multiple submissions of the document within a session make it difficult for verifying an identity. Moreover, bypassing verification checks gets easier for criminals. The best way to combat replay attacks is verifying the location of customers and adding enhanced online identity verification checks that can verify the document types irrespective of the number of times a document is submitted. 
Wrapping It Up
It all narrows down to one point – online identity verification checks are essential for businesses in 2021. The trends for online identity verification checks are surprising for all the businesses. Identity fraud will increase this year which means businesses need better verification measures to mitigate the risk of fraud. Furthermore, a new breed of scams will threaten enterprises. These new scams are  credential stuffing and replay attacks. Lastly, customer identity verification laws will become more rigid and biometric authentication might be a challenge for companies if AI models are not trained for different regions. 
Shufti Pro's online identity verification has trained all the AI models that can verify any customer anywhere across the world. We can verify more than 3000 document types in over 150 languages. Get in touch with our experts and perform robust online identity verification checks to combat criminal activities in 2021.