BEFORE YOU GO...
Check how Shufti Pro can verify your customers within seconds
Request Demo
No thanks
In the ride-hailing arrangements, passengers connect with drivers through cell phones or websites and are taken to particular destinations. Population explosion and industrialization in the major cities across the world have increased road traffic while raising the need for comfortable transportation. With global digitization, the nature of mobility services has altogether changed, modifying the transportation sector through technological advancement. Due to lockdowns during the pandemic, the ride-hailing industry suffered a huge setback but now it is back on track. Every coming year is witnessing more mobility services and customer onboarding.
In the US alone, Uber has more than 1 million drivers while 76% of them earn at least $30,000 annually. As per the estimate, there are 4-5 million Uber drivers across the globe making it one of the biggest ride-hailing networks. Despite all the benefits these services are providing, there are multiple scams linked to them causing identity theft crimes and other financial losses to the users.
An Overview of Ride-Hailing Services
The year 2009 witnessed a huge technological transformation when Uber started providing ride-hailing services in San Francisco, California. Since that time, a large number of companies have come on boarded providing comfortable services to customers. Uber alone completed 1.44 billion rides in every quarter of 2021 making it one of the top ride-sharing companies in the world. Other prominent players in the industry are ANI Technologies, Lyft, DiDi, and many others. Not only the ride services but the majority of these companies are also providing food delivery and cargo services as well in big cities across the globe.
Traditional ride-hailing services such as taxis did not require strong privacy protection as riders and drivers remain anonymous during all transactions. In all online services like Uber, DiDi, Lyft, etc. privacy has become a huge concern as data is shared between the riders and drivers which can be exploited by any party. Identity theft, money laundering, and financial fraud are the major scams encountered by ride-hailing companies. All these services are here to stay and it is the need of the hour to enforce strict monitoring regulations to counter bad actors.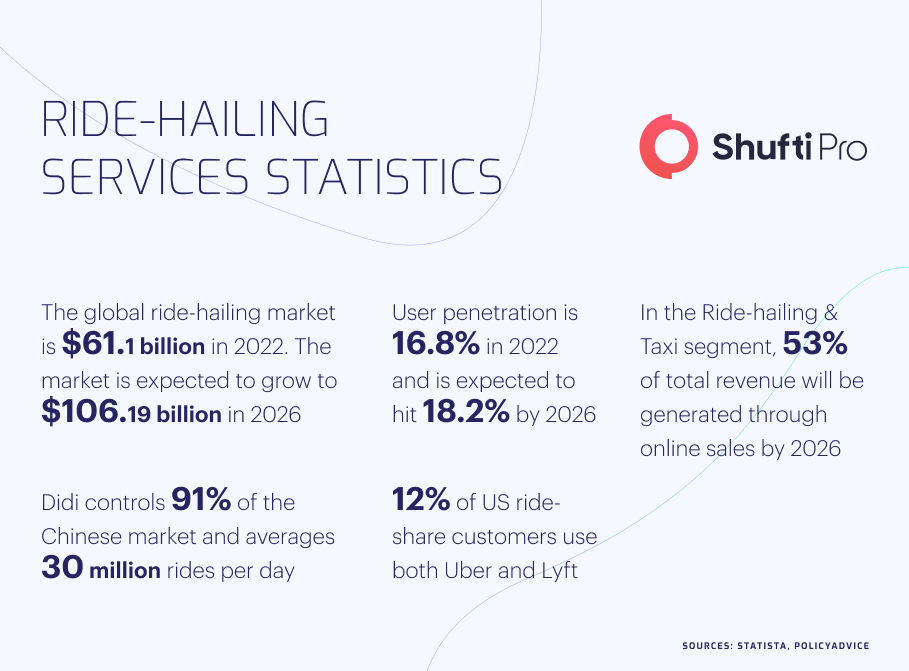 Rising Criminal Cases in Ride-Hailing Companies
With the increasing number of users of ride-hailing services, crime rate is also skyrocketing, raising concerns for companies and law enforcement authorities. In the recent past, multiple cases have surfaced where companies were found involved in identity theft crimes and further using stolen data for illicit purposes. In several cases, riders and drivers have also been found committing financial fraud or exploiting weak T&Cs of companies.
Ride-Hailing Giant Didi Fined $1.2 billion for Data Violations
Chinese law enforcement agencies have found Didi, the largest ride-hailing company, violating network security, data, and personal protection laws. Court has fined DiDi $1.2 billion terming the whole fraud a national security risk that affected the country's data security and information structure.
Investigations found that DiDi illegally collected a huge number of screenshots, facial recognition data, and location information of users. DiDi has been further warned by the court to avoid any kind of fraudulent activities in future.
Uber Faces $26 Million Fine for Misleading Customers
The Australian Competition and Consumer Commission (ACCC) filed law-suit against Uber for providing wrong information and mis-leaded the drivers and riders. ACCC alleged that from 2017 to 2021, Uber displayed false warnings to more than 2 million Australian consumers resulting in financial losses to them.
Uber admitted all the allegations of false information resulting in a fine of $26 million by court. Uber officials acknowledged that by false cancellation warnings, they have violated their terms and conditions making the users suffer.
Global Regulations Monitoring Ride-Hailing Companies
Increasing scams related to identity theft and financial crimes in ride-hailing services have compelled  law-enforcement authorities to take strict action against violations of policies by companies or individuals. In the wake of this, all the major jurisdictions have issued several regulations and licenses for ride-hailing services to operate. It has been made mandatory for all companies to enforce data protection measures to ensure safety for consumers.
US
The United States is the country which is the origin of several ride-hailing giants and government has strict policies toward privacy protection of stakeholders. There are multiple state and federal laws including Fair Credit Reporting Act (FCRA), Electronic Communications Privacy Act (ECPA) and many others. Just like the other institutions like banks, insurance companies and real-estate, these laws are equally implemented on ride-sharing services.
Besides this, all the states issue licenses to companies through which it has been made mandatory for ride-hailing platforms to submit criminal background checks and biometric records of drivers.
UK
General Data Protection Regulation (GDPR) is the primary body regulating the privacy of consumers in all services including ride-hailing. GDPR's main aim is to address personal data transfer between two or more parties. Not only in the UK but GDPR is implemented across all European countries and it expands its circle to all enterprises including ride-hailing services.
China
The Ministry of Transport in China has a new set of rules to ensure the safety of consumers' data and privacy. It has been strictly instructed to ride-hailing companies not share the user's data with any entity outside of jurisdiction. All the ride-hailing services are further advised to conduct periodic data inspections to rectify the security risks and loopholes taking robust measures to halt criminal activities.
In the wake of these strict laws, DiDi, which is the giant of ride-sharing services has been fined $1.2 billion for not complying with regulations.
The Need for KYC Verification and Role of Shufti Pro for Ride-Hailing Companies
Emerging technologies have altogether changed the onboarding and verification procedures. Due to sharing of data within multiple parties, identity theft and financial crimes have become prevalent in ride-sharing services which must be curbed through strict Know Your Customer (KYC) measures. The whole system is in dire need of stringent verification checks to restrict the criminals while onboarding. The majority of identity theft incidents are carried out by bad actors using fake and stolen identities. Document verification, facial and biometric recognition are the only viable solutions to ensure secure onboarding while protecting privacy of users.
Shufti Pro's efficient KYC services are the best solution to identity theft crimes prevalent in ride-hailing services. The verification services can help the companies onboard the legit drivers and riders by verifying their true identities through facial recognition and document scanning. By using the Shufti Pro verification services, the ride-hailing sector can comply with global regulations, report suspicious activities and enhance user experience. With a market-leading accuracy rate of 98.67%, KYC verification solutions can provide outputs in less than a second.
Final Thoughts
In a nutshell, ride-hailing services have revolutionized the whole transport industry setting new commuting standards. Identity theft, data breaches and financial crimes are not only responsible for monetary losses but also deteriorating the user's experiences. Implementing stringent identity verification checks is the only viable solution for ride-hailing service providers to counter the criminals and make the platforms secure for consumers.
Want to get more information about the Know Your Customer (KYC) verification measures for ride-hailing services?