Blog
Shufti Pro Turns Three – A journey of building trust globally
October 31, 2020, marks the third anniversary of Shufti Pro and three successful years of building trust globally. Three years back, it all started out with a vision to make future cyberspaces fraud-free and rise as an industry leader in the identity verification market through the use of enhanced AI technologies. Today, after three years, Shufti Pro's identity verification services are expanded across multiple businesses in 230+ countries and territories, making Shufti Pro a global identity solutions provider. It is the dream come true all because we took the risk and worked together to chase it, not letting the obstacles and naysayers hold us down. 
Shufti Pro is the first company that initiated the synergised fusion of AI (Artificial Intelligence) and HI (Human Intelligence) in the digital identity verification industry
In the past three years, Shufti Pro has strived hard to provide state-of-the-art services to businesses across the world. The core driver behind Shufti Pro was the enhanced customer experience through quick and reliable verification within seconds. To provide reliable results, it is trained using 900 AI models. It won't be an understatement to say that it has achieved this goal of performing the online identity verification within 30-60 seconds and with an unmatched precision of 98.67%. 
Shufti Pro's award-winning solutions
Even recognizing the efforts and up to the minute solutions of Shufti Pro, it has picked up various business awards and competitions. Earlier this year, Shufti Pro's video KYC solution won Lulu Money's Video KYC for Customer Verification Challenge, which was organized by Fintech Galaxy at MEFTECH 2020, Saudia Arabia. It's a great achievement for the company to beat 26 competitors from all around the world.
Apart from this competition, recently, Shufti Pro picked up two business excellence awards for its outstanding product and services. It was declared the winner by Best in Biz Awards 2020 International under the category of best consumer service of the year. Apart from it, the second Business Excellence Award 2020 was also for the best product/service category. 
These two business awards are proof that Shufti Pro is delivering the best customer experience through its outstanding verification and AML screening solutions. To achieve this milestone, from company executives to employees, every department has been quite vigilant and the support team is 24/7 ready to address customer queries. 
Shufti Pro is 'your' product
Over the past three years, Shufti Pro has undergone many technological changes, all with the purpose to come up with trailblazing services to give an amazing customer experience. It has always focused on customer service be it the customised services or pricing plans, Shufti Pro has everything that the businesses possibly require. From our KYC verification suite, the businesses can select the services that best fit their needs.
In addition to our customised verification solutions, Shufti Pro now offers on-premises solutions for data-sensitive clients all over the world. Those organisations or businesses who don't want their end-users' data to go into third-party service providers can always get on-premises identity verification software. With Shufti Pro's Android SDK, iOS SDK and React-native app, businesses can have their customers verified through multiple platforms.
 Shufti Pro offers KYC and AML solutions to 230+ countries including egypt, papua new guinea, APAC region, ST. Kitts and Nevis and other territories with support of 3000+ documents and 150+ languages making it a global solution 
When Shufti Pro was created, the founders dreamt to take this product to a global level. To achieve this, our services offer 3000+ document support in 150+ languages to provide services to other countries. When first started in 2017, first-year Shufti Pro was able to capture clients from a few countries. Now after three years, we have clients from all over the world belonging to various industries including banks, financial institutions, real-estates, crypto firms, social media, food industry, travelling, education and many others. These businesses have end-users from all across the globe. To say Shufti Pro has verified user identities globally won't be an understatement.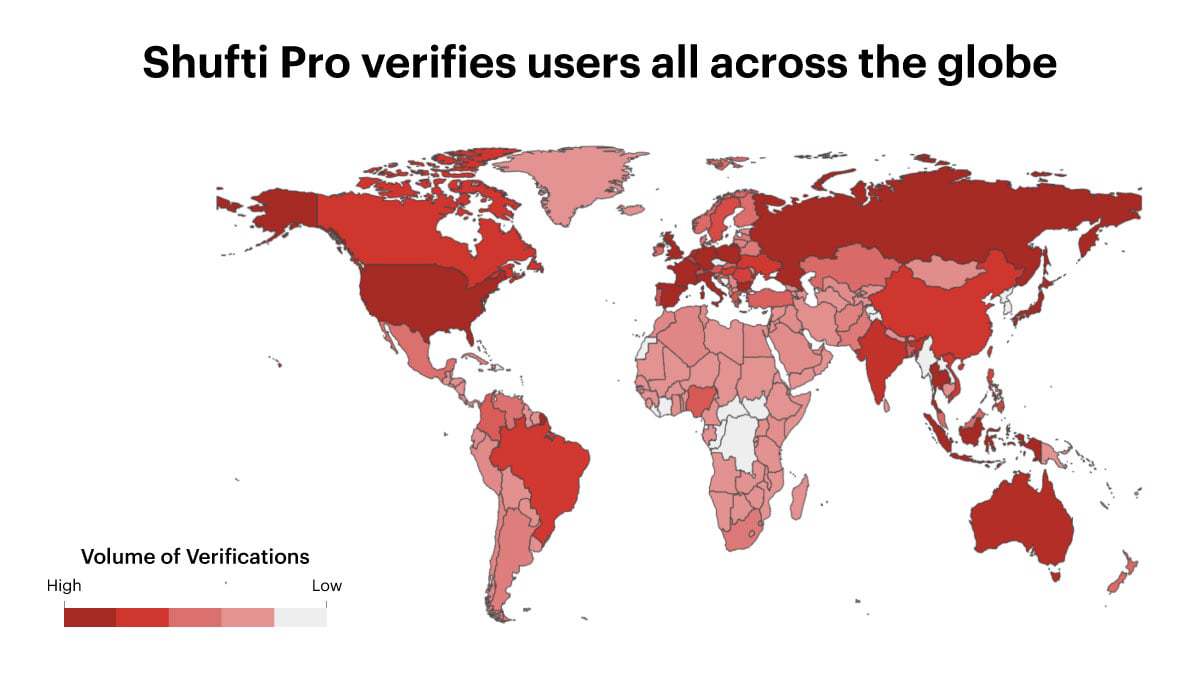 Shufti Pro's customer acquisition rate has grown tremendously, with end-users from all over the world. In fact, during this pandemic, Shufti Pro experienced increased demand. Given the need for digital fraud prevention we offered 10 million free verification for healthcare and relief organizations working at the frontline to contain the coronavirus. 
Shahid Hanif, Co-founder of Shufti Pro expressed his gratitude to employees and clients for being a part of the successful journey of the company.
"ShuftI Pro is turning three on 31st October. We started as few but now we are many. It's all because of the dedication and creativity of Shufti Pro team and the trust of our customers all these years that have taken us to an entirely new top. We have not only grown in numbers but also in skills, talents and resources. We envision to keep providing state of the art KYC and AML technology for businesses around the globe. Happy business anniversary!"
Disclaimer:
No warranty is herein provided that the information contained in this document is accurate, up-to-date, and/or complete. In no circumstance(s), does such information constitute legal or any other advice. Any person who intends to use, rely, pass-on, or re-publish the information contained herein in any way is solely responsible for the same. We suggest to verify the information and/or obtain
expert advice
independently if required.