BEFORE YOU GO...
Check how Shufti Pro can verify your customers within seconds
Request Demo
No thanks
In this digital world, users expect convenience, speed, and greater security. Businesses that offer services via digital channels have a significant advantage over competitors. However, the ease of conducting business online comes with its own risks, such as identity theft, cyberattacks, and phishing, which affected almost 300,000 individuals, and was the most prevalent cybercrime filed by the US Internet Crime Complaint Centre (IC3) in 2022. This is where digital onboarding and ongoing KYC monitoring come to the rescue, mitigating the risk of fraudulent activities.
Diving Deeper into Digital Onboarding and Ongoing KYC Monitoring
Digital onboarding is collecting new customers' data and digitally confirming their identity. This includes a client's name, location, phone number, and other pertinent information. There is no need for tangible documentation or in-person interactions to finish the digital onboarding process, as it can ultimately be done online. Businesses can benefit significantly from digital customer onboarding, including cost savings from eliminating manual processes, enhanced customer satisfaction, and improved operational effectiveness.
However, the convenience of digital onboarding presents the challenge of verifying the customer's identity and stopping fraud. This is where Know Your Customer (KYC) monitoring comes in. KYC verification is the practice of confirming customers' identities to ensure they are who they claim to be. At the same time, ongoing KYC is a continuous screening of customers and their transactions that informs companies of any changes in the client's risk profiles so that they can take the necessary action.
Top Benefits of Digital Onboarding
Financial institutions and clients can both get the following benefits from digital onboarding.
Convenience:

Digital onboarding enables customers to open an account with a computer or smartphone anytime from any corner of the world. This saves clients time and hassle by removing the need to visit a branch physically.

Speed:

Digital onboarding is far quicker than traditional onboarding, which might take days or weeks to complete. Users can open an account within seconds using digital onboarding.

Security:

Digital onboarding leverages cutting-edge technologies like biometric verification to validate consumers' identities, lowering the risk of identity theft and improving security.

Cost-effectiveness:

Digital onboarding is cheaper than conventional onboarding procedures, requiring workers to collect and validate their information manually. Thus, much of the work is automated using digital onboarding, which lowers costs.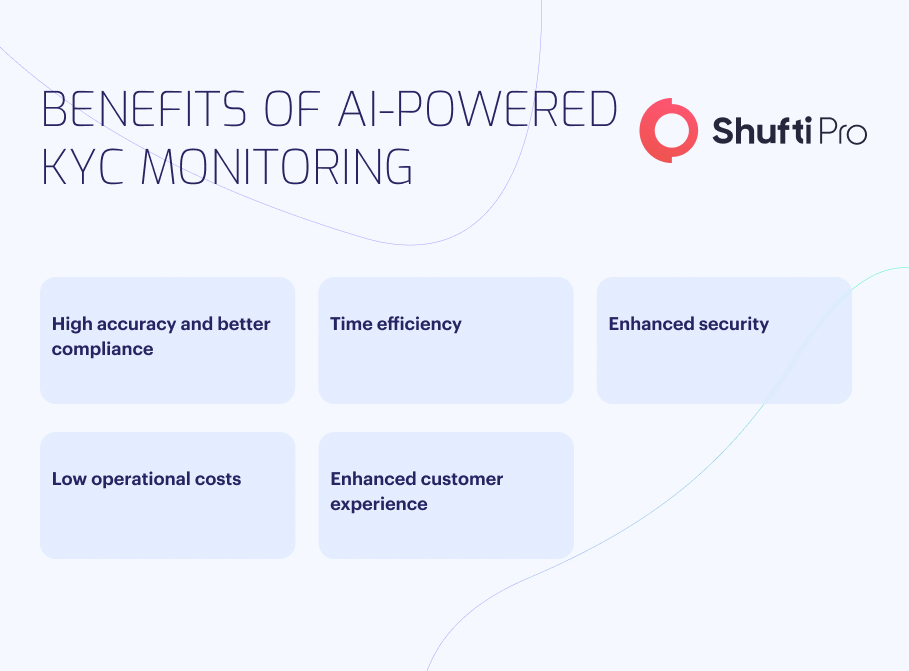 Why is Ongoing KYC Monitoring Important?
Financial institutions like banks, money transfer services, and credit unions employ the KYC process to confirm customers' identities. Conducting KYC verification is legally binding for businesses to prevent fraud and avoid hefty non-compliance fines.
Continuously verifying customer data to ensure it is valid and current is known as ongoing KYC monitoring. This method aids companies in identifying changes in consumer behaviour or activity that might be a red flag for fraud or other criminal activity.
Since client details can change over time, businesses must ensure they possess the most recent data to meet regulatory requirements. This is where ongoing KYC monitoring becomes crucial, helping companies spot consumer behaviour or activity changes that may signal potential risks and provide effective fraud prevention.
Checklist for Effective Digital Onboarding and Ongoing KYC Monitoring
Although carrying out digital onboarding and ongoing KYC may seem challenging, it is crucial for businesses to do so to meet regulatory requirements and guarantee a positive customer experience. 
Here is the checklist to successfully implement these procedures:
1. Choose a Reliable KYC Provider
Selecting a trustworthy KYC provider is the first step toward establishing effective digital onboarding and ongoing KYC monitoring. Corporations need to partner with a provider with a proven track record of confirming customer identities and looking for possible threats to consumer behaviour. When selecting a KYC provider, you as a business owner should consider things like their reputation, adherence to rules and regulations in your industry, and their capacity to offer solutions that can be tailored to the business's particular requirements.
2. Develop an Effective Onboarding Process
Businesses must develop an efficient onboarding procedure after choosing a KYC provider. The process should be user-friendly and straightforward, with precise instructions for clients. The procedure should also include identity checks and collecting the data necessary to meet regulatory requirements.
Using electronic signatures is a critical component of digital onboarding. By removing the need for clients to sign documents physically, digital signatures can speed up the onboarding process. E-signatures can be legally binding and are frequently more secure than conventional ones.
3. Monitor Customer Activity Regularly
Businesses should monitor client behaviour to ensure the data they have on record is correct and up to date. This can be accomplished by employing automated monitoring technologies that alert businesses to consumer behaviour or activity changes. For instance, if a client starts making massive purchases suddenly that are out of the norm for them, this could be a sign of probable fraud, such as money laundering.
4. Train Employees on KYC Compliance
Finally, companies must ensure all their staff members undergo KYC compliance training. Employees taking part in the onboarding and continuous monitoring procedures must comprehend the significance of regulatory compliance and the potential risks of non-compliance. Additionally, employees should receive training on possible warning signs and what to do if they suspect fraudulent activity.
How Can Shufti Pro Help?
Rapid digitisation has created several onboarding challenges for businesses operating digitally. This is where Shufti Pro steps in. Shufti Pro's user onboarding helps companies onboard users quickly and maximise conversions whilst combating impersonation and identity theft and offering a great customer experience.
Do you want to know how Shufti Pro's user onboarding solution revolutionises how clients are onboarded while securing their data?