BEFORE YOU GO...
Check how Shufti Pro can verify your customers within seconds
Request Demo
No thanks
The first impression is what counts most when it comes to customer-oriented services. Banks and financial institutions are in fierce competition to make a remarkable first impression in the very first interaction with the customer i.e client onboarding process. 
How can banks ensure their customer onboarding process is seamless? What are the factors to be considered to provide an ideal onboarding experience to customers?
Digital customer onboarding in seconds is the answer!
Over the last few months, banks and financial institutions have witnessed a rapid transformation in their customer onboarding process due to COVID-19 pandemic. These unforeseen challenges have existed already and the industry started revamping their processes. According to Ron Shevlin, "digital account openings surged long before the pandemic".
Banks have started recognising the prodigious potential of digitisation. Financial institutions are rapidly adopting advanced measures with a stronger focus on their online presence to cater to the customer needs as they go digital. In all this, digital customer onboarding has attained quite a popularity in the banking world.
What is the digital customer onboarding?
Digital onboarding is the online process of procuring new customers online by ensuring that they have complete access to all the services and products provided by an institution, conveniently and quickly. Through onboarding, banks begin their official consensual relationship with the client.
Why is the digital customer onboarding process important?
Most of the enterprises lose their potential customer at initial stages because of an inefficient process in place when it comes to onboarding. Customer onboarding is the official beginning of the customer-business relationship. It is the first step of interaction between a customer and the bank. What if your onboarding process is tedious and time-consuming? Do you think the customer would want to continue? Of course, not. 
Think of the onboarding process as bidding, the better your customer service the more clients will be inclined towards your institution in initiating the relationship, otherwise they always have an option to find a better institution. With digital customer onboarding, banks can streamline their customer acquisition process with enhanced customer experience. Unfortunately, traditional processes are no more reliable since the customers are more interested in digital account opening.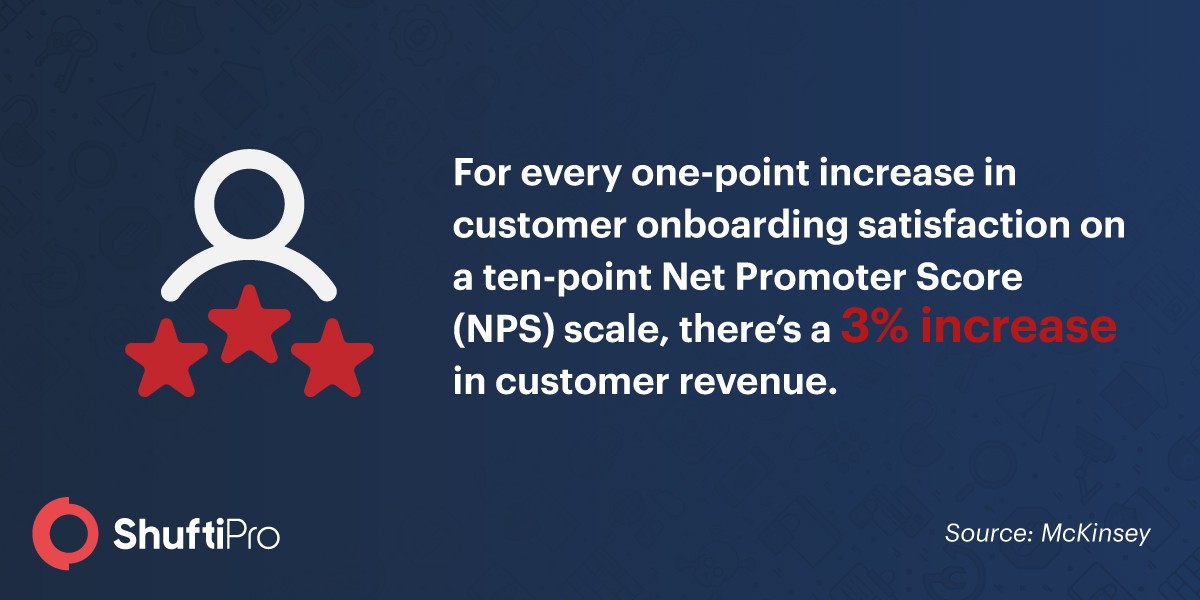 Why traditional customer onboarding is not reliable?
Customers are shifting their interest to the digital sphere and require solutions that can fit their needs. Traditional onboarding is affecting organisational workflow, and hence a low conversion rate.
Here are some reasons why traditional onboarding is not an option these days
The process requires the customers to be physically present during the onboarding process and submit their identity documents, which is quite cumbersome.

The whole onboarding process is time-consuming and can take up to weeks due to involvement of multiple stakeholders. 

It involves paperwork and therefore, can be prone to manual error.

The whole process can cripple service delivery and customers are likely to abandon the process middle way.
Customer Onboarding and KYC in banks
Know your customer (KYC) and customer onboarding are inter-related terms in the banking industry. Banks and financial institutions are obliged to ensure KYC checks during the customer onboarding process as part of KYC and AML regulations. Identity verification is the fundamental part of KYC and that's what banks do in their customer onboarding process. 
Customer onboarding is a crucial process for financial institutions because of stringent regulatory obligations. Apart from verification, banks are required to conduct due diligence of customers as well to analyse the associated risks with them. If a customer fails to verify their identity or has high risk-factor then banks can reject the account approval request.
Identity verification – Making digital onboarding secure
Digital onboarding is now becoming new normal. Neglecting the need for a better and enhanced onboarding process is not even an option. With the increasing trend of financial crimes and frauds, banks are under the continuous scrutiny of the global regulators. Onboarding criminals and identity thieves can taint the bank reputation leading to monetary penalties. Therefore, they need to be very vigilant in verifying the identity of their customers during the onboarding process.
With AI-powered identity verification solution in place, banks can securely and efficiently verify the true identity of their customers in real-time. ID verification eliminates time-consuming manual KYC process and allows banks to onboard customers within seconds. With identity frauds on the rise, organisations are facing immense losses and damaged brand reputation.
New account fraud is quite hard to detect since fraudsters use either legitimate yet stolen information of real individuals or synthetic identities to open a new bank account. Traditional methods are not efficient to detect fake customers. But, with ID verification solution including document verification and biometric authentication, enterprises can identify fraudsters in real-time.
Incorporating identity verification for KYC ensures that the identity is real along with the assurance that the client applying for a new bank account is actually the same person owning the identity being claimed.

What an ideal onboarding experience look like?
You never get a second chance to make a good first impression; the same saying goes with client onboarding experience as well. If you are not providing your customers with exceptional experience in the first go then, they will abandon services middle way. While designing the onboarding process some points much be checked to provide an ideal onboarding experience. These include:
Speed

– The process has to be fast enough to verify the customer in real-time

Digital

– To eliminate the branch visits

Global

– To onboard customers from anywhere, anytime

Paperless

– No paper contracts to sign or form-filling; everything must be online

Fully Complaint

– To fulfil KYC & AML regulatory requirements

Secure

– To combat fraudsters and keeping the consumer's data safe
It all boils down to…
With Fintech already providing seamless customer experience, digital customer onboarding is something every bank needs in order to survive the competitive financial world. Now banks can onboard customers in real-time with Shufti Pro's KYC – identity verification solution. Shufti Pro provides secure and quick digital onboarding through government issues ID document verification.
Have more questions on how Shufti Pro can help you? Share your concerns with our team and get a solution as per your business needs!