BEFORE YOU GO...
Check how Shufti Pro can verify your customers within seconds
Request Demo
No thanks
In recent times, the financial industry has witnessed significant technological changes which have increased revenue flow in the sector. The influx of money has led criminals to exploit loopholes and get involved in various fraudulent activities, including identity theft, money laundering, terrorist financing, and other financial crimes. Although all the Fintech companies are working hard to counter these scams, they are still prevalent and increasing every year. The existing crimes in the monetary system have now become a global concern that needs to be addressed through effective measures.
It is estimated that payment fraud in the fintech sector ballooned by 70% in 2021 compared to the previous year. The financial industry has become highly crucial for the whole economic system, and it is near to impossible to run contemporary operations without it. However, that could be made possible by implementing stringent measures to curb prevailing crimes and make this industry secure for sophisticated users. Know Your Customer (KYC), and Anti-Money Laundering (AML) solutions are the most viable option for the sector which can eradicate financial scams.
Financial Industry Trends [2022]
The adoption of digital technology in the financial industry is accelerating, and the use of cash or ATM services is decreasing. Especially after the COVID-19 pandemic, the use of online services is picking up the pace, and users prefer to perform digital transactions instead of visiting bank branches. With every passing year, financial services are witnessing evolution; especially the crypto industry has brought a huge revolution encouraging users to opt for online services. All the key departments, particularly health, travel, and banks, have introduced remote services, and users are now just using mobile apps to perform daily transactions.
Although digital services have provided a lot of ease to users, they are also linked with many financial scams. Criminals are using sophisticated techniques to cheat the system while getting involved in several monetary crimes. Most financial companies have not implemented stringent regulations to counter scammers, which has aggravated the overall situation and led to a high crime ratio. The global financial watchdogs have also raised their concerns about increasing money laundering and terrorist financing prevailing in financial organizations and recommended strict KYC and AML checks to halt crime.
Losses Due to Identity Fraud in the Financial Sector
Identity fraud is one of the major risks posed to the financial sector, which gives rise to several crimes, particularly account takeovers, bank account fraud, and money laundering. The hackers infiltrate the system using multiple fraudulent techniques and steal the identities of the users while creating fake accounts in their names. In the recent past, several cases of identity theft have surfaced around the globe leading to considerable financial losses. Let's have a look at some of the high-profile cases in the financial sector:
UK Bank Losses from Complex Scams Surge 40%
UK finance report has highlighted that users of a British bank have faced losses of $712 million in 2021. It has been revealed in the investigation that the crime ratio is increasing after the COVID-19 lockdowns, and criminals were stealing funds and further laundering to other countries through cryptocurrency. Law enforcement agencies are working to catch the culprits and try them under the law.
US Charges Criminal Gang Of Bank Fraud Ring
The United States law enforcement authorities have arrested a gang of 11 criminals who were involved in defrauding banks through several sophisticated techniques. It has been found in the investigation that criminals have so far laundered $9 million in other countries. All the defendants have been charged under the US Fraud Act, and anti-money laundering law, and the court are yet to decide their penalties.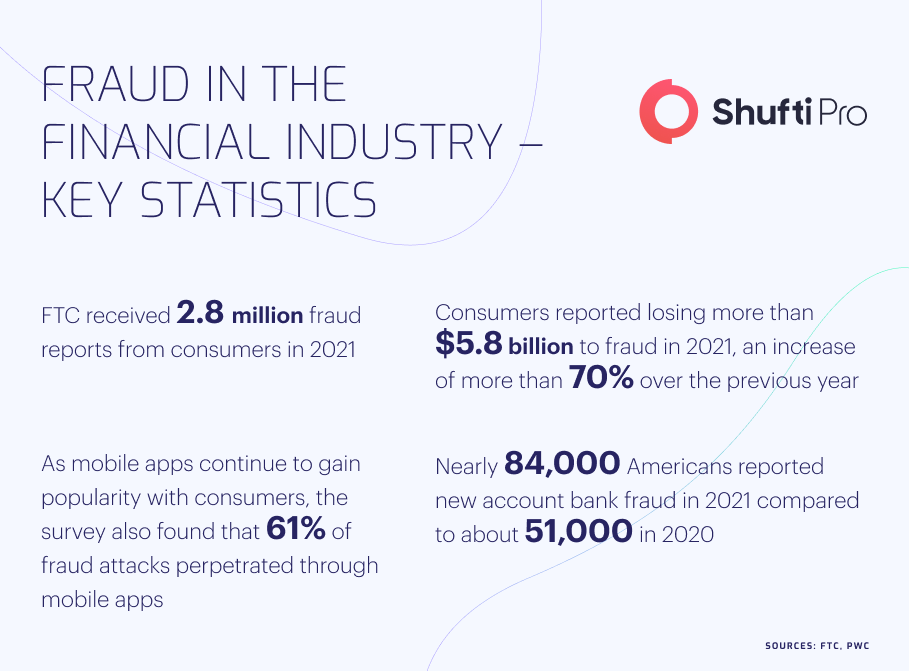 Key KYC/AML Checks for Financial Industry
With emerging technologies, criminals are using sophisticated ways to abuse the system and inflict financial losses on the users. KYC and AML checks are the most viable option for the financial sector which will not only let the companies maintain a record of their users but also identify the money launderers and report them to the concerned authorities. Let's have a look at some of the prominent KYC and AML checks for fintech companies:
Customer Identification
In order to curb financial crime, it is crucial for businesses to identify their users using advanced methods. The criminals generally use stolen identities to onboard the system and carry out financial scams. Once the banks and other companies start verifying the users' true identities while onboarding, the risk of crime will be reduced to a large extent.
These are the minimum requirements of verification which should be maintained in all the departments:
Name

Date of Birth

Address

Identification Number
The companies should verify these details through biometrics and other advanced options and keep a record of these users' details in order to verify criminals in case of any fraudulent activity.
Customer Due Diligence
Customer Due Diligence (CDD) is the critical element of effectively protecting yourself against criminals who might present a risk. Through an efficient CDD approach, businesses can verify and authenticate their customers' details including location, occupation, type of transactions, and methods of payments. All these details can help counter criminals and perform regular audits to implement KYC and AML measures.
Ongoing Monitoring
In order to secure digital businesses, it is imperative for companies to keep a regular check on their users instead of verifying them once. This is actually called perpetual KYC, which keeps on looking at the record and transactions of users periodically. Other than this, the anti-money laundering record by global financial watchdogs keeps on updating every day, and it is important for KYC solutions to undergo ongoing monitoring to track criminals.
Mobile KYC
The combination of mobile services with other data sources can keep KYC verifications to the next level. Facial recognition, thumb impression, and NFC technology have improved KYC standards, and now companies can authenticate their users through their cell phones. Not only the user but mobile services are capable enough to verify the documents of users using Optical Character Recognition (OCR) technology.
How Shufti Pro Can Help
Digital financial services are a pillar of modern systems, and it is near to impossible to run operations without them. This sector is here to stay, and it is the right time for companies to invest in KYC and AML solutions while countering prevailing crimes.
Shufti Pro's identity verification and anti-money laundering screening services are the most viable option for financial companies to verify the true identities of their users. Shufti Pro's AML screening solution has access to 1700+ sanctions lists and while ~99% accuracy.
Would you like to get more information about AML/KYC services for financial companies?