BEFORE YOU GO...
Check how Shufti Pro can verify your customers within seconds
Request Demo
No thanks
In our current data-driven and digital world, many organisations struggle with vast quantities of accumulated data in the workplace. However, a business owner can seek a digital, editable alternative to a traditional paper document that would otherwise be difficult to work with. Although scanning the document can yield a digital file, it remains uneditable. This is where Optical Character Recognition (OCR) comes to the rescue. 
OCR converts paper-based documents, like scanned paper, digital images, and PDF files, into searchable and editable formats. Since it provides quick access to data with just a click, business owners are leveraging OCR technology to streamline their operations. The global OCR market was worth $10.63 billion in 2022 and is forecasted to reach $36.73 billion by 2032.
What is OCR?
OCR stands for optical character recognition but can also refer to broader text recognition technology, converting any image having written text into a machine-readable format. A typical OCR system consists of three stages: image pre-processing, character recognition, and post-processing.
Image pre-processing is carried out to remove image noise and improve the contrast between the text and background, enhancing text recognition.

In the character recognition stage, characters are grouped to form words and sentences and subsequently identified using pattern recognition or feature detection algorithms.

Post-processing entails filtering out erroneous outputs and false positives, merging recognised entities with their corresponding extracted meanings, and conducting error checks.
How Business Owners are Leveraging OCR Technology 
OCR technology has the potential to revolutionise business workflows, offering significant advantages across various industries by generating digital versions of both handwritten and printed text.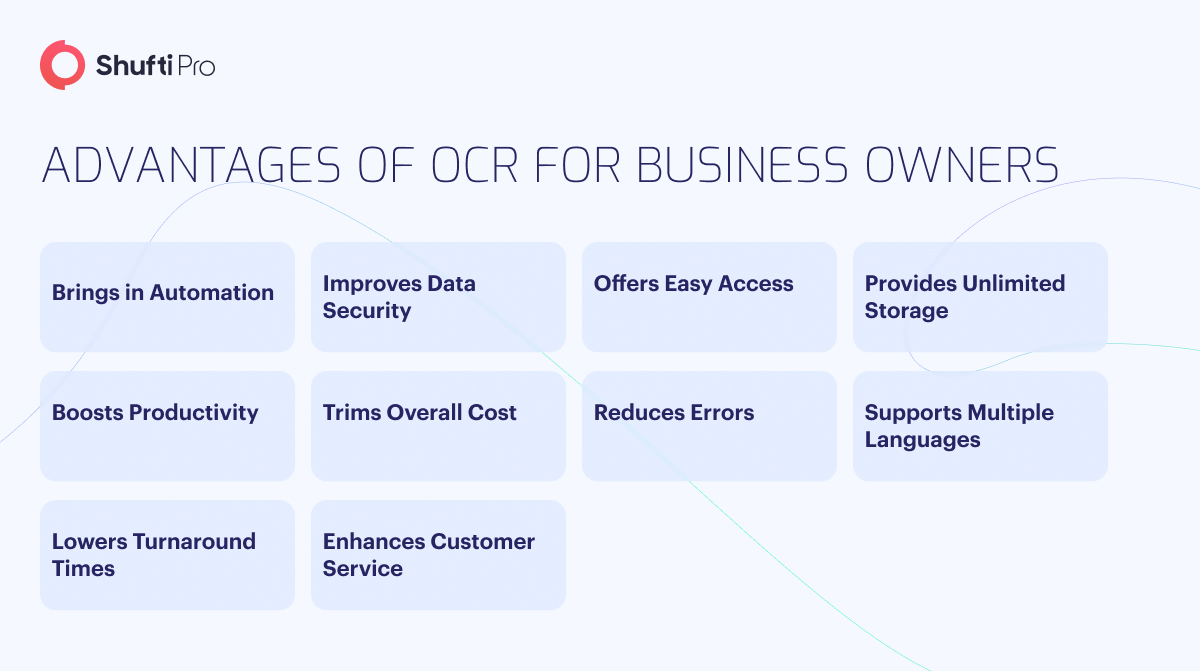 1. Brings in Automation
In today's data-driven business environment, quick and secure access to data is a crucial competitive advantage. However, manually collecting data from these files can be time-consuming if your company's data is still trapped in PDF or paper documents. This approach is not ideal; it is time to shift away from tedious and manual processes.
OCR's most prominent advantage lies in its ability to automate data entry tasks that have been pending for a long time. Doing so reduces the risk of human errors that may have serious consequences, particularly for businesses dealing with sensitive information or those subject to heavy penalties. Incorporating AI-powered OCR into your business workflows mitigates the risks associated with manual entry and enhances efficiency and scalability.
2. Improves Data Security
The lifespan of paper files is short, and if hard copies are lost, they are irretrievable. However, OCR technology enables businesses to meet compliance requirements and mitigate risks that threaten the security of their data. It safeguards your data, preserves information, and eliminates the chances of fraud, document tampering, and alteration.
3. Offers Easy Access
OCR technology enables the text-searchability of all documents, facilitating easy searches within vast databases by entering document names or reference numbers. This feature allows instant retrieval of numbers, addresses, names, and other information whenever and wherever needed.
4. Provides Unlimited Storage
Cloud storage is the optimal choice when it comes to having searchable documents. It enables the retention of documents for an indefinite period. Preserving essential data in paper documents is futile, as they are more susceptible to theft, misplacement, or damage. Moreover, paper documents require significant physical space, incurring additional costs. In addition to converting textual data into a digital format, OCR resolves storage issues by securely storing your documents online for a long time.
5. Boosts Productivity
Manual data entry is monotonous and draining, often affecting one's sanity and performance. However, automation becomes possible by replacing these laborious manual processes with OCR. Investing time and resources in OCR scanners enhance focus and productivity at work, mainly when dealing with daily paper documents.
6. Trims Overall Costs
OCR technology effectively reduces the cost pressures on your business. For instance, as a startup, you can avoid the need to hire full-time employees to handle extensive paperwork. Once documents are scanned, you no longer rely on paper, resulting in savings on printing, copying, and document distribution expenses.
7. Reduces Errors
Manual data entry demands dedicating significant portions of daily processing documents prone to errors. Typos, omissions of crucial details, and document misfiling can quickly occur. However, OCR technology eliminates such challenges for your company. Rather than manually labelling and indexing every document, OCR converts all documents accurately, reducing paperwork time and enabling you to focus on critical tasks.
8. Supports Multiple Languages
Information is available in various languages in the era of globalisation However, accurately capturing nuances in foreign languages can be daunting. However, OCR can simplify these tasks. AI-powered OCR technology translates text into multiple languages. It recognises image content, determines the language, and converts it into any other language based on your preferences.
9. Lowers Turnaround Times
Typing the same information repeatedly is incredibly tedious. However, automation saves time, and so does OCR. By leveraging this intelligent data capture technology, you can eliminate manual processes, automate daily document management, and save time. Furthermore, optical character recognition is particularly valuable for form-filling processes. OCR recognises information within documents and stores it for later use, expediting form completion, or email sending.
10. Enhances Customer Service
With OCR, you can swiftly access and retrieve customer information, allowing you to address their queries promptly. This reduces waiting times for customers and ensures a satisfying experience.
Limitations of OCR and How to Overcome Them
Despite being a widely employed technology, optical character recognition technology has inherent limitations, particularly in the case of robust text recognition systems. Integrating OCR with computer vision and deep learning techniques often enhances accuracy. However, it is crucial to recognise that achieving 100% accuracy is unattainable, necessitating additional solutions for improved outcomes.
Here are the limitations of OCR scanners:
Image Quality Directly Influences Quality of the OCR Output
Common OCR errors include misinterpreting letters, omitting unreadable letters, or blending text from adjacent columns. Image normalisation techniques are commonly employed, such as aligning and rotating the document, reducing blur, applying filters, and removing non-character elements like tables and separator lines.
Complex Image Backgrounds Pose Challenges
Background elements such as sharp edges or small dots are sometimes mistakenly determined as characters, distorting text recognition results. To address this issue, modern OCR uses computer vision-based algorithms trained on augmented datasets to mitigate noise such as dots, lines, stains, etc.
OCR Performs Better with Printed Text
Handwritten fonts exhibit numerous variations, complicating the text recognition process. The development team must train the OCR model using deep learning algorithms and sophisticated computer vision engines. It is worth mentioning that the quality of the dataset used to train the OCR impacts the accuracy and speed of the results. Thus, it is preferred to use a smaller and more relevant dataset.
How Can Shufti Pro Help?
Shufti Pro's OCR solution combats the generic limitations of standard character recognition solutions by using artificially intelligent and computer vision algorithms to retrieve data from even poor image quality and images with complex backgrounds.  Our OCR is a go-to option for business owners looking to automate daily operations.
Here's what makes our OCR scanners stand out:
Instant image-to-text data retrieval

Scanning for unstructured and structured documents

Supports multilingual documents

Cover 150+ languages
Still confused about how OCR technology is a good investment for business owners?