BEFORE YOU GO...
Check how Shufti Pro can verify your customers within seconds
Request Demo
No thanks
The travel sector is booming in this age of digitisation, and air travellers are estimated to double from 4.2 billion in 2018 to 8.2 billion by 2037. With the technological advancement in the travel sector comes the risk of identity fraud. Identity verification is required throughout all aspects of travel, from purchasing a flight ticket to booking a hotel and excursions. Verifying a traveller's identity is a crucial step toward establishing trust. This is where robust Electronic Identity Verification (e-IDV) comes to the rescue. 
Common Types of Travel Fraud 
The travel sector is becoming a hub for criminal activities. Some of the most common types of fraud include: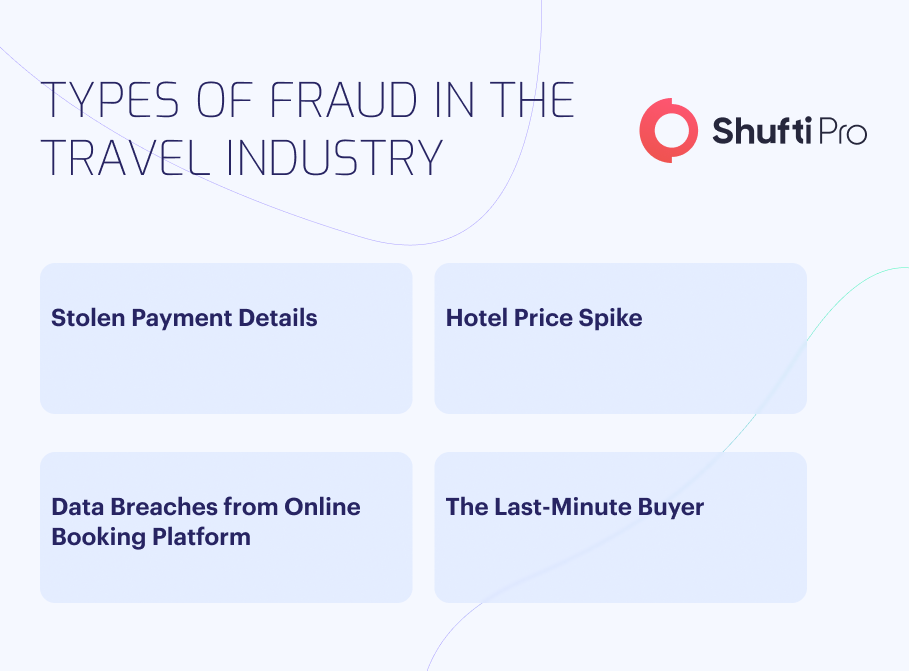 1. Stolen Payment Details
One of the growing fraud trends in the travel sector includes stealing traveller's credit/debit card details. Hackers create different malware to steal an individual's credit card details. An Imposter buys tickets or travel packages and then tries to refund them on their debit/credit cards. Hackers use different tactics to fulfil their illicit intentions; they sometimes use stolen card credentials to book a trip and then sell that booking to another individual at a lower cost.
2. Hotel Price Spike
It is one of the most common tactics scammers use to put online travel companies and platforms into trouble. Such a scam involves collaboration between the scammer and the hotel. What actually happens in this fraud is that the hotel spikes its pricing, and the scammer books their accommodation via an online travel firm using stolen payment details.  Hence, the travel platform will be accountable for paying the chargeback of higher costs. According to the American Hotel & Lodging Association, nearly $5.2 billion were spent on misleading and fraudulent hotel bookings in 2017. However, identity verification can help the travel sector stop hotels from booking individuals with false documentation. 
3. Data Breaches from Remote Booking Platform
Data breaches occur when cybercriminals access genuine users' personal credentials through an online booking platform. One of the most popular travel booking sites, Ornitz, disclosed a security breach in 2018, exposing customers' confidential details such as the credit card information of thousands of clients. Another similar case occurred the following year, in which a ransomware attack disabled the email systems of the Cleveland Hopkins International Airport and caused the disruption of specific displays. 
4. The Last-Minute Buyer
Some scammers use stolen credit card details to take advantage of the last-minute booking by purchasing tickets just 24 to 48 hours before departure. These are small investments, so air travel agencies cannot notice the fake acquisition. As the travellers checked in for their flight, even a confirmed fake ticket can not be cancelled. According to the International Air Transport Association (IATA), the airline sector loses $858 million yearly to payment scams.
Identity Verification to the Rescue
Due to the rising number of frauds in the travel sector, identity verification has become crucial in this digital age to detect and prevent identity theft and other scams. Verifying identities to check that the customers are who they claim is crucial in establishing trust between clients and travel companies. The travel sector can use identity verification services to ensure clients and their assets' safety before, during, and even after travelling. The identity verification solution keeps scammers away and helps the travel sector comply with privacy regulations and avoid heavy fines. 
Here are  some of the benefits of identity verification for the travel sector:
Only Legitimate Clients Can Use Your Platform
Whether you are selling air tickets online or running a remote travel company, it is crucial to ensure that legitimate clients use your platform. This is where IDV plays a significant role, mitigating the risk of fraud and doubling up the security of the travel industry.
Fewer Documentation Requirements
Robust identity verification solutions leverage biometric technology, eliminating the need for the travel sector to require additional documents for the clients to get verified. However, customers still find this cumbersome even though it requires less documentation. Considering this, Shufti Pro has launched an e-IDV solution that is an entirely paperless process as the client has only to provide their unique ID numbers, and they are good to go.
Enhanced Customer Experience
A robust identity verification solution such as e-IDV helps your business enhance clients' online experience. Customers will not hesitate to use your platform When they know you use state-of-the-art security checks. A positive customer experience builds your platform's reputation in the market and helps the sector generate more profits.
How Can Shufti Pro Help?
Hackers are trying to bypass verification systems, making digital identity verification solutions necessary. This is where Shufti Pro's e-IDV solution comes in. Shufti Pro continues to revolutionise the identity verification space, boosting global trust by mitigating the risk of fraud whilst helping the travel sector comply with global regulations. We offer passive and active verification, checking unofficial and official sources alongside government and public sources.
Here's what makes our e-IDV service stand out: 
Completely Paperless Process:

Our e-IDV solution verifies a customer through unique ID numbers, eliminating the need for manual processes. 

Quick Verification:

We do robust verification within seconds,  making customer onboarding faster and more efficient. 

Simple Integration:

Our e-IDV solution offers simple integration, gives users an unparalleled experience, and increases conversion and client satisfaction rates. 
Robust Fraud Prevention:

Our e-IDV solution uses verified government data and face verification to double security by eliminating fraud and forged document usage.
Regulatory Compliance:

Our e-IDV solution's robust data security helps the travel sector abide by global data privacy regulations whilst meeting compliance requirements. 
Still confused about how e-IDV solutions mitigate the risks of fraud in the travel industry?