BEFORE YOU GO...
Check how Shufti Pro can verify your customers within seconds
Request Demo
No thanks
If there's one thing financial institutions understood within the first year of global shutdowns amid the COVID-19 pandemic, it is that legacy technologies and manual processes no longer suffice. Where investing in customer-oriented digital experiences was an afterthought prior to the pandemic, it has become a necessity for survival today. In fact, 65% of American experts report that the customer's digital experience has become more important to their organization because of COVID-19. While the definition of digital experience varies from business to business, it typically involves a combination of secure, rapid services and frictionless interactions between a platform and its consumers, particularly through mobile devices.
What does a Good Digital Experience Mean?
Digital experience refers to the interaction between a business and its customer that takes place via digital technologies. A good digital experience implies that a certain organization is catering to its customers in a secure, responsive, convenient and rapid manner.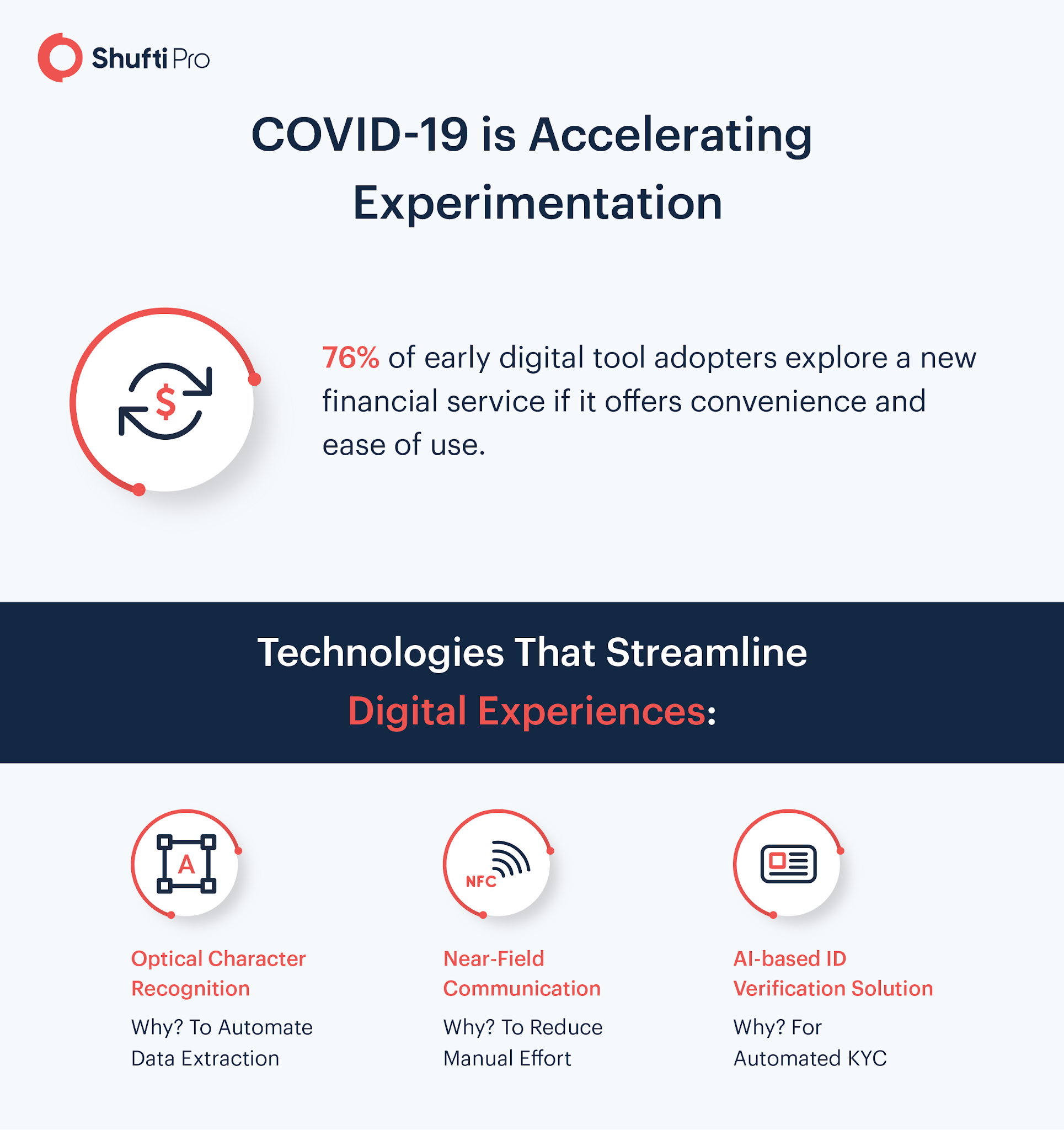 Five Technologies to Embrace For a Customer-focused Digital Experience
To meet customer demands and comply with stringent regulatory requirements in one go, financial institutions are increasingly deploying Regulatory Technologies (RegTech). Typically, banks, investment firms, brokerage companies, stock exchanges, and cryptocurrency providers among others are mandated to comply with stringent Know Your Customer (KYC) obligations to eliminate identity frauds and resulting financial crimes. However, since the KYC process takes place during the initial stage of onboarding, it needs to be seamless and rapid. Listed below are the five technologies that organizations can deploy to impart frictionless and streamlined digital experiences. 
1- OCR Technology 
Financial institutions process huge amounts of customer data on a daily basis. For instance, clients are required to provide Personally Identifiable Information (PII) during the initial stage of account opening in banks for the purpose of ID verification. This, in turn, leads to ever-increasing piles of documents, errors in data collection, and a time-consuming ID verification process for the customers and businesses alike. 
Alternatively, an OCR software powered by Artificial Intelligence provides a streamlined solution for data collection. With the help of this technology, end-users are provided with the ability to bypass the manual data entry process. Instead, they are simply required to display their ID document to a webcam or mobile screen to have their data collected through an automated process.  Shufti Pro's OCR software completes data extraction and processing within seconds while providing an accuracy rate of 98.67%. Additionally, it provides global coverage for 150+ languages and 3000+ ID document types. 
2- NFC Verification 
Smartphone penetration is at its peak. With 3.4 million smartphones in use today, nearly 2 billion are NFC-enabled by default. This number highlights how users are more inclined towards the adoption of self-verification services – a trend that financial institutions can use to their advantage for rendering enhanced digital experiences. 
To stay up-to-date with changing trends, build better rapport with customers, ​​and enhance security mechanisms, NFC ID verification proves to be a viable solution. Apart from its tendency to make contactless payments convenient for both businesses and consumers, NFC technology assists in verifying identities in seconds with the highest level of accuracy. From the customer's side, all that's required is to scan their identity documents, which are embedded with a microchip, against an NFC-enabled device such as their smartphone. The chip contains authentic PII of the document holder. Within a few seconds, the end-user is verified and can continue their operations in a friction-free manner. 
3- Video Interview KYC
Another strategy of streamlining the online KYC process for customers is through the video-based KYC method. This video-based customer identification process is simply the digital version of the traditional KYC with added speed and convenience. 
This is because in the video-based KYC process, the customer is provided with the assistance of a KYC expert during a live video call. Within this video call, the ID document of the customer is verified in real-time with instant delivery of results. From ID verification to customer onboarding, the entire KYC process is accomplished remotely in a rapid and streamlined manner.
4- Digital COVID Certificate Verification
Given the current state of the global health crisis, nearly all businesses have been mandated by governments to verify the Covid vaccine status of customers. While this step is necessary for the safe renewal of business operations, the process needs to be streamlined for customer ease. 
The Digital COVID Certificate Verification solution by Shufti Pro provides businesses with the chance to ramp up customer experience by automating the manual Covid certificate verification process. The digital COVID certificate verification solution is designed to kick-start automated COVID-19 vaccine certificate verification at airports, cinemas, shopping malls or public transport terminals, making it easy for customers to avoid long queues with minimal human intervention. 
5- Facial Biometric Authentication 
You might already be aware that biometric data is unique to each person and hence cannot be replicated.  But, besides its ability to eliminate ID fraud, biometric technology is also used to simplify online and offline processes such as transaction authentication and AML/KYC verification. Facial Biometric Authentication service allows customers the ease of getting verified in real-time through a simple selfie scan. By enhancing the sign-in process through selfie login, customers can be onboarded within seconds from the comforts of their home. Additionally, it also eliminates the need for customers to memorize passwords, hence leading to a smooth online experience. 
Summing it Up 
The COVID-19 pandemic highlighted the importance of digital services for businesses. In order to bridge the gap between customer experiences online and regulatory compliance, businesses need to invest in RegTech solutions. These solutions are not only cost-effective for organizations, but also streamline processes for customers, including ID verification and remote onboarding. Owing to automation, digital services can be readily facilitated according to the needs of each customer. 
Ready to enhance your customer's experience online? Try our 7-day free trial or talk to experts right away!