Blog
5 Key Market Trends in Identity Verification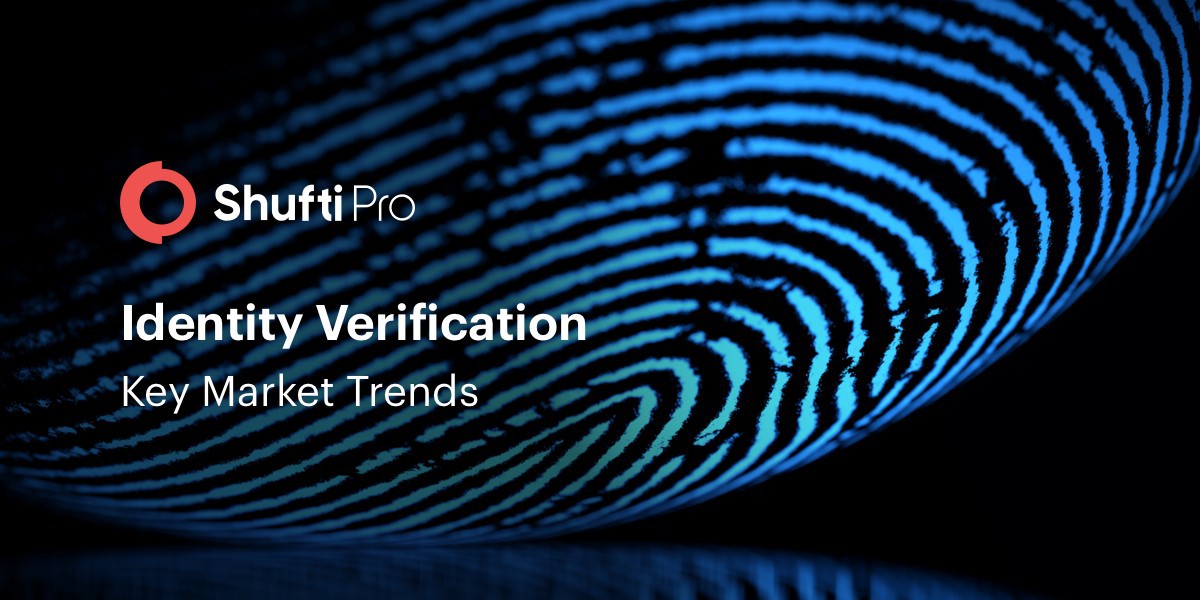 The year 2020 has caused a dramatic shift in the business industry and our way of living.  The significant change post-COVID-19 pandemic is our extended relationship with technology. Looking a few years back, the things we considered 'a thing of future' have now become a 'new normal'. Individuals and businesses are turning towards the adoption of digital channels and services to bridge the gap between 'in-person' and remote work.
With digitization comes the cyber threats and security vulnerabilities. To address these security challenges the demand for identity verification is increasing. According to the Mordor Intelligence Report, the identity verification market is expected to grow at a CAGR of 13.1% over the forecast period, 2020-2025. The new verification services are actively responding to escalating cyber threats and vulnerabilities in the organisations.
Blockchain-based Identity Verification
Technology is advancing and traditional methods are becoming outdated. Technology experts are introducing blockchain-based identity verification solutions for enhanced security and business operations. 
Significance of blockchain based identity verification
Blockchain-based identity verification, as compared to traditional identity verification, is more efficient, secure and protects the privacy of identity owners. By employing trust in blockchain, record sharing is more secure. The reason is the identity verification system eliminates the wait-lines and middle man for verification, authorization, and authentication, streamlining the whole process. If implemented adequately, the solution holds the potential to take over the market in the near future.
Identity verification is now very apparent in the financial industry and businesses where the individuals and businesses are required to open accounts, make online payments through digital channels, apply for loans and carry out other financial activities online. Apart from financial institutions, every organisation dealing with consumers online now requires to incorporate identity verification channels.
Adoption of BYOD trends in organisations drives the identity verification market
The adoption of 'bring your own devices (BYOD)' trend in the industry is driving the identity verification market. The BYOD concept gained more traction since the COVID-19 outbreak when the organisations were forced to operate remotely. With this shift in events, the medium and large-scale enterprises are striving hard to address the emerging security challenges while enjoying employee satisfaction and cost-cutting opportunities. 
Earlier, in March, the Department of Homeland Security's Cyber Agency (CISA) highlighted the cyber threats linked to 'work from home' as compared to in-office jobs. With a BYOD approach, there's a potential vulnerability around virtual private networks (VPNs). The organisations are required to turn towards integral security measures. 
Biometric verification, especially facial recognition, is becoming readily available on the majority of the smart devices. In the upcoming years, identity verification will be the most effective and secure measure for employee verification. Biometric scanners and facial recognition technology will be widely used by the enterprises to verify and authenticate employee identity before granting access to corporate data through BYOD.
In addition, the payment industry has shifted from cash to mobile payments. And they already started incorporating AI-powered identity verification solutions to combat fraud in real-time and authenticate customer identity and transactions.
COVID-19 has observed a striking shift in the business processes and con-artists know this too
Digital identity verification is witnessing a spike in demand COVID, driven by COVID- 19 pandemic. Organisations and businesses have shifted towards remote work during the pandemic. This sudden paradigm shift has resulted in increased demand for video-conferencing tools such as Zoom. Though remote working is a new normal, we can't deny the security challenges that come with this new trend.
While businesses are shifting technology capacity on digital platforms to alleviate the impact of the outbreak, fraudsters are exploiting the situation to capitalize on inefficient security checks. They are using chaos and confusions to trick the victims into frauds scams using email and SMS phishing scams.
COVID-19 Frauds
According to Checkpoint, more than 4,000 coronavirus-themed website domains have been introduced since January 2020. Some of them are with the intention of running email campaigns to trick victims into clicking the malicious links. In addition, online scams have trapped more than 16,352 victims in online shipping fraud during this pandemic, since the physical stores were closed – reported, the United Kingdom's National Fraud and Cybercrime Reporting centre.
Online Fraudsters Steal £17m Over #COVID19 Lockdown https://t.co/PDSCXyX7O6

— Eric Vanderburg (@evanderburg) June 22, 2020
Apart from online platforms, Fintech lenders and banks have also witnessed a surge in lending fraud attacks during a pandemic. These frauds were declared as first and third-party application frauds and synthetic identity fraud (SIF). Digital businesses, therefore, need to be extremely vigilant in their customer onboarding and verification processes to detect and prevent application and synthetic ID fraud.
Furthermore, businesses with existing customers are highly susceptible to phishing attacks and account takeover frauds. Hence, organisations need to streamline their user authentication process to detect and prevent any possible identity fraud and avoid financial losses in real-time.
The need for compliance and stringent AML regulations drive the market
The Bank Secrecy Act of 1979 (BSA), introduced to deter the illegal fundings, laid foundations of KYC and AML regulations for banks and other financial institutions. Customer Identification Program (CIP) is one of the requirements of KYC laws; making identity verification an integral part of financial institutions. With technology advancing, the regulatory authorities are becoming more stringent towards KYC and AML compliance.
Earlier this year, the EU's Fifth AML Directive came into effect from January 10, 2020, that set out new guidelines for the financial businesses. AMLD5 reduced the identity verification threshold for the payment card industry from EUR 250 to EUR 150, enhancing the scope of AML regulations. Moreover, FATF expanded the scope of reporting while recommending the member countries to mandate art dealers, legal professionals, and virtual asset dealers to perform AML screening on their customers.
These advancing regulations are enforcing organisations to redefine their KYC processes and hence, driving identity verification market.
Identity verification is an old concept but the incentives are now greater than ever
Financial businesses are already very much familiar with the term identity verification. Organisations are actively incorporating identity verification solutions to comply with KYC/AML regulations while mitigating the risk of identity fraud during the onboarding process. Traditionally, identity verification takes place when a customer handovers government-issued valid ID documents during the onboarding process; and usually takes few weeks for process completion. But not any more!
How do you expect a person from another city to physically present the documents in order to open an account or verify identity? That's the reason, organisations are adopting digital ID verification solutions for remote customer onboarding. Undoubtedly, the institutions were already carrying out KYC processes but with technology advancing, AI-powered services offer incentives greater than ever. It enables the business to swiftly and securely onboard remote customers in a compliant way.
Digital services are a necessity, not a preference!
Analysing the significant incentives, majority of the businesses have already started digitising the onboarding and account opening process. Not only this, but enterprises have increased their budget for remote onboarding. It shows that the institutions have aspired to digitize and now they have a more pressing driver, i.e. 'speed to market' due to the pandemic. 
The organisations that want to stay ahead of competitors need to figure out the loopholes in the remote onboarding process of customers. The quicker they can accomplish this, the better they can perform in the digital world. 
Adoption of digital identity verification in  healthcare constitutes a significant share
Healthcare sector is one of the most targeted industry in the last decade. According to HIPPA Journal, over 2,550 healthcare data breaches were reported in the last decade; including 46 breaches in April 2019 alone. The records compromised in these breaches were exposed on the dark web including patient's information, date of birth, credit card info etc. In fact, these records were worth 10 times more than ordinary credit card records.
Such incidents make digital identity verification a significant element to ensure patient security. Know Your Patient (KYP) through digital identity verification is essential for healthcare organizations. It verifies the patient through real-time document verification that compares the photo on the government-issued ID document to live photo of the patient. Also, with health insurance fraud on the rise, identity verification is needed more than ever.
KYP under GPhC's guidelines
Adoption of KYP process in health care organizations is now mandatory. As per the guidelines of the General Pharmaceutical Council, online pharmacies are obliged to perform age verification before selling the medicines in the United Kingdom. Traditional age checks are not efficient enough to verify customer identity and age and therefore, digital identity verification is need of the hour.
Read more: Know your patient process explained under the GPhC's guideline
Disclaimer:
No warranty is herein provided that the information contained in this document is accurate, up-to-date, and/or complete. In no circumstance(s), does such information constitute legal or any other advice. Any person who intends to use, rely, pass-on, or re-publish the information contained herein in any way is solely responsible for the same. We suggest to verify the information and/or obtain
expert advice
independently if required.