BEFORE YOU GO...
Check how Shufti Pro can verify your customers within seconds
Request Demo
No thanks
Improving customer service and combating fraud frequently requires swiftly gathering and confirming addresses. By using an online address verification method, businesses can pay for a delivery that will be returned as undelivered or authorise a new account with a phoney address. 
E-commerce platforms often require proof of address to prevent fraudulent transactions. In 2022, a global survey revealed that 52% of retailers worldwide experienced a substantial increase in fraudulent attempts. Juniper's research revealed that retailers lost $130 billion in digital CNP (Card-not-Present) fraud between 2018 and 2023, highlighting the importance of robust address verification systems.
Address Verification Methods
Enterprises can use address verification for a multitude of reasons. Still, this blog will be deep-diving into its use within the onboarding and identity verification process whilst remediating any enterprise knowledge gaps on the topic.
1. AVS to Avoid Card-Not-Present Fraud
A common term for anti-fraud measures used with financial transactions involving credit and debit cards is the Address Verification System (AVS). The AVS can verify if the billing address and zip code on file with the issuer match those provided by the merchant whilst processing a Card-not-Present (CNP) transaction.
The AVS will inform the retailer if there is a complete, no, partial match, or no results. Merchants may have rules set up to deny transactions that automatically provide partial or no matches and request extra verification if necessary. When choosing whether to allow or reject a transaction, merchants typically have to weigh various fraud-related signals and make a risk assessment based on that. 
2. Address Verification for Shipping and Advertising 
In addition to ensuring that addresses exist, collecting valid addresses from users, and removing duplicate addresses from databases, online address verification systems can also help clean up address information. These aren't typically referred to as AVSs, but certain service providers may use the terms interchangeably (or favour one name over the other) depending on the specifics of the offering. 
Numerous service providers can verify addresses using credible government or private databases. It's common practice for postal services and shipping businesses to have databases of customer addresses. An accredited company can assist in updating outdated addresses (when a street name changes) and standardise address formatting to meet USPS standards. By adopting standards, a business can save money on shipping costs and reduce the risk of shipment loss in transit.
3. Establishing a Person's Identification by using the Address
When onboarding new customers or processing transactions, double-check that they actually live at the given location. For instance, if a business conducts a KYC or KYB check, they want to ensure the provided address is legitimate. The accuracy of a given address can be checked by comparing it to records kept in a database by a trusted organisation. Alternatively, a proof of address check may necessitate the submission of additional papers, such as a pay stub or utility bill. A red flag might include someone giving an unusual address. An incorrect address may indicate fraudulent activity, though typos may cause errors.
Proof of Address Requirements 
Confirming a client, user, or employee's address and verifying identity provides an extra layer of protection during the verification and onboarding processes. When creating a new account, many businesses, especially those in the financial industry, require customers to provide evidence of residence. Companies operating in regulated industries must keep on file a verified photo ID and request proof of address as part of Customer Due Diligence (CDD) procedures to comply with the Fifth Anti-Money Laundering Directive (5AMLD).
A valid proof of residence can be used as a reliable identity verification data point. It's another degree of security ensuring a person gets service at the given address. Using identity proofing to compare such data with other sources strengthens the case that the person in question actually exists and is who they claim to be.
In a proof of residence scenario, access to a service is restricted to locals only. Governments, for instance, frequently impose geographically-based service restrictions. The term "Proof of Address" refers to documentation proving that a person is now residing in and has done so for an established period of time in a given location.
Some financial services are restricted to people who live in certain areas or only allow them to sign up if they meet specific requirements. To avoid punishment from the SEC for dealing in unregistered securities, certain European cryptocurrency exchanges may choose not to accept customers from the United States. Proof of address can also be used to guarantee that individuals from sanctioned countries undergo the necessary due diligence procedures.
Such limitations may result from statutory or regulatory mandates or the product of internal business policy. These businesses may offer services online with more confidence that they are in compliance with relevant regulations and procedures.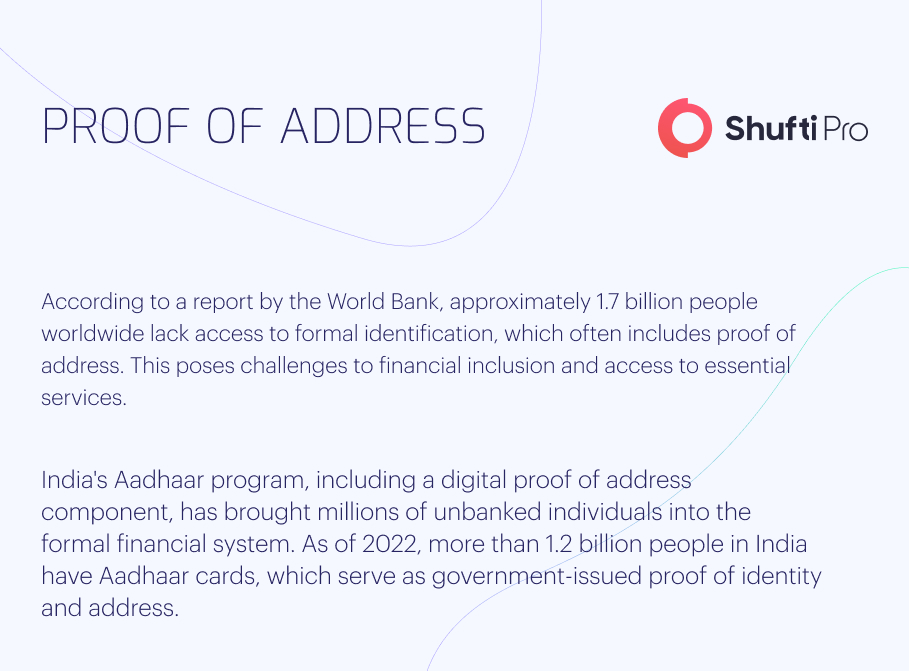 Importance of Address Verification
There are many reasons why verifying an address is essential across a wide range of sectors and applications:
Accuracy of Client Information:

The purpose of an online address verification service is to confirm that the customer's provided location information is accurate and comprehensive. This is crucial for ensuring the database remains clutter-free and precise. Incorrect addresses result in undeliverable packages, lost mail, and broken lines of communication.
Cost Reduction:

Incorrect addresses can be costly for businesses. Verifying a recipient's address before sending mail or a package can reduce costs associated with lost mail, reshipments, and customer service requests.
Logistics & Delivery Efficiency:

Shipping and logistics companies rely heavily on correct addresses for timely deliveries. Confirming an exact address before sending an item can reduce delivery mistakes and boost happy customers.

Combating Fraud:

Identifying fraudulent activity is facilitated by address verification. Fraudsters can utilise phoney or stolen addresses in schemes, but a robust verification system can detect and block such attempts.
Compliance Requirements:

Specific sectors, including banking and healthcare, are subject to stringent rules guaranteeing the accuracy of consumer data. Businesses can reduce the risk of legal trouble and fines by using online address verification to ensure they are in compliance with these regulations.
Customer Experience:

Client satisfaction increases when mail or packages are delivered quickly and accurately. Increased client loyalty and rave reviews may result from this.

Marketing Effectiveness:

Correct addresses are crucial for efficient marketing campaigns that aim to reach specific audiences. Verifying an address guarantees that promotional materials will be delivered to the right people and boosts the chances of a successful marketing campaign.
Global Expansion:

Businesses with global expansion plans must verify customer addresses. It ensures packages and mail are delivered to overseas destinations by standardising international address formats.

Environmental Impact:

If an incorrect address is given, the letter and any accompanying packaging will be returned, resulting in waste. Reduced waste and a smaller carbon footprint from transportation are two ways in which address verification aids in environmental sustainability.

Quicker Results:

Verifying addresses by hand can be laborious. Businesses can benefit from automated address verification systems since they reduce time and ensure correct address validation.
In Europe, the 5th Anti-Money Laundering Directive introduced stricter customer due diligence requirements for businesses. This includes a focus on obtaining accurate proof of address documentation as part of AML compliance efforts.
Problems with Address Verification Forms 
The Proof of Address procedure has advanced more slowly than the Proof of Identity technology has. The following are examples of known problems with the Proof of Address.
No Address-Proof Template
Take into account the wide variety of services that could prove residency. The difficulty in evaluating the genuineness and accuracy of a residence certificate becomes more apparent when considering the number of entities and the variety of styles, formats, and information contained within them. Depending on the context, thousands of texts could work, with minimal overlap or underlying principles to help sort through them.
Problematic Onboarding
An interested new user wants to join immediately so they may begin using the service. They'd rather not have to rummage through the archives to get the required paperwork, mail it off, scan it correctly, and then wait for acceptance. According to a recent survey, 60% of all potential applicants will abandon applications if they are required to provide identification and proof of address.
In addition to the aforementioned absence of standards, the plethora of available options might quickly overwhelm the buyer. Moreover, dealing with paper documents in a digital setting is an issue. Companies often ask customers to act as document scanners, which can be a frustrating experience if there are any lighting or location issues.
Paperwork Expenses
Manual checks can be time-consuming and costly because of the potential for mistakes or delays. Processing dozens of applications per month is manageable, but thousands would be too much for any reasonable amount of time. Costs associated with maintaining records, performing checks, and processing documents are also a factor.
Best Practices for Address Verification 
Any firm requesting an online address verification should consider legal requirements, risk management, and operational factors. Finding the right technologies and the best way to incorporate them into a comprehensive solution is essential to serving customers and businesses.
A company may need a paper to satisfy the regulator's demands. The document must still be collected to meet standards, but one of the aforementioned technologies will be used to verify the address. This method can fulfil criteria, speed up the check, and provide extra location analysis & fraud prevention tools.
Combining age verification with location data may be necessary to comply with local destination restrictions. Possible solutions include an age/identity document check and a geolocation check to pinpoint the precise location.
Improve the account opening process of customers by modernising automated address verification processes and boosting identity assurance. Automatically verify customer addresses in seconds for proof of address with pinpoint accuracy and no need for human review or customer document uploads.
How Can Shufti Pro Help
Shufti Pro's real-time address verification ensures global data accuracy. With coverage spanning over 240+ countries and territories, we offer instant validation and standardisation of addresses, ensuring they adhere to consistent formats whilst pinpointing locations with precision down to 6 decimal places. 
Shufti Pro offers two types of address verification tailored to businesses' needs, which are as follows:
Standard Address Verification
The features that our standard address verification solution includes:
Document Collection:

gather documents and proof of address from the customers.

Document Validation:

Shufti Pro's AVS verifies the legitimacy of documents used as proofs and swiftly identifies counterfeit records.

Address Extraction:

Our solution is embedded with top-tier OCR technology that seamlessly extracts addresses from submitted documents in real-time whilst eliminating manual data extraction efforts.
Enhanced Address Verification
The value-adding features that enhance our basic address verification service include:
Address lookup:

Our Address Lookup feature instantly searches, validates, and ensures the accuracy of any given address.

Address Parsing & Standardisation:

Shufti Pro's advanced address standardisation tool converts fuzzy addresses into a structured and uniform format.

Geospatial Distance Locator:

Helps businesses identify customer address discrepancies by measuring the distance between their IP location and the document-provided address.

2+2 Address Validation:

Ensure precise verification results by comparing the users' addresses with global databases and further validating them against international postal service records for utmost accuracy.
Whether you're a logistics powerhouse, an e-commerce giant, or simply seeking to maintain a pristine customer database, Shufti Pro's advanced address verification services streamline operations, save costs, and enhance the customer experience. Take the first step toward data excellence, and talk to our experts today to unlock the full potential of your address data.