BEFORE YOU GO...
Check how Shufti Pro can verify your customers within seconds
Request Demo
No thanks
Identity theft cases are on the rise in this age of digitisation. In 2022, India topped the list of countries witnessing the most identity theft cases worldwide, impacting around 27.2 million adults. The USA followed, with around 13.5 million consumers falling victim to identity theft that year. Japan was third on the list, with three million individuals falling victim to identity theft annually. These statistics signify why deploying robust security solutions has become a pressing need in the digital era. Not only do these solutions protect businesses and their customers from identity theft and fraud, but they also do protect them from hefty non-compliance fines.
Understanding Electronic Identity Verification 
e-IDV is the automated and digitised version of the conventional Know Your Customer (KYC) process. Electronic identity verification is the modern way of verifying customers online to ensure they are who they say they are, mitigating the risk of fraud. 
e-IDV is verifying clients' Personally Identifiable Information (PII) to check their true identity whilst screening them against government databases, watchlists and sanction lists. Customers must provide their ID number or Social Security Number (SSN) so that their data can be automatically fetched against that ID from different sources for verification. The process is user-friendly as the customers do not have to stand in long queues to get their verification done, nor do they have to fill up lengthy forms providing their details.
How Does e-IDV Work?
ID Document Number:

The applicant is required to enter their ID document number. The automated verification leverages OCR technology to capture, retrieve, and analyse information from the document, facilitating businesses to verify anyone within seconds. 

Liveness Detection:

This is an advanced form of facial biometrics. The sophisticated

technology

uses biometrics to check that the individual undergoing verification is physically present. Not only this, but it detects 3D masks, inserted videos, deep fakes, and other tactics scammers use to commit fraud. Liveness detection works by scanning the individual's face, analysing their biometric data, and making a 3D face map, applying deep learning to check any intricate structure in the provided data. 
Records are Cross-Checked:

The applicants'

documents

are cross-checked against official government databases.
Results are Generated:

The verification process is complete, and the outcome is stored in the back office for future use.
e-IDV by Country
With the increasing number of identity theft cases worldwide, most nations have implemented electronic identity regulations, allowing companies to deploy e-IDV for clients' verification. India is the global leader in this domain, with a remarkable digital ID population. However, the European Union is actively shifting toward the adoption and greater accessibility of e-IDV. The EU expects more than half of its citizens to employ digital identities for authentication soon. Similarly, the UK and the USA are advancing in the era of digital citizenship, integrating digital ID systems and incorporating biometric verification methods.
Why is e-IDV Important?
Due to compliance issues and increasing instances of money laundering, fraud, and identity theft, financial institutions are holding nothing back to fight. Firms are heavily investing in AML and KYC solutions annually. Such huge volumes of spending underscore the seriousness of these institutions to safeguard their customers' identity and money.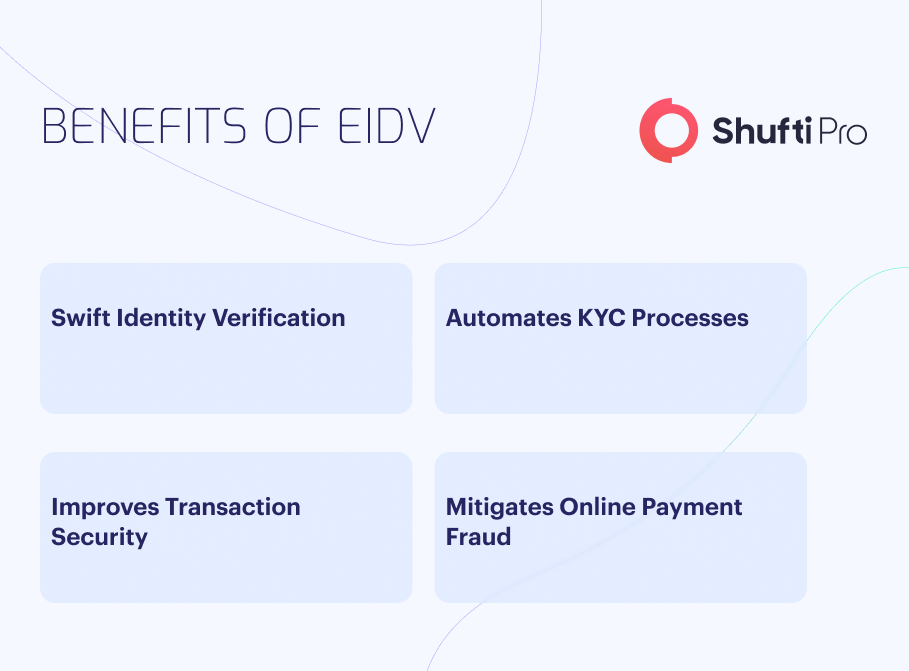 Therefore, solutions like e-IDV have become critically important.
1. Swift Identity Verification
Modern AML regulations require financial firms to collect and analyse vast data. However, financial crimes are committed swiftly, across borders, and on digital platforms. This is where e-IDV can help by quickly verifying the identity of an at-risk individual, thus, giving firms time to act swiftly and convincingly.
2. Automates KYC Processes
Manual identity verification has been the standard procedure for companies, requiring manual verification of documents and in-person visits. Electronic identity verification can streamline the process by automating the verification of customer identities. Institutions can guarantee KYC compliance whilst lowering operating expenses.
3. Improves Transaction Security
Electronic identity verification increases transaction security by lowering the possibility of fraudulent transactions. e-IDV assists in preventing unauthorised access and guarantees that only legitimate entities are involved in the transaction by confirming the identity of the people participating in financial transactions. Multi-factor authentication methods, such as biometric verification, SMS-based codes, or knowledge-based questions, can be used as part of this verification process to provide an extra layer of protection to the transaction process.
4. Mitigates Online Payment Fraud 
Online payments and e-commerce have grown in popularity, as have fraudulent actions in the digital world. Scammers employ fake identities, stolen credit card data, or chargeback fraud to their advantage, costing businesses and customers money. By confirming the identities of those doing online transactions, electronic identity verification reduces the risk of online payment fraud. Financial institutions and online enterprises can lower the risk of fraudulent transactions and provide a safer environment for online commerce by validating the user's identification.
e-IDV  Challenges
Businesses encounter several challenges when dealing with e-IDV, such as:
Addressing customers' documents from different countries

Authenticating clients having digital IDs rather than physical documents. For example, applicants from India

Ensuring that the collected data is protected against cyber attacks

Keeping abreast of emerging fraud tactics

Maximising onboarding rates whilst abiding by the regulations
Firms can waste many resources learning different regulations and adapting to the constantly evolving digital landscape. This is where an automated solution e-IDV comes to the rescue, doing all the grunt stuff for them. Not only this, but it checks documents from across the globe and handles every country's specificities. This can bring authentication down to just a few seconds.
How Can Shufti Pro Help?
Shufti Pro offers an e-IDV solution that protects businesses from identity theft and fraud and helps them keep up with the evolving regulatory landscape, revolutionising industries across the globe.
Here's what makes our e-IDV service stand out:
Simple integration

Verifies identities through unique ID numbers

Completely paperless and digitally transportable ID

Robust verification within seconds

A frictionless user experience

Maximised customer onboarding rate

Adaptable to location and language

Globally compliant
Still confused about how e-IDV is an excellent investment to keep scammers away in this digital age?