BEFORE YOU GO...
Check how Shufti Pro can verify your customers within seconds
Request Demo
No thanks
Healthcare professionals continue to be hot targets of bad actors and cybercriminals, with attacks increasing in both sophistication and volume. The year 2022 witnessed medical data breaches at an astounding rate—almost two per day.
Yet, there's one emerging technology proving to be a great bet to tackle this: facial verification. It is anticipated that the face verification market will grow by $12.67 billion By 2028.
Prevailing Crimes in the Healthcare Sector
The medical sector is one of the fastest-evolving industries worldwide. As there is a wealth of information about patients, physicians, and insurance providers, scammers have been actively exploiting them for their malicious intent. According to the National Healthcare Anti-Fraud Association, fraud costs the healthcare industry $300 billion annually.
Identity and data theft are frequent in the healthcare industry, in addition to financial fraud. Criminals use victims' identities to commit offences such as insurance fraud and bogus bank account openings.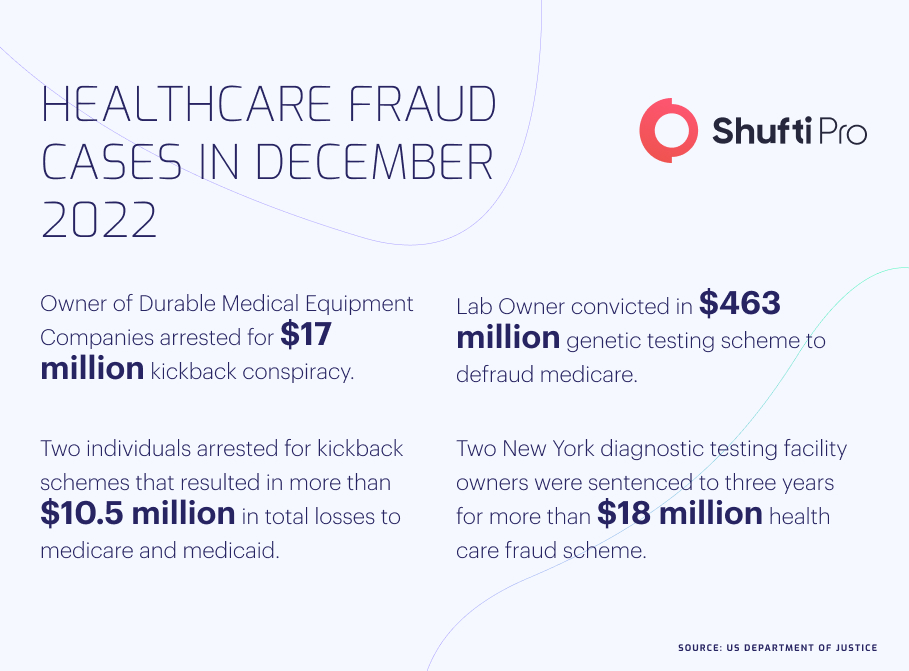 Medical Identity Theft
Medical identity theft means using someone else's details improperly to file claims. The beneficiary's details can also be used by someone to make a claim if the patient's medical records are unavailable. A beneficiary may also make services available to someone who would not be eligible otherwise.
According to Accenture, almost 24% of health professionals claim to know a person who has sold their medical access to an illegal outsider. Criminals have access to healthcare supplies, services, or money due to medical fraud in the industry.
Billing for Unnecessary Services & Upcoding
Invoicing for pointless goods or services is precisely what it sounds like. The criminals can increase insurance payments by submitting services that have never been offered.
This also applies to upcoding, the submission of more expensive services than was really required. Medical coding errors for a procedure can result in higher payouts for offenders.
Consider visiting a doctor for a sudden, slight backache. However, the doctor recorded chronic or persistently severe backache in your medical record. Rather than submitting a claim for a routine appointment and over-the-counter painkillers, the case was for a CT scan as well as an opioid prescription that was never given.
These fraudsters put patients at risk of injury or death due to their greed. For instance, about 12 million opioid tablets are unlawfully prescribed each year.
Kickbacks
Kickbacks occur when a doctor or other healthcare professional pays a patient to visit their office. The practice of requesting referrals from other healthcare professionals falls under this category of fraud. The owner of Durable Medical Equipment Companies has been arrested over a $17M kickback conspiracy.
Undoubtedly, rewarding fresh suppliers is a good thing in some businesses. The company model itself can even depend on the idea. But things get complicated when federal healthcare programs are involved. These fraudulent referrals may result in higher program expenses, compromised medical judgement, unfair competition, and a number of other problems.
Phantom Billing
Phantom billing is a real sort of healthcare scam that frequently occurs, despite sounding like something from a horror movie from the 1990s. Particularly, it happens when patients are billed for those treatments that they were never given.
Cigna sued six distinct businesses for phantom billing-related scams. The organizations included:
Finger Lakes Brace Company

Medmarket Consulting, Inc.

Christopher Parks

National Healthcare Partners, LLC

Precision Medical Products, Inc.

USA Medical, LLC
According to Cigna, the organisations made baseless claims for durable medical devices. The suspected absurd claims had a total estimated financial worth of $18.7 million.
Double Billing
Double billing is a relatively simple kind of healthcare fraud. It occurs when a certain claim is submitted more than once, despite the service being only rendered once.
Three Ohio healthcare providers will pay $3.19 million to resolve claims that they submitted false information to Medicare and the Ohio Bureau of Workers' Compensation.
Global Regulations for the Healthcare Sector
Due to the growing financial losses each year, patient verification has gained momentum in the healthcare sector. Every nation is making a concerted effort to pass laws and create regulations that will make it impossible for these frauds to occur. 
Stopping all common crimes will not only assist patients in protecting their financial and personal information but will also increase their trust in the public health sector.
HITECH act, passed in 2009, was to encourage hospitals to embrace Electronic Health Records (EHRS), and

HITECH

has continued to be a major success in accomplishing this goal. It gives hospitals the guidelines to keep the privacy of their patients along with instructions on the consequences for breaking those criteria.

The GPHC is the organisation in charge of independently regulating the pharmacy profession in England. All pharmacies that provide customers with remote services receive complete information from GPHC. Healthcare organisations are under tight orders from GPHC to confirm the patients' identities before delivery.
Curbing Healthcare Fraud With Face Verification Solution
As the world is moving to digitization, scammers are also revising their methods to exploit sectors for their illicit means. Considering the prevalent scams in the medical sector, it has become essential to deploy facial verification technology to keep fraudsters at bay. 
The only workable option for the remote medical sector is to have a robust online face verification system that enables them to check the backgrounds of their patients thoroughly. The use of reliable recognition technology will not only help safeguard patient information but also aid in preventing financial losses for the industry. Moreover, it would prevent the medical sector from heavy non-compiance fines. 
Looking for a face verification solution trusted worldwide? Try Shufti Pro!
Leverages AI algorithms to identify human faces accurately

Verifies identities within seconds

A strong line of defence against identity thieves

Enhances user experience

Detects spoof attacks
Want to learn how Shufti Pro's face verification solution curb fraud in the medical sector?