BEFORE YOU GO...
Check how Shufti Pro can verify your customers within seconds
Request Demo
No thanks
During the covid pandemic, many businesses updated their access control systems to facial recognition technology. This has become pivotal in decentralised environments whereby companies are responsible for improving workforce safety in less populated workplaces.
The facial recognition market is growing as forward-thinkers look to enhance physical safety and access control systems in the coming years. The market value of the face verification market was $4 billion in 2020 and is expected to double by 2030.
Diving Deeper into Facial Recognition
Facial recognition is an AI-powered technology that uses facial features to identify that the individual is who they say they are. It simplifies identity verification and significantly reduces spoofing attacks, deep spoofing, 2D and 3D face masking, and replay attacks during customer onboarding.
Today, machine learning facial recognition technology has become more widespread as biometric verification has been implemented by banks, credit card firms, and digital platforms. Even Major League Baseball has utilised it to keep itself safe from any kind of identity theft and data breaches.
Facial Recognition Trends to Look Out for 
As companies, individuals, and governments continue to grapple with the implications of pervasive technology, five emerging trends will shape face recognition in 2023 and beyond.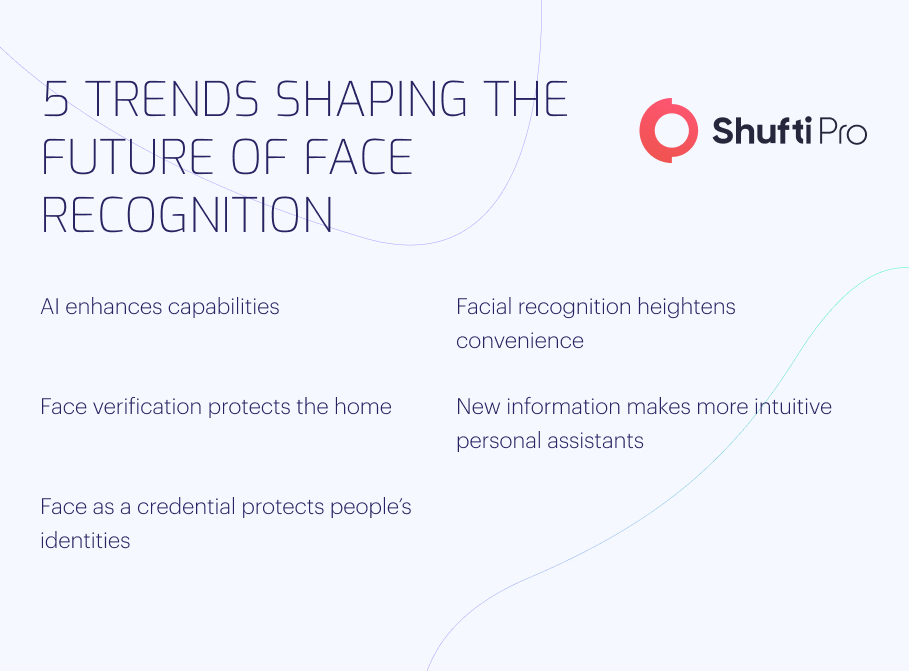 1. AI Enhances Capabilities
Becoming more rampant within the technology industry, artificial intelligence (AI) is already augmenting many existing types of software, services and tools.
Due to the use of AI in face verification, access control systems will become faster, more versatile, and smarter in the future. For example, AI enables face verification technology to incorporate video authorisation, multi-factor authentication, and other features to enhance safety and security.
2. The Convenience of Face Verification 
Many business owners try to balance safety and convenience and they often end up accommodating one and risking the other. However, variations in leadership cause a number of outcomes when it comes to harnessing the power of advanced technology. For example, many C-suite executives think that whilst implementing any advanced technology, their business focuses on the demands of society, however, only a few employees may agree with this.
Whilst securing physical spaces, it is necessary to use verification services that do not impact the user experience. Physical identification solutions like badges or magnetic cards can be stolen, lost, or damaged, disrupting the user experience. This issue will be resolved with face verification, allowing people to enter the right place with minimal hassle.
3. Face Recognition Protects the House
Door cameras and home security systems are becoming more common. Facial recognition will improve this system, allowing people to get more functionality than before. For example, face recognition technology could be incorporated with home automation applications for announcing front door arrivals and remote residential access.
4. New Data Makes the Personal Assistant More Intuitive
AI-enabled personal assistants like Alexa, Siri, and Cortana have now become more adept at performing simple tasks such as writing text messages, scheduling calendar appointments and playing music.
However, these assistants become more responsive and personalised when they are paired with face verification technology, making them a realistic and practical alternative to existing robotic iterations. These technologies could be trained to notice emotions and other reflexive social cues, making them more conversational.
5. Face Verification Keep Hackers at Bay
Face recognition technology is usually used to facilitate the most significant interactions like platform logins, digital payments, and in other secure areas.
In this digital age, where Personally Identifiable Information (PII) is easily available on the dark web, face recognition is a great solution. It protects people's identities as they navigate through physical and digital spaces. Passwords and other credentials are stolen or misused, and the identity of the person can not be, making face verification a promising solution to increase the security and privacy of individuals. Of course, these technologies must be accompanied by privacy standards, but the overall benefits to user security are worth exploring and refining this complex process.
The Future of Face Verification
Protecting physical and digital spaces have become more important due to the increasing number of cybercrimes in this age of digitisation. Thus, biometric authentication like facial recognition will play a crucial role in this ever-changing regulatory landscape.
According to a 2021 survey conducted by industry professionals, results showed 53% of respondents firmly agree that biometrics may play a crucial role in enabling digital identities. The same considerations apply to physical space, and when Apple introduced Face ID in 2017, it proved that it wasn't the only smartphone manufacturer that could change the security landscape. On the other hand, facial recognition expands its case and capabilities, making it a technology worth researching and considering today for tomorrow's challenges.
What Does Shufti Pro Bring to the Table?
Feeling concerned by the growing threat of identity theft? Worried about how to tackle it? Well, Shufti Pro are here to help.
Shufti Pro could be your top choice when choosing an online facial recognition system because it offers hassle-free integration, uses artificial intelligence to protect against facial spoofing attacks, and even provides real-time verification. With a presence in 230+ countries and territories, and supporting 150+ languages, Shufti Pro's face recognition solution is ideal for businesses worldwide.
Still, confused about how Shufti Pro's face verification solution keeps businesses safe from fraudulent activities?