BEFORE YOU GO...
Check how Shufti Pro can verify your customers within seconds
Request Demo
No thanks
With the help of income verification documents, organisations can restrict the onboarding of high-risk entities by proving the legitimacy of income. The real estate, banking, and labour markets are increasingly adopting digital technology to streamline document-handling procedures. At the same time, sophisticated identity theft methods are being used by criminals to circumvent digital ID verification. Forgery of income documentation is another common fraud tactic. Businesses need it to prove that money, assets, and property come from legitimate sources. However, fraudsters alter data to deceive companies and reap illegal gains.
Enhanced Due Diligence (EDD) requires income verification for high-value transaction requests from clients. By confirming the legitimacy of a client's financial resources, document solutions for income verification help firms form trustworthy partnerships. Regardless of the nature of the customer's employment, IDV services powered by AI can detect and authenticate proof of salary.
Income Verification Documents
Companies typically request income verification throughout employment to carry out identity authentication and risk assessment. Institutions clarify which facts and paperwork are necessary to verify authentic documents during this process. As digital onboarding has become the standard, people no longer need to lug along stacks of paperwork. They can easily prove identities and incomes by scanning appropriate documents.
The types of documents businesses use to verify employee earnings vary by industry. Some may require not just a letter from the employer stating the salary being paid but also bank statements and permission from the corporation. Information forgeries, which fraudsters use to get jobs they shouldn't have or invest in fraudulent ventures, have skyrocketed as businesses have shifted to digital platforms. As a result, it is now required that income papers be analysed using cutting-edge IDV methods.
Standard income verification paperwork should detail the applicant's base pay, number of hours worked, benefits received, taxes paid, and total annual income. However, individuals may be asked to submit supplementary paperwork as additional evidence. Common forms of evidence for checking official documents are:
Financial records

Pay stubs

Proofs of Earnings

Tax statements

Federal remittance returns
Pay As You Earn (PAYE) Employee Requirements
Numerous types of employment exist, each with its own unique set of norms and expectations. PAYE requirements differ from permanent employees, who must furnish bank, tax, and salary statements. Depending on compensation, they may need to furnish pay stubs dating back eight months. Earnings from prior tax years are often included in income verification documents. If an individual has worked in multiple locations, all those areas' authorities must sign off on proof of employment.
The following are acceptable forms of identification for verifying income for those who receive a pension or other forms of income:
Annual Pension Statements

Maintenance payments

Liability Records

Trust fund income
Self-Employed Requirements
Self-employed people have more hoops to go through when getting insurance, medical care, or other forms of financial support from the government. Because human error, data conflicts, and identity theft are reduced with global document verification systems, businesses may authenticate documents in less time. The risks of fraud are more significant for freelancers since no respectable company would ever ignore them.
Businesses typically want independent contractors' tax returns and W-2 forms as proof of identity and income. Freelancers' profits can be verified using bank statements that record money transfers from clients and project owners. In addition, businesses should compare the workers' claimed employment platforms with the documentation used to verify income.
Applications of Income Verification
There are several reasons why financial institutions might ask for proof of income from clients. They typically want evidence of payment to ensure that the monies used are lawful and consistent. In addition, the sum accords with what the client declared in the paperwork. The need for proof of income arises for the following reasons:
Many universities and colleges have financial aid caps or quotas for students from specified income brackets.

The ability to obtain loans from a variety of financial establishments.

Applicants may more easily obtain benefits and subsidies for medical care.

Availability of several pension plans.

Help for victims of natural disasters.

Veterans' financial assistance programmes.

Obtaining a supply of free food.

Obtain funding for your company if you meet the requirements.
Customers and businesses alike have an interest in seeing proof of financial stability. The company must ensure that its customers have access to legal financing. This is especially true whenever a company deals with money, whether receiving investments, creating investments for them, or sending money abroad.
This is also crucial for financial organisations to know when onboarding a new customer. Credit checks can only be processed with verifiable income information. Financial information agencies, client banks, credit insurance, and payment histories are all excellent places to look for information that can be used to verify the details a client has provided.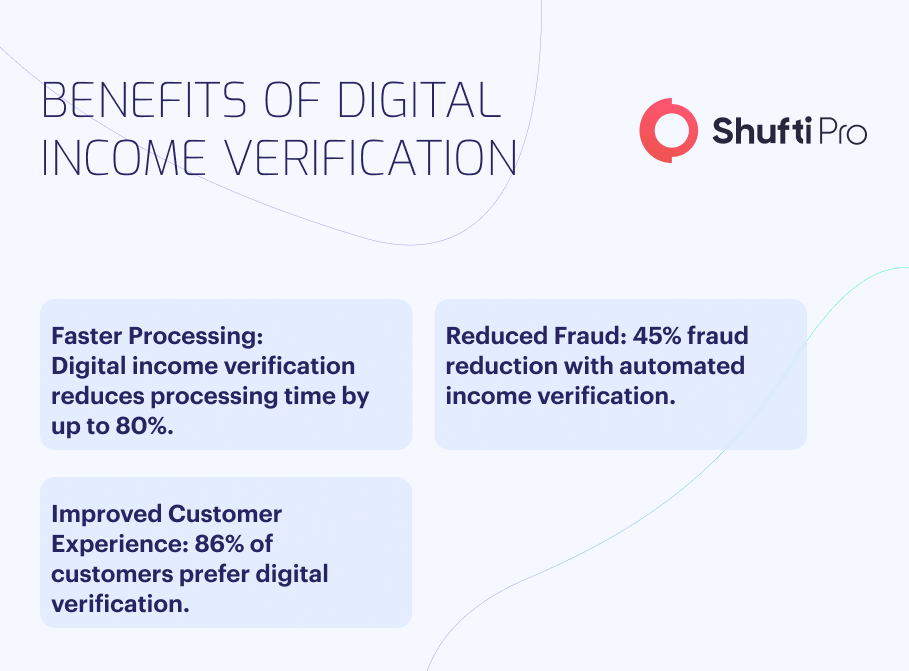 Income Analysis Going Beyond Verification
While income verification is essential, employers should also look at the following.
Asset-based fixed costs: In a liquidation, business owners with fixed charges over firm assets will be compensated. In such circumstances, individuals are more prone to take risks, which raises the stakes for any financial institution considering financing them.
Unsecured creditor: A client's bad debts as a percentage of total assets is an essential factor for banks to consider. The danger is diminished if good assets vastly outweigh poor ones.
Late charges: Regular late payments, several late charges, or a shift in reporting times could indicate poor financial management or exposure to unanticipated risks.
Digitising Income Verification for Personal Loans
Lenders typically require loan forms to leave the application to manually gather documents to establish identity, bank account, or income information. The loan application procedure is complicated by the need to navigate away from the lending platform and interact with third parties. Some applicants may need help to obtain these documents quickly or lose their way and never return to the application because of the added difficulty.
By transitioning to a more streamlined in-app process, borrowers are spared the inconvenience of leaving the application to take screenshots of papers or leaving the app entirely to verify income. Borrowers can quickly and easily verify income status via the data source. Since checking documents by eye for changes is now unnecessary, this also improves the efficiency of the lenders' fraud operations.
Digital Income Verification Is an Advanced Gig Economy Solution
Multiple revenue streams are more widespread in today's market. Some people may be full-time employees, while others may supplement income with freelance work or other jobs. Currently, 36% of the American labour force is involved in the gig economy. The changing nature of labour necessitates improved methods for calculating an applicant's potential earnings. Borrowers also require a more straightforward method of proving income in cases where they have more than one source of funds.
Both borrowers and lenders in the gig economy might benefit from digital income verification. Due to the increased ease with which borrowers may establish income from many sources with just a bank account login, part-time workers have greater access to the same types of personal loans as full-time workers. Because of the increasingly diverse nature of today's workforce, those in non-traditional occupations must enjoy the same financial security as those in more conventional ones.
How can Shufti Pro Help
As an automated AML solution, Shufti Pro is an indispensable tool for streamlining the laborious process of checking proofs of income. Shufti Pro acts as a precaution in an age where financial fraud and identity theft are on the rise, vetting potential consumers to make sure they are who they say they are. Our AML service provides numerous benefits that companies can use. As a first and foremost benefit, it makes income verification much easier and faster. In addition, the sophisticated algorithms and machine learning capabilities of Shufti Pro increase the precision of the verification process, lowering the potential for mistakes in the evaluation and confirmation of financial data. This improves efficiency and helps companies gain clients' trust.
The significant effect that Shufti Pro has on the client experience is another essential feature of its usefulness. Customers will find the process much less complicated and annoying if they are spared the hassle of gathering and submitting numerous documents. Allocating resources more effectively can boost a company's bottom line. By gathering and validating all evidence, Shufti Pro guarantees increased compliance and lessen the likelihood of regulatory and legal complications.
Do you still need to figure out how proof of income documents play a role in determining a client's financial status?