BEFORE YOU GO...
Check how Shufti Pro can verify your customers within seconds
Request Demo
No thanks
In 2021, reported fraud losses were $5.8 billion, a more than 70% rise in a single year. As identity fraud becomes a bigger problem in the financial industry, KYC processes are becoming essential to reduce account takeovers, streamline user onboarding, and mitigate suspicious activities. A recent international survey found that one in four financial institutions suffered from identity fraud, with the average loss amounting to more than $31,000.
In light of this risk, 91% of businesses expect to boost spending on identity verification in 2024. A trustworthy means of identity verification is essential in the digital world. Trust between institutions, businesses, and individuals can be built through the use of identity document verification in a variety of contexts.
Getting through the Know Your Customer procedure shouldn't take too much time. Using a document verification solution, businesses can save time and effort verifying customers' identities. This technology may scan, analyse, and validate documents instantaneously, saving time and ensuring correctness.
Document Verification History
The adoption of digital methods is rapidly expanding. In 2020, an estimated 2.9 billion people will use smartphones, which has led to a surge in the demand for services delivered via digital channels.
Businesses are responding to the preferences of nearly 40% of customers who would instead buy services from a company if it offered a remote channel.
Businesses must rethink their approach to the KYC process in light of the new digital paradigm. Due diligence methods are especially important for financial institutions (FIs), which are subject to stringent oversight.
As a result of these considerations, regulators and FIs have had to alter their understanding of client identity verification.
The strong client authentication procedures, a set of regulatory standards under the EU Revised Directive on Payment Services (PSD2), require authentication of the following factors for complete client identity verification.
What customers only know
This involves a secret identifier known only to the customer (password, PIN, one-time password, etc.) to confirm the user's identity.
What only customers can provide
This involves necessitates confirming information that can only come from the customer, such as a photo ID or passport.
What no one but the customer knows
This involves confirming a customer-specific physical trait. Biometric authentication, keyboard pattern typing, iris scanning, face matching, etc., are all examples.
Consequently, document verification is crucial in KYC verification for account opening, investor verification before onboarding, and vendor onboarding in retail. Digital document verification replaces the manual cross-checking of details on paper papers with an automated process.
Now, we'll discuss the role of identification document verification in the KYC process and provide some examples of how this practice has helped other organisations succeed.
Use Identity Document Verification to Accelerate the KYC Process
 Verifying the legitimacy of potential clients' ID documents, like passports, driver's licence, and utility bills, is an integral aspect of the Know Your Customer (KYC) procedure. This step is crucial since it helps banks to verify that the customer's information is genuine and correct. Document verification often uses a specialist identity document verification solution to detect inconsistencies or forgeries between the submitted data and the original document.
For instance, if a customer submits a passport for authentication, the system will analyse it and compare it to a database of known passports to determine if it is legitimate. The solution will also look for apparent indicators of tampering, such as changing text or inconsistent font sizes. Financial institutions can better detect fraudulent conduct and safeguard their clients.
Preventing fraudulent actions, maintaining customer trust, and protecting reputations can all result from the implementation of solid identity verification systems. Strict regulatory frameworks like KYC and AML apply to the banking, healthcare, and telecommunications sectors. To stop criminal acts like money laundering and terrorism financing, these regulations demand proof of identity. There may be severe repercussions for failing to comply, including legal action and harm to one's reputation.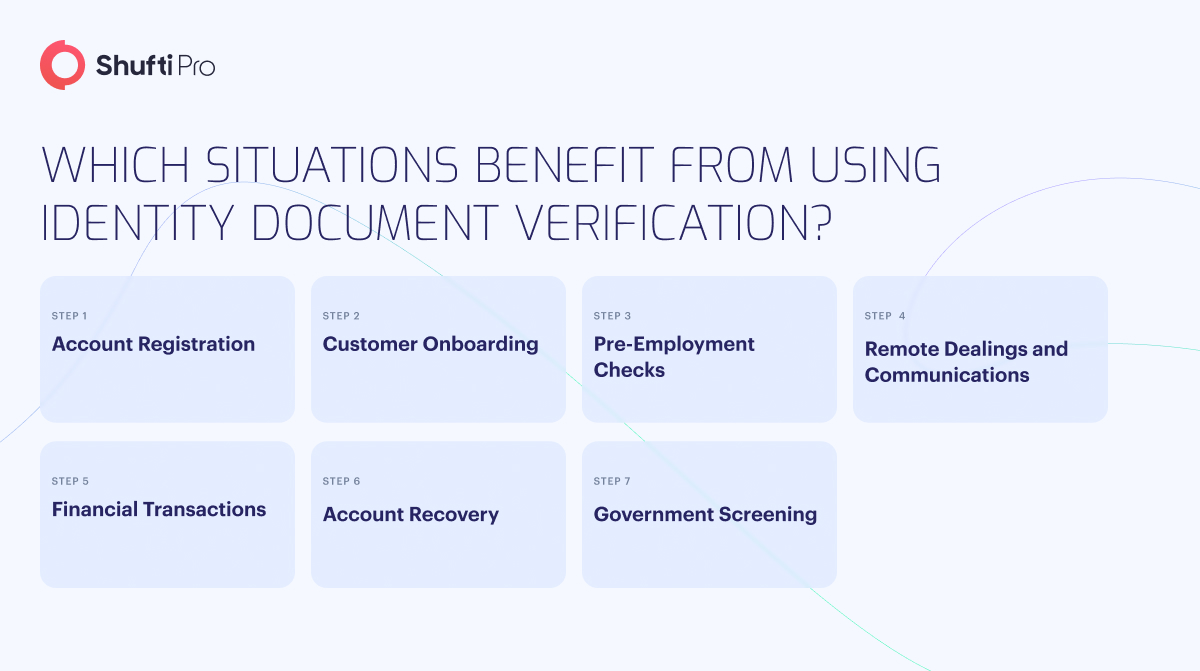 Benefits of KYC Document Verification solution
 The use of document verification solutions is becoming standard in KYC. Businesses and banks can now quickly and safely verify their customers' identities. Today, ID verification can be automated and streamlined with the help of systems that employ AI and ML technology. New automated IDV systems have allowed enterprises to move away from time-consuming and error-prone manual document verification processes in favour of a more scalable, accurate, and cost-effective automated alternative. Here are several instances where a document verification solution has helped strengthen a company's know-your-customer (KYC) procedures.
       

To

modernise the brokerage sector

, businesses use an artificial intelligence (AI) document verification module, which uses AI algorithms to scan and evaluate identity document verification submitted by clients during the Know Your Customer (KYC) and Anti-Money Laundering (AML) procedures. 

       

To validate identification papers in real-time through a secure

digital workflow

, digital trade financing platforms have started using the digital identity documentation verification method. 
Digital Document Verification Vs. KYC
Digital Document Verification and conventional KYC approaches are at loggerheads in the rapidly changing identity verification world. The KYC process has traditionally played a protective role by requiring the submission of tangible papers to verify an individual's identification. Similar to the traditional method of doing things using form and personal contact. However, Digital Document Verification stands out as the cutting-edge upstart, thanks to its streamlining the process using artificial intelligence. Customers' identities can be verified via biometrics and electronic documents.
Digital document verification has a considerable efficiency advantage. The days of waiting in lengthy lines and mailing confidential paperwork are over. Individuals can quickly and safely verify their identities by uploading papers online. Since human error is minimised, the onboarding process for new services is sped up, and accuracy is improved. Conversely, traditionalists say human interaction is essential to the KYC process and cannot be substituted. Companies are at a crossroads as they weigh the benefits of digital verification (quickness, ease of use) against the security and comfort of tried-and-true KYC procedures.
Conclusion
 Trust, fraud prevention, and secure data storage are just a few of the many uses for identity verification. Implementing robust identity verification methods helps businesses reduce vulnerabilities, meet legal and compliance standards, and protect their users.
Multiple verification methods, keeping abreast of new tech, and putting users first will all be crucial in the future. The future of identity verification is bright, thanks to the convergence of AI, ML, blockchain, and decentralised identity systems. These innovations may completely alter identity documentation verification by increasing precision, safety, and user agency over private information.
Shufti Pro is a forward-thinking organisation that simplifies the identity verification procedure for its clients. With Shufti Pro, your business can verify customers' identity on the blockchain in a safe and open environment. Through reusable and interoperable gateway passes, our solutions enhance the user experience and decrease onboarding friction.
Want to learn more about document verification solutions?