BEFORE YOU GO...
Check how Shufti Pro can verify your customers within seconds
Request Demo
No thanks
In 2020, US citizens alone donated more than $471 billion to charities. This generosity ultimately helped a myriad of sectors including education, health, and many others to provide services to needy people. Unfortunately, this sacred sector, like many others, is not safe from criminals who are exploiting charity platforms to succeed in their illicit motives.
In times of high inflation, Non-profit Organizations (NPOs) are playing a vital role to help deserving people all over the globe. The individuals engaged in terror financing and money laundering activities through charity are not only giving a bad name to NPOs but also restricting them to work for the noble cause. Therefore, preventing such bad actors through Know Your Donor (KYD) measures is imperative for the sector.
Victimization of NPOs and Charity Organizations
NPOs and charity organizations have a long history of fraudulent activities and the first such activity was reported by New York Times in April 1918. Since that time, fraud through charity organizations has become the norm and criminals are carrying out heinous crimes including money laundering, terror financing, bank loans, and credit card fraud through it. Although several checks have been imposed to curb this menace, crimes are still prevalent which are providing huge space to scammers.
In the UK, charity organizations reported 1059 fraud incidents losing £8.6 million between April 2020 – March 2021. Pandemic has given a huge hike to such cases as 65% of NPOs and charity organizations reported that they faced more fraud attempts during the COVID-19 lockdowns. Only in the first six months of COVID-19, £3.5 million lost which ultimately pushed several charity organizations to stop their operations.
Why NPOs Should Enforce KYD Measures
Not only do the fraudsters bear the burden of criminal activities through charity but NPOs are equally responsible. The majority of charity organizations have not enforced stringent measures to halt such activities and it is usually of their least interest to know about their donor and source of income.
More than 169,000 NPOs are working in England and the majority of them have no awareness of money laundering and terror financing. So unless the charity organizations make their system transparent, it will remain impossible to restrain the criminals, onboard the system, and take advantage of it. By implementing strict Know your Donor (KYD) measures, culprits can be eliminated from the system which will ultimately help NPOs achieve their goals.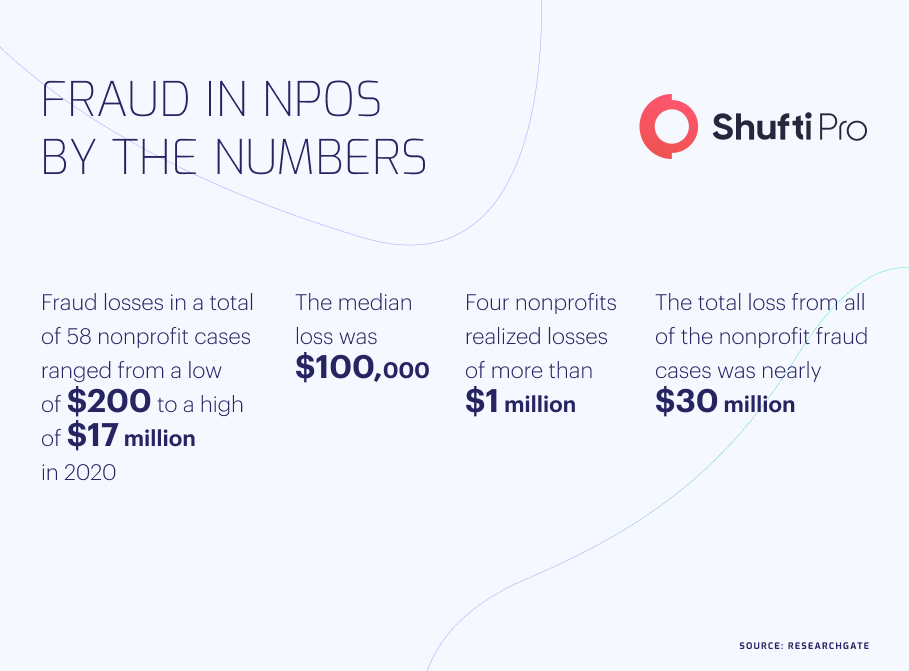 Frauds Involved in NPOs and Charities
Due to several loopholes in the financial sector, criminals have found various ways of exploiting charity organizations. Many non-profit organizations have also been caught doing internal frauds like misusing funds or claiming false expenses. The threat posed by external fraud is gigantic as compared to internal fraud so we will be discussing different types of external fraud.
Illegal Fundraising
Fraudsters take advantage of unfortunate events like floods, earthquakes, famines, etc. to ask for fundraising. They usually send emails to the targeted persons and ask them to do online transactions or put money in their reserved boxes. By taking the names of popular charity organizations, they deceive people and take money out of them.
In order to put checks on unauthorized fundraising, the charity commission has put forward several guidelines for NPOs to ensure the safe use of funds.
Fake Invoicing
Here the criminals use the fake bills with forged information to claim funds from charity organizations. Usually, they manipulate organizations by making them believe that the bills have been paid to help needy people. The issue with this type of fraud is that it looks real because fraudsters use all the valid information to claim bills so it has become a gruesome task for charity organizations to catch the culprits behind it.
The only way to curb this crime is through effective coordination between the charity and billing institution. Non-profit organizations must make a system where they verify all the invoices before the payments are made.
Charity Through Stolen Credit Cards
Due to an unreliable banking system, fraudsters get credit cards using fake identities and ultimately making transactions using these cards. Criminals behind this type of fraud usually do huge charities but on the condition, that charity organizations send a chunk to some third party.
NPOs get to agree to such terms due to a weak KYD structure and end up doing money laundering for the criminals. This practice should be discouraged by charity organizations by refusing to accept any funds on specific terms and conditions.
Role played by International Actors to Curb Charity Frauds
After 9/11, the whole international community decided to halt money laundering and put stringent checks on all the sources of terror financing. Organizations like Interpol, and FATF are working tirelessly to eradicate money laundering from the system and non-profit organizations are always on the top of the agenda due to their vulnerability to money laundering.
USA
America is leading from the front to regularize the NPOs and charity organizations and currently, there are multiple departments including Internal Revenue Service, Better Business Bureau, and FBI are working to regulate NPOs.
Through the websites of these departments, several guidelines have been passed to common people to avoid charity fraud in the situation of floods, earthquakes, and any other natural disaster. These guidelines include all the checks which people need to complete before doing any financial transaction with charity organizations.
FATF
FATF has issued a huge list of recommendations that are essential for every country to cope with money laundering. Recommendation 8 clearly defines the role of non-profit organizations in terror financing and instructs all countries to ensure a risk-based approach to protect NPOs from terror financing abuse.
FATF has made itself fully responsible for ensuring the implementation of all guidelines and any country failing to do so can face the consequences like getting into the black or grey list. Currently, there are 23 countries on the FATF grey list for not complying with the anti-money laundering guidelines.
UK
UK government is also actively working to keep charity organizations safe from fraudulent activities. The official website of the UK government contains all the guidelines for individuals and NPOs to follow to avoid scammers.
UK government has gone ahead and designed a portal where the victims can report any kind of attempt by scammers to exploit the system. The portal is working 24/7 and effectively working against all suspicious activities to curb charity fraud.
Protecting NPOs through KYD Measures
Due to the threats of money laundering and terror financing, it has become extremely important for non-profit organizations to confirm the identities of their donors. Charity organizations have a vast network expanded all over the globe and it is in their interest to coordinate with their stakeholders and enforce Know your Donor (KYD) measures.
Non-profit organizations are in extreme need of a system that has access to international sanctions lists by all the responsible organizations. Once such a system is implemented where donors have to pass through a myriad of checks, there are strong chances that all the bad actors will be eliminated from the system.
How Shufti Pro Can Help
Shufti Pro's identity verification solution uses advanced technology powered by Artificial Intelligence to get all information about charity donors. Shufti Pro's state-of-the-art Know Your Customer (KYC) checks in NPOs not only reduce financial losses but also assist in identifying criminals in the system.
The AI-powered Know Your Donor (KYD) is the most compatible solution for identifying the donors and comparing their records with the data on the watchlists by international actors. The system is efficient enough to generate the results in less than a second with 98.67% accuracy.
Want to learn more about our Know Your Donor (KYD) solution for your organization?