BEFORE YOU GO...
Check how Shufti Pro can verify your customers within seconds
Request Demo
No thanks
With revolutionary technologies and growing digitization, the digital version of artworks known as Non-Fungible Tokens (NFTs) has emerged. In the past, wealthy business tycoons used to make expensive purchases of art and antiquities and they are now preferring to engage in virtual assets. NFTs have created a whole new trend of buying and selling digital creations, which is picking up the pace, and it is estimated that its market cap could touch $80 billion by 2025. NFTs are blockchain cryptographic assets with unique identification codes that distinguish them from each other, and unlike cryptocurrency, they cannot be traded at an equal level.
With all the investments and business opportunities in the NFT market, it is also associated with high risks of money laundering and other financial crimes. Unlike the financial sector, particularly banks and insurance companies, the NFT market doesn't have strict Anti-Money Laundering (AML) regulations which have made it a safe haven for scammers. It is a well-established fact that NFTs are here to stay, and it is the need of the hour to develop a comprehensive framework for this sector, curbing money laundering and terrorist financing.
Rising Risks of Money Laundering in the NFT Market
Since the beginning of the advanced financial system, money laundering has remained a serious concern for law enforcement authorities. Criminals use a variety of sophisticated techniques to manipulate the system converting their illicit money into legal assets. NFTs have been around for more than a decade but no considerable actions have been taken yet to halt the abuse of these digital tokens leading to financial crimes, mainly money laundering and terrorist financing. The sale and purchase of NFTs mainly involve the use of cryptocurrencies, and the decentralized nature of the crypto market has made it difficult for regulatory agencies to halt crimes.
In just one year, from July 2021 to July 2022, more than $100 million in NFTs have been stolen through various scams. The volatile prices of NFTs have made them attractive for money laundering purposes where scammers induce illicit money, particularly from drug business or human trafficking, into the pool and hide it by making purchases of digital tokens. The global regulatory authorities, mainly Financial Action Task Force (FATF), Interpol, and European Union (EU), have highlighted the risks of money laundering through digital assets and instructed all member-states to legislate laws eliminating the chances of monetary crimes.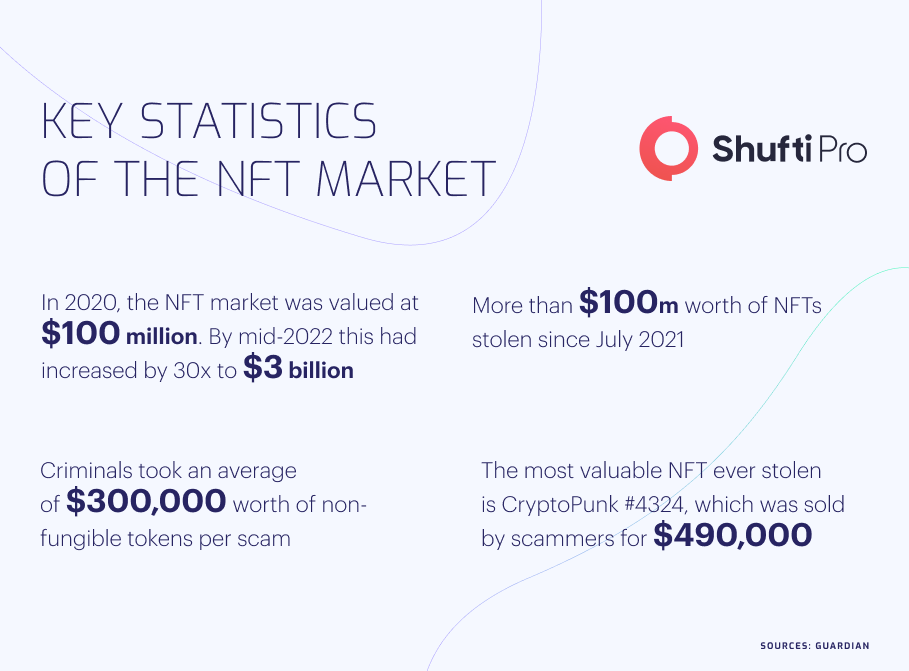 High-Profile Crime Cases in the NFT Market
There was a time when only wealthy business tycoons and corrupt politicians were involved in money laundering, but now individuals and gangs on smaller levels are using fraudulent techniques to disguise their illicit earnings. Several cases of money laundering through NFTs have surfaced in the recent past, and all the major jurisdictions are taking strict action to bring criminals under the law.
Two Defendants Charged In NFT Fraud And Money Laundering Scheme
Law enforcement authorities in the US have arrested two criminals involved in wire fraud and money laundering in connection with a million-dollar fraudulent NFT scheme. The investigations have found that scammers were convincing users to invest in digital assets and promising them high profits. In this way, they managed to generate a profit of $1.5 million which they were laundering to other countries by investing in cryptocurrencies. The criminals have been charged in the fraud scandal, and the court is yet to decide their penalties.
HMRC UK Seizes NFTs in £1.4m Fraud Case
UK tax authority, HM Revenue and Customs (HMRC), arrested three people who were hiding drug money of £1.4 million using NFT purchases. The Police have further revealed that criminals were using sophisticated methods like stolen identities, false addresses, unregistered mobile phones, and fake invoices to disguise their original identities. HRMC stated that it had seized three digital artwork NFTs which were being used for illegal investments. The investigations are still going on to track down more fraudulent transactions involved in the case.
Global Regulatory Authorities Monitoring Money Laundering Through NFTs
Due to the rising number of financial crimes using cryptocurrencies and NFTs, global regulatory authorities are working to form a joint framework to mitigate the risks of money laundering and terrorist financing. In the wake of this, the majority of the countries are legislating strict Anti-Money Laundering (AML) laws to regulate the NFT market.
US
The Financial Crimes Enforcement Network (FinCEN) is the primary authoritative body in US monitoring money laundering and terrorist financing. FinCEN has issued a detailed report highlighting the vulnerabilities of NFTs to financial crimes. The report has also mentioned that ease of transportability across international borders and accepted use of third parties to purchase and sell digital assets have helped criminals stay anonymous. FinCEN has instructed all the NFT platforms to implement strict Know Your Customer (KYC) and AML regulations halting criminal activities.
Canada
The Canadian Securities Administrators (CSA) has issued a notice to all the NFT platforms to ensure strict scrutiny of their users while onboarding. Although Canada is yet to legislate laws against money laundering in the NFT market, it is treating the cases under the other laws related to financial crimes. CSA has also highlighted the need for dedicated NFT laws to regulate the whole industry and curb monetary scams.
Australia
Australia is one of the countries that is taking strict action against prevailing crimes through NFTs and cryptocurrency. Australian Transaction Reports and Analysis Centre (AUSTRAC) has termed non-fungible tokes as a source of emerging financial crimes and asked lawmakers to legislate strict laws to monitor this sector. Moreover, Australian Federal Police (AFP) has formed a dedicated unit to tackle money laundering through NFTs and cryptocurrency, which has recently busted a large number of criminal networks.
Eradicating Money Laundering in NFT Market Through AML Compliance
Since 9/11, all the global financial watchdogs have highlighted the need for strict anti-money laundering measures in the financial sector due to the rising risks of terrorist financing. Although NFTs are new in the digital market, they have a good potential for investment and business. In recent years, several billion-dollar deals of digital tokens have surfaced, encouraging the wealthy elite to invest here and make profits. Due to the decentralized nature of NFTs, it has become mandatory for all key stakeholders, particularly global organizations and NFT suppliers, to incorporate anti-money laundering measures. FATF, EU, and Interpol have accumulated vast data of financial criminals in the form of sanctions lists which must be consulted while onboarding investors on the platform. Ensuring strict AML compliance can certainly reduce the rising crime ratio in the NFT market and secure investments of sophisticated users.
What Shufti Pro Offers?
Eradicating financial crimes, particularly terrorist financing and money laundering, is crucial for the NFT market. The use of digital tokens is rising globally, and it is the right time for companies to invest in AML and KYC solutions to ensure the security of their users.
Shufti Pro's state-of-the-art AML screening solution has access to 1700+ sanctions lists and screens data against them while countering criminals. Powered by thousands of AI algorithms, Shufti Pro's AML solution is efficient enough to generate output in less than a second with 98.67% accuracy.
Want to get more information about AML solutions for the NFT market?