BEFORE YOU GO...
Check how Shufti Pro can verify your customers within seconds
Request Demo
No thanks
COVID-19 exposures and its associated risks with today's in-person meetups and traditional first dates, online dating is being preferred to get to meet potential matches. In March 2021, the use of the Hinge messaging app increased by 30%, Tinder had over 3 billion swipes in a single day, and virtual dates on OkCupid increased by 700%.
While distant dating may appear to be a safe way to meet possible partners during the pandemic, online dating services are not as secure as they appear. On most dating platforms, individuals create fake profiles in order to catfish another user and obtain personal information. These identity thefts lead to fraud and account takeovers. Therefore, the vulnerabilities make it difficult for dating platforms to know whether or not the daters they are dealing with are who they claim to be, which may result in far too many users becoming a victim.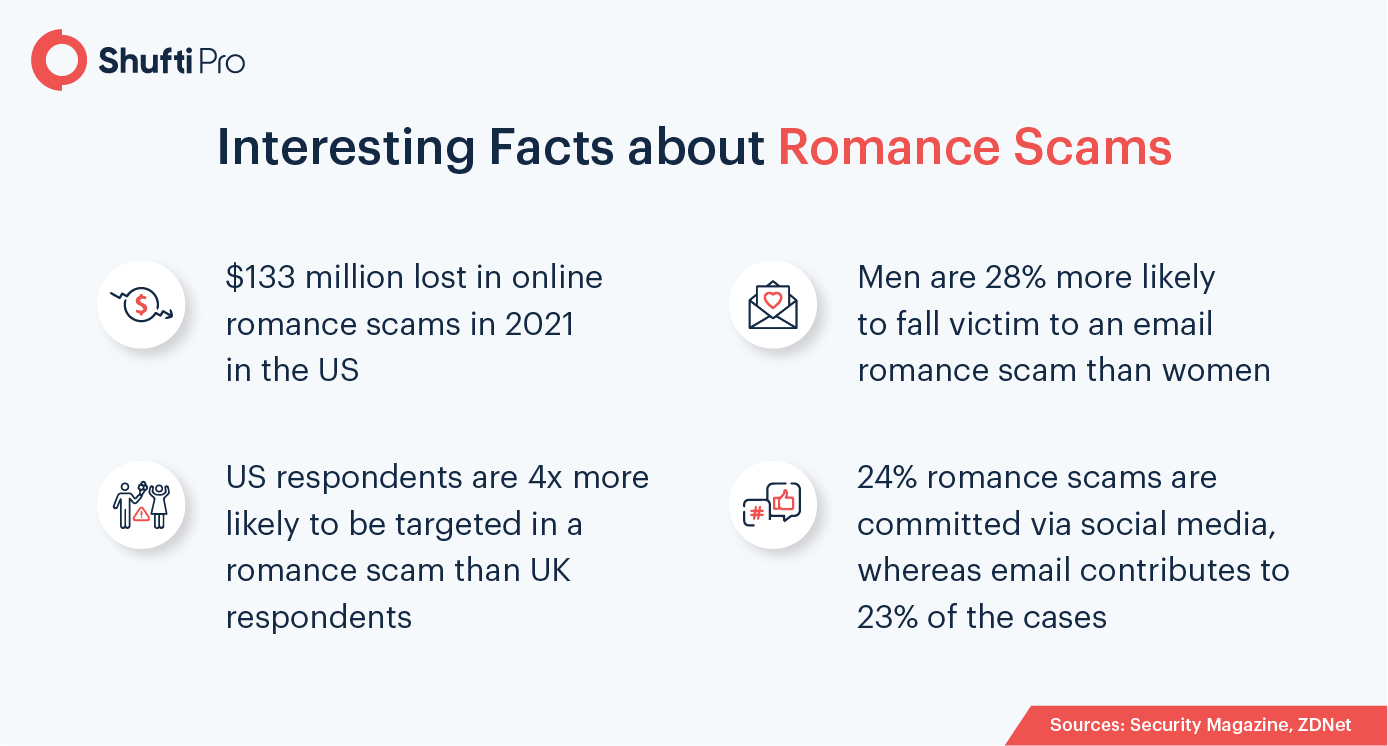 Romance Scam: An Increasing Crime with a Cost
While we know that the price of true love is unquantifiable, romance scams have costed $304 million in 2020. The Federal Trade Commission (FTC) said that the reported scams are merely the tip of the iceberg, as many catfish victims are mortified to report to the authorities. The number of fraud that often takes place on dating apps and on social media grew among people of all ages, roughly 50% from the previous year, with older people being targeted particularly.
Since 2019, almost half of all romance scams reported to the FTC have involved social media platforms, most commonly Facebook or Instagram. The scams are in accordance with the fact that most dating and social platforms authenticate identities using other social apps. For instance, it is a piece of cake for fraudsters to exploit the security systems as they can easily create fake profiles and use stolen identities on other sites and applications. 
Here are some of the romance scam cases reported in 2021:
British Columbia Residents lose $3.5 million in Crypto Romance Fraud
Romance scammers are utilizing online dating sites to manipulate British Columbia (BC) citizens into crypto-asset frauds. According to the Canadian Anti-Fraud Centre (CAFC), $3.5 million has been lost in crypto-investment scams in the first eight months of 2021 which is more than quadruple the losses reported in the first eight months of 2020. 
The CAFC stated that since 2015, there has been a 5,600 percent increase in cryptocurrency-related fraud in Canada, totaling $28.5 million. Fraudsters utilize social media and dating apps like Tinder and Bumble to deceive people looking for meaningful relationships, exploit their trust, and then rob them of large sums of money. The scammers present fraudulent cryptocurrency-investing schemes that promise big profits. Victims continue to invest until it becomes evident that they are unable to withdraw their assets. Lastly, fraudsters promised to buy digital currencies with the victims' money and then cut off all communication after receiving the cash.
FBI and Interpol Aided Hawks to Arrest Scammer Group
The FBI, US Secret Service, and Interpol assisted the Hawks in apprehending eight foreign persons suspected of being involved in computer fraud, money laundering, and global financial fraud in Cape Town. The defendants, who range in age from 33 to 52, were accused of duping their victims, many of whom were vulnerable widows or divorcees. They let them believe in romantic relationships before defrauding them through "sob tales." To connect with their victims, the suspects used social media platforms and online dating services. They used fictitious identities and trolled dating sites. They allegedly created sob tales about why they needed money such as taxes to clear an inheritance, necessary overseas trips, terrible debt, then siphoned money from their victims' accounts to the tune of $100 million.
65-year-old Women Victimized by Romance Scammer 
A 65-year-old woman fell prey to romance scammers after her husband died. The victim was approached by a fraudster through Facebook who claimed to be an army officer. The women never met the scammer in person and had only contact over Facebook and telephone. The man asked the victim for £7,500 so that he could leave army and be with his family. However, the victim attempted to send the desired money, but the bank suspected an unusual transaction and raised protocol alert to the police. Later on, the police informed the victim that it was a scam.
Beware of Romance Scammers Looking for More Than Love
The FBI is working hard to improve public awareness about online romance scams. For instance, how cybercriminals use dating websites, apps, chat rooms, and social networking sites to scam on victims looking for companionship with the sole purpose of gaining access to their financial or personally identifiable information. 
The con artists that perpetuate romantic scams are masters of their craft. They spend hours polishing their talents, depending on well-rehearsed scripts that have been used time and time again, and keep notebooks on their victims to better understand how to control and abuse them. Victims may be unintentionally recruited to transfer money unlawfully on behalf of others in some situations.
Precautionary measures for dating platforms to adopt;
The online dating platforms should acknowledge the customer regarding scams and not share personal and financial information on any website or chatroom

Any romance scammers claiming to have a high-ranking role such as an army officer must go through

background screening

on behalf of the online dating website

Usually, in catfish fraud, the scammers demand money by emotionally blackmailing the victims. Hence, online dating companies should develop a framework to track down the unusual financial transactions
Dating Platforms are in Need of Robust IDV Now More Than Before
To overcome the potential threat of romance scams, the dating platforms should introduce authenticity badges similar to the blue badge on Twitter. ID Verification will ensure that the people/individuals on the website or chat room are verified. This means the dating platform has to take comprehensive steps to determine the true identities of clients. Identity Verification solution would allow the website to counter the unnecessary risk and can provide customers with a seamless dating experience.
A number of things online dating platforms can get using identity verification systems:
Accountability
The most crucial thing that ID verification brings to an online dating platform and social media websites is accountability. When the platforms/businesses incorporate an identity verification solution, customers are obligated to use real information and original government-issued ID documents for registration. The move will discourage romance scammers because they understand that their illicit activities won't let them sign up on dating platforms.
Enhanced Defense Mechanism
By deploying ID verification systems, dating platforms can make customers feel safer talking to and meeting with the people if their identities are verified. There are heaps of cases of romance scammers using false profiles to manipulate individuals through online dating. The clients will also be less likely to be targeted by scammers.
A Better Dating Experience
Identity verification solutions can also make the dating platform credible and trustworthy. The remote verification process will help them onboard legit daters while keeping the fraudsters far away from the platform. In addition, it will help them overcome the risk of scams, providing the customer with seamless/frictionless services. 
Final Thoughts
As digital socialization is here to stay amid the coronavirus pandemic and beyond, online dating platforms need to keep customers safe from romance scammers.  To fulfill the purpose of developing long-lasting and true relationships, these platforms must verify daters before onboarding them.
To ensure an effortless customer onboarding experience, Shufti Pro offers an NFC-based identity verification solution that assists digital dating platforms to authenticate daters' identities using chip-based identity documents. A simple tap of the NFC-based ID document can verify the identities in less than a second. Moreover, the chip of biometric documents can't be manipulated, so the accuracy rate is higher. In a nutshell, online dating sites can prevent scammers from entering the online dating ecosystem for their ill gains.
Want to know more about the NFC-based Identity Verification solution?