BEFORE YOU GO...
Check how Shufti Pro can verify your customers within seconds
Request Demo
No thanks
Large-scale events are a great way for imposters to execute their illicit plans. Data breaches, malware, phishing attacks, and various other frauds increase when events like the Tokyo Olympics are around the corner. The Tokyo Olympics ended two days ago and in the meantime, fraudsters took complete advantage of the situation. Email scams, social engineering attacks, Distributed Denial of Service (DDoS) attacks, and identity theft were heavily reported. 
On July 19, 2021, the Federal Bureau of Investigation (FBI) issued a warning regarding the rise of cyberattacks during the Tokyo Olympics. Moreover, the UEFA EURO 2020 also played its role in facilitating bad actors. Gaming operators faced an overwhelming response in both the events but so did fraud attempts.  
What were the Most Reported Frauds During Tokyo Olympics and UEFA EURO 2020?
During UEFA EURO 2020 and Tokyo Olympics 2021, the following were the most reported frauds:
Phishing attacks 

Hacktivism 

Ransomware attacks 

Data breaches 

Online ticket scams 

Counterfeit tickets 

Streaming fraud 

Financial crime 

Forged identity documents

Fake signup accounts 
Large-scale Events and Fraud
The rise in cyberattacks during large-scale events has been a problem for gaming operators as well as law enforcement bodies. Let's take a look at a few examples of scams reported during the two major events of 2021:
Tokyo Olympics 
The event was exhilarating but the fraud attempts left everybody in shock. 
Ransomware 
The high-profile nature of this event made it a perfect opportunity for cybercriminals to acquire money. Ransomware gangs were successful in encrypting the key partner networks and leveraging it to get high ransom and a great chance of receiving that payment as well. Unfortunately, the threat posed by ransomware attackers continues to increase. 
Malware 
During the 2018 Winter Olympics inaugural ceremony, a cyber attack deployed the "OlympicDestroyer" malware that crashed the organisation's IT systems wreaking havoc on public WiFi, the Winter Olympics website and ticket printing. This year all the authorities were concerned about malware attacks as well. Fortunately, no such attacks were reported in the Tokyo Olympics 2021.
UEFA EURO 2020
Apart from football fanatics, imposters were also excited about the event since it was a great chance of luring people into sharing confidential data or other illicit games. 
Forged IDs for Account Opening 
Shufti Pro always keeps an eye on the emerging fraud attempts. According to the Global Identity Fraud Report 2020, fraud was up by 3.36% and unfortunately, synthetic identity fraud was one of the most captured frauds. Imposters have switched to more complex spoofing techniques and are now trying to bypass biometric authentication. After deep analysis of these new techniques, Shufti Pro has identified that forged IDs are all set to meddle this year too. Furthermore, large-scale events are the major target of perpetrators. 
Phishing Attacks
What could be better than sending emails to lure people into sharing confidential information? With mega events like Olympics and football world cups, bad actors target sport fanatics through phishing campaigns and extract some value out of them. This could be getting unauthorised access to bank accounts or illegally acquiring personally identifiable information (PII) for unauthorised use in the future. 
Suggested: Phishing Attacks and the Role of Two-Factor Authentication 
Ticket reselling, match organisation, match streaming and fan-engaging events were the hot topics that imposters used this year. The championship was hosted in 12 different countries giving criminals a bigger opportunity for phishing attacks. 
Sophisticated Frauds Need A Sophisticated Solution
Since criminal activities have become sophisticated, all large-scale event organisers also need sophisticated solutions to combat frauds. Forged identity documents, synthetic identity fraud, and stolen identities have taken the digital road making it nearly impossible for conventional identity verification solutions to detect imposters on time. 
Suggested Read: Is NFC Really the Future? The Mystery Solved!  
The simple way to combat bad actors at large-scale events is NFC Verification. Near Field Communication or NFC is a wireless technology for short ranges of 4 cms or less. Although the technology is known for contactless payments and data extraction, it is also making identity verification easier. All it takes is an NFC-enabled identity document (e-passports, e-IDs and e-driving licenses) and an NFC-enabled device. A simple tap of the ID document with the device is enough for the system to extract and verify the authenticity. 
Shufti Pro's NFC Verification – Laying a Stronger Ground for IDV
From uploading the ID document to extracting and verifying the identity, Shufti Pro's NFC Verification takes less  than 30 seconds. Ensuring our market leading accuracy rate of 98.67%, verification results are delivered in real-time and stored in our back-office for future case building. 
Recommended: NFC – Building New Grounds for Identity Verification 
The four-step process is frictionless and perfect for large-scale events. The end-user uploads the ID document, taps the document against an NFC-enabled device, the document is verified, and results are delivered in real-time.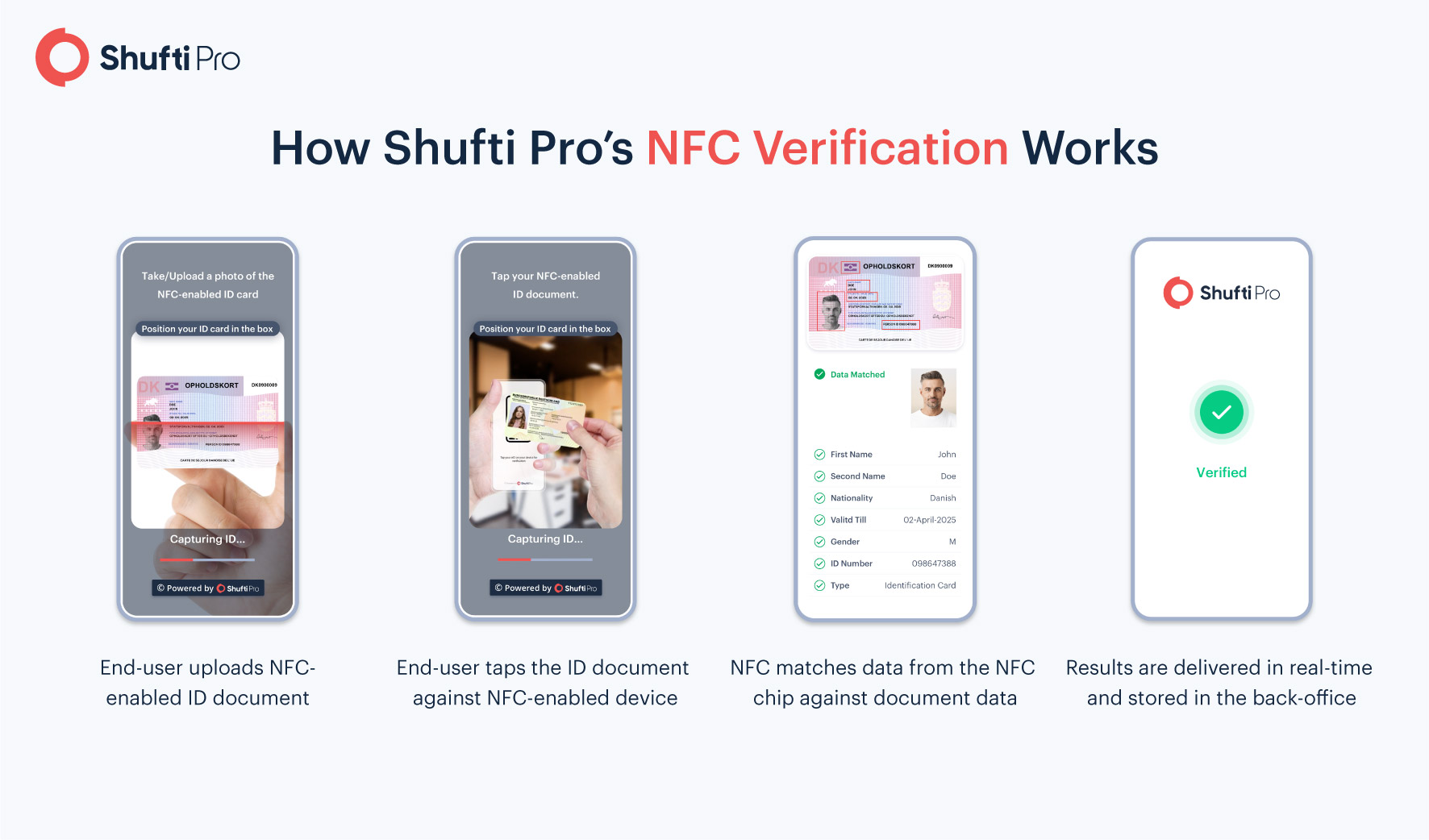 Key Takeaways 
Large-scale events like UEFA EURO 2020 and Tokyo Olympics are goldmines for perpetrators. It is the perfect time for them to execute their ill plans. Stealing identities, tampering ID documents, creating synthetic identities for account opening, and financial crimes significantly increased. Apart from ID frauds, malware, data breaches, ransomware, and phishing attacks increase as well. 
Combating these frauds can be a piece of cake for event organisers and gaming operators with NFC Verification. The advanced technology allows them to remotely verify identities of end-users and identify potential spoof attacks on time. It takes about 30 seconds for the process to complete and the effortless process enhances customer experience as well. 
Want to know more about Shufti Pro's NFC Verification? Get in touch with our experts right away.