BEFORE YOU GO...
Check how Shufti Pro can verify your customers within seconds
Request Demo
No thanks
In today's COVID-ridden world, in-person dating is deemed very risky due to the spread of the virus. Online dating has become the preferred method of getting to know a potential match. In 2020, Hinge facilitated 12% more dates than in 2019. Tinder users made 300 million swipes in a single day last March, and virtual dates on OKCupid rose by 700%. These statistics prove that the world of dating has adapted to the new norm. But while online dating is a safer option amidst COVID-19, dating platforms are not as harmless as they may seem.
What are some Common Romance Scams?
According to the FTC (Federal Trade Commission), scammers usually trap victims by pretending they work at an oil rig, in the military, or as a doctor with an international organization. Once victims have been lured in, scammers ask to be paid either through wire transfers or gift cards such as the ones from Amazon, iTunes, and Google Play. 
Challenges of Online Dating
One in three US adults have claimed that they used online dating apps at some point in their life. Not only is online dating here to stay, but the number of American users of online dating services are estimated to rise to 53.3 million, up from 44.2 million in 2020. With more individuals shifting online to form connections, it is necessary to address the threats that reside within this sector. 
1- Dangers of Self Attestation 
A major factor that is at the epicentre of any dating app is trust, and it starts playing a key role the second a new account is being created online. When users are verified at this stage, companies rely on self-attested information. This includes asking the users to provide their full name, city, age, and other personal information, all of which can be easily manipulated by criminals. New users can provide any information they wish, as they know that there is no fact-checking procedure going on behind the scenes. 
This is precisely where online dating platforms need to step up and introduce biometric facial authentication to weed out scammers. By ensuring a high level of identity assurance through verification in real-time, an environment of trust can be encouraged. 
Suggested Read: Identity verification solutions to fight against faces of fraud
2- Abuse and Violent Attacks 
A major challenge faced by the users of online dating apps and sites is that of sexual predators and individuals with violent histories. Such attackers use fake ID information to open new accounts and pass traditional security checks. This opens the door to a vast world of vulnerable users, allowing criminals to prey on legitimate users. With robust identity verification methods in place, fraudulent ID details can be detected within seconds by matching the information provided against the user's identity in real-time. 
3- Romance Scams 
In 2020, losses to romance scams increased to an all-time high amount worth $304 million – a 50% rise compared to 2019. Cybercriminals execute this type of fraud by impersonating someone else or forging a fake identity to gain someone's interest. In reality, the account is merely created to solicit users for money and personal information. Once confidential information has been acquired, criminals use it to access the victim's banking account, social media platforms, and much more. Additionally, the stolen data can also be used to transfer funds under the victim's name, gain medical benefits, or file for insurance claims. 
To stop romance scams from skyrocketing in the future, dating platforms need to integrate biometric verification technologies to verify user identities. This will prove to be a disincentive for identity thieves and cybercriminals, making them aware that the site they are targeting is, in fact, armed. 
Download White Paper: Biometric Technologies Reshaping Identity Verification
4- Minor Protection 
Safeguarding children against the dangers of the internet is a tricky business. For instance, dating apps such as Bumble and Tinder generally allow users to set up online profiles through their Facebook accounts to keep underage users off the platform. While some may think this is a good technique to keep users below the age of 18 off the dating sites, the reality states otherwise. Tech-savvy minors of this day and age can simply create a profile on Facebook by providing a false date of birth and a valid phone number. This account is then used to set up legitimate profiles on dating sites. As a result, companies face the threat of facing hefty fines and lawsuits due to the breach of minor protection laws.

Without the use of facial biometric verification solutions, minors will continue to slip through the cracks, while predators will keep using fake identities to target vulnerable users. 
A Simple Tool to Prove You're Real
If you have ever used Snapchat filters or been tagged in Facebook pictures, you have a first-hand experience with biometric facial recognition. In the space of cybersecurity, facial verification is deployed to verify user identities based on their facial characteristics. This can include measuring the distance between two eyes, shape of the chin, and so on. This process of ID verification reduces the likelihood of being scammed by catfishers and also allows a dating site to keep minors at bay. 
For instance, Twitter places a blue badge on verified user accounts to confirm that they are 100% legitimate. Dating sites can follow in their footsteps and confirm who a user is by matching a government-based ID document against the selfie of the user taken in real-time. Apps such as Tinder are already implementing such photo verification techniques to ensure users are actually who they claim to be. 
Use Case: How DateID Secures Online Dating 
DateID, a California-based software company, required the services of an IDV provider to fully automate date verification prior to users meeting in person. The company, which aims to secure the online dating space from catfishers, romance scammers, and violent criminals, opted for the AI-based solutions of Shufti Pro. 
Our face and document verification solution proved to be the best option for DateID. The company confirmed that following the integration of our solution, they were better able to verify user identities, onboard customers, as well as reduce false chargeback and fraud rates.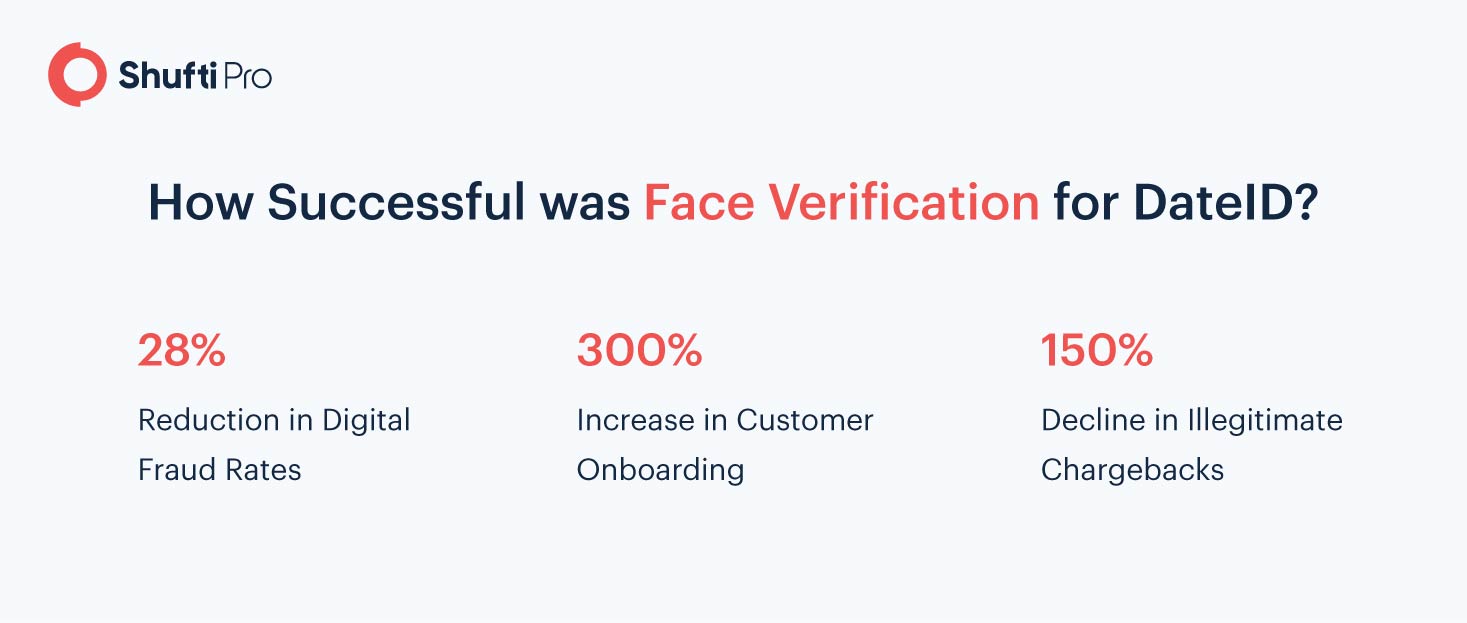 View Case Study: DateID increases its customer acquisition by 300% with Shufti Pro's IDV
Final Thoughts 
While online dating has become the new buzz amidst the pandemic, the threats targeted at this sector are here to stay. Biometric facial technology has introduced selfie verification – a convenient method of verifying end-user identities simply through the use of selfies. The use of AI-based ID verification technologies has become particularly crucial as romance scams continue to rise. Lastly, these solutions also enable companies to stay compliant with minor protection laws, such as the Children's Online Privacy Protection Act (COPPA) in the US. Need to secure your online dating platform?
Try our 7-day free trial or talk to our expert for more details!