BEFORE YOU GO...
Check how Shufti Pro can verify your customers within seconds
Request Demo
No thanks
With technological advancements and emerging innovations, online marketplaces have been digitized globally. Especially during the pandemic, there was an immense increase in e-commerce sales setting a huge trend for e-shopping including grocery, food, medicines, and many other services. Online marketplaces have revolutionized the whole way of shopping by responding to needs of people with convenience, ease of service, and competitive prices.
In 2021, e-commerce sales amounted to $4.9 trillion and the figure is forecast to grow to $7.4 trillion by 2025. With the increasing revenue, criminals have also found a myriad of ways to exploit the system resulting in identity theft cases and other monetary crimes. E-commerce stores are here to stay with the potential of exceptional growth so it is need of the hour to implement stringent measures. Discouraging bad actors and making online marketplaces a secure platform for sophisticated consumers is the primary requirement of system.
Identity Verification Fraud in Online Marketplaces
Online marketplaces are not only providing services but also a huge source of business for sophisticated sellers. Due to a large number of loopholes, criminals are exploiting e-commerce stores and carrying out a variety of crimes. Identity theft has become a huge challenge for online marketplaces as criminals are using advanced ways to exploit the system and steal confidential data of users. All this stolen information is further used to carry out a variety of crimes, particularly opening illicit bank accounts, insurance fraud, and many others.
Despite the strict identity verification structure, not even major stakeholders of e-commerce like Amazon, eBay, and Shopify are completely secure for online shopping. All the major jurisdictions are working tirelessly to eradicate the chances of financial crimes. In 2021 alone, consumers lost $20 billion to online fraud, an increase of 14% compared to 2020. Based on the rising figures, securing online marketplaces through Know Your Customer (KYC) and identity verification measures has become imperative.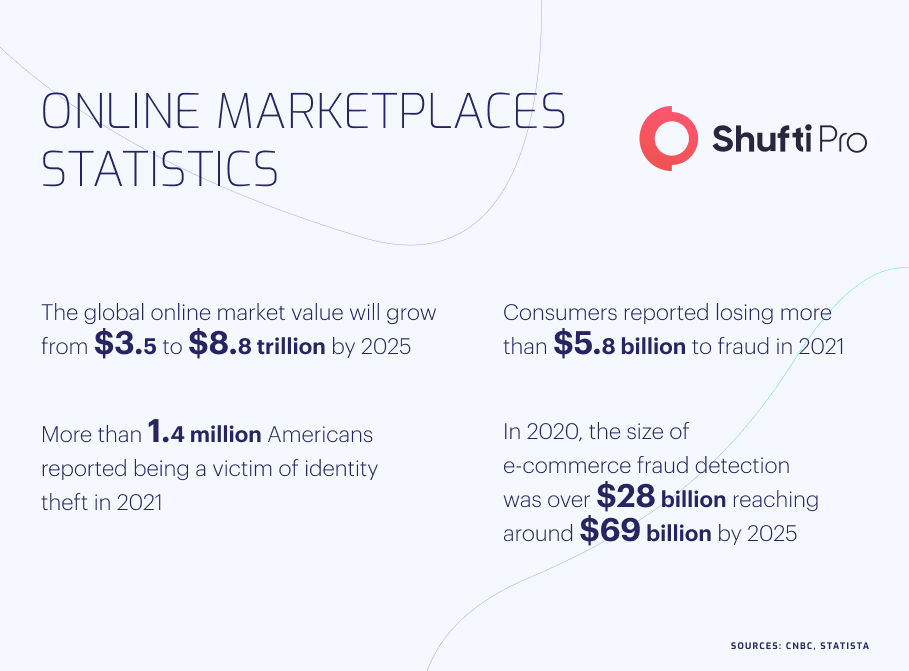 High Profile Fraud Cases in Online Marketplaces
The huge influx of money into online marketplaces, especially during the pandemic, has provided criminals with best options for monetary fraud. In the recent past, several cases have surfaced showing the vulnerabilities of the e-commerce stores which must be curbed through stringent KYC measures.
Multimillion-Dollar Amazon Fraud Case in the US
In May 2022, the federal court of the US convicted two Americans involved in a multimillion-dollar scheme to manipulate the e-commerce giant; Amazon. It was found during the investigation that criminals were involved in stealing consumers' confidential data by bribing a senior employee of Amazon.
The culprits were further using sensitive details to carry out crimes related to banks, insurance and real estate. They also admitted to getting access to restricted product categories by misrepresenting sources of goods and manipulating customer reviews. The criminals have been sentenced to 10 months in prison and ordered to pay a fine of $50,000.
Four Companies Indicted for Price Fixing in Online Marketplaces
Two individuals and four companies have been indicted for participating in the illegal price fixing of several products on the Amazon marketplace. It is suspected that criminals were involved in identity theft and financial fraud manipulating the pricing details of other products. They were involved in illegal activities since 2016 and during this time, they stole the sensitive data of consumers. The confidential information was further used for crimes particularly money laundering and bank account fraud.
FBI has stated that they have filed the case against the culprits in federal court where investigation is still going on and criminals are yet to be penalized. It has further been found that fraudsters were not only using Amazon marketplace but other platforms as well to exploit the loopholes.
Global Regulations Monitoring Frauds in Online Marketplaces
In the wake of the rising crime rate, majority of countries are taking stringent measures to tackle criminals and keep them away during onboarding. Online marketplaces have huge potential for investment and business making it imperative for countries to formulate regulatory bodies to curb criminal activities.
US
The Computer Fraud and Abuse Act (CFAA) is the primary legislation in the US monitoring cybercrime in the country. Online marketplaces are also regulated under this act which states the user's privacy and data being confidential information breaching which could result in strict action by law.
Moreover, the federal law of US has also made it mandatory for all the states to legislate laws against e-commerce fraud and prevent all types of criminal activities. California has a Consumer Protection Bill which guides all the states to protect the identities and capital of online marketplace users through identity verification measures.
UK
The United Kingdom (UK) is one of the countries having a huge market for e-commerce with a lot of investment potential. UK has legislated several laws governing online marketplaces and major being the Electronic Commerce Regulation. As per this law, it is mandatory for all online buyers/sellers to submit details of their identity and business.
Without inputting all these details, particularly name, address, business, and company registration number, consumers cannot be onboarded. Through all these checks, Electronic Commerce Regulation restricts fraudsters from getting access to online marketplaces.
Australia
Electronic Transactions Act and Australian Consumer Law (ACL) are thought to be the most prominent laws in Australia regulating e-commerce. Both these acts issue guidelines for online marketplaces to implement measures securing consumers' data and privacy. They further suggest penalties, in case, someone is found abusing the e-commerce platforms through identity theft or other monetary crimes.
It has been mandatory for e-commerce stores to submit security of $100,000 before starting selling. Moreover, it has also been advised to online platforms to conduct strict scrutiny of buyers and sellers and report to authorities in case any violation is found.
The Role of KYC Measures for Online Marketplaces
Online marketplaces with a huge potential for investments and business are exposed to identity theft fraud which must be implemented through KYC measures. Criminals on board the platforms using fake information and act as sellers/buyers to steal consumers' identities. Amazon which is the most visited online marketplace had around 6 million fake accounts in 2021 which after strict action by authorities fell to 2.5 million.
E-commerce stores are in dire need of KYC checks through which the true identities of consumers can be checked while onboarding. KYC measures mainly include facial recognition, address, and document verification which can keep the bad actors away from the system. By the end of 2021, there were 2.14 billion e-commerce users making it highly vulnerable to criminals. Implementation of KYC checks is the most viable option for securing identities and finances of users.
How Shufti Pro can Help?
Shufti Pro's state-of-the-art identity verification solution is the most compatible option for e-commerce stores and all other online marketplaces. It will help businesses to verify the true identities of their users before getting them onboard and reporting any suspicious activity. Powered by thousands of AI algorithms, Shufti Pro's KYC solution verifies the identities of users through facial recognition and document verification. Generating results in less than a second with 98.67% accuracy makes Shufti pro an ideal solution for your business.
Want to get more information about KYC solutions for the online marketplace?