BEFORE YOU GO...
Check how Shufti Pro can verify your customers within seconds
Request Demo
No thanks
As technology continues to transform the financial industry, the need for identity verification has risen to the top of the agenda. Regulatory authorities are adopting a tough stance on Customer Due Diligence (CDD) as data leaks and cyberattacks make customers more and more vulnerable to identity fraud.
As KYC/AML laws become more stringent, identity verification costs for businesses have also increased. As a result, some companies simply skip the compliance part. While doing so might result in short-term cost savings, non-compliant businesses all around the world are subject to outrageous fines.
The Consequences of Non-Compliance
AML legislation offers a broad range of strategies for businesses and financial institutions to address these problems. These consist of Customer Due Diligence (CDD) and Know Your Customer (KYC) solutions. For service providers, this entails consumer identification through official documentation as well as third-party verification.
For financial institutions, the expense of these KYC/AML compliance measures may appear to be too high, but the consequences of non-compliance may be more severe. In 2010, Wachovia, which is now part of Wells Fargo, was caught off guard when Mexican cartels were able to launder almost $360 billion through their US accounts due to weak KYC and AML processes. As a consequence, Wachovia was fined $150M.
Similarly, Barclays had to pay a $1.5 billion fine because their technology allowed an estimated $7 billion to be laundered illegally. The hammer doesn't always fall after a major crime has been discovered. In fact, hefty penalties have been imposed on institutions like Standard Chartered even though there is no evidence of widespread illegal activity. Instead, the Financial Conduct Authority (FCA) audits discovered that the bank's AML policies had serious flaws and levied $125M in penalties.
According to the U.S. Government Accountability Office, non-compliance fines totalled $15.2 billion between 2016 and 2017—an increase of $10.2 billion from the preceding six years.
Concerns Faced by Startups
Startups also need to be wary of issues other than money laundering and retroactive fines. The AML/KYC requirements include the requirement that all personal data be stored accurately and securely. In order to prevent identity theft, businesses must take adequate security measures to protect against data breaches.
When data is improperly stored on insecure internal systems, hackers have better chances to access those databases. Unfortunately, by storing all of their data on centralized computers, financial firms frequently produce single points of failure. In other words, hackers can gain access to everything at once through a single central server. Thus, investors' funds and personal data are susceptible to hostile assaults if businesses don't implement strict security measures and store consumer data on centralized servers.
In terms of cleaning up the mess and losing investor assets, the expense of cyber intrusions is nothing to scoff at. According to Equifax's financial filings, the cost of fixing the 2017 data breach was $1.4 billion. In other instances, clients have lost money as a direct result of head-on hacks. In this regard, AML/KYC process implementation is crucial for FinTech businesses to be done quickly and effectively. It guarantees the security of consumer assets and personal information while averting further corrective expenses and fines for non-compliance.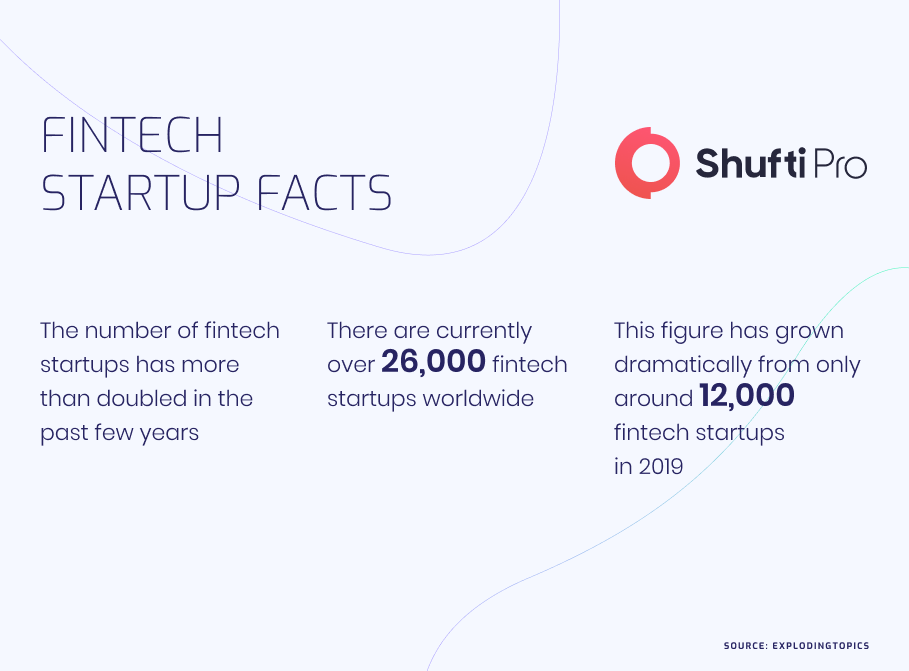 Perks of KYC/AML Compliance Measures
It's obvious that startups feel the burden of KYC compliance costs in the form of identity verification measures. However, it's always better to incorporate these measures instead of risking the reputation as well as the financial standing of the company due to hefty non-compliance fines.
Cost-Effective
The KYC procedure has significant labor expenses due to manual processing and a lack of specialized professionals. First of all, manual verification is a difficult and slow process as various intermediaries must verify each application. This continual switching of hands makes the process very prone to mistakes. As a result, there will be delays and additional fees to fix these errors.
Second, because laws are more stringent, businesses must hire more compliance personnel with specialized training. Due to a significant increase in demand across the industry, there is a severe staffing shortage, which has caused the average compensation to increase. Both internal compliance personnel and outside third-party verification firms now charge exorbitant fees.
The use of automated verification solutions to streamline the KYC process and remove pointless expensive actors is the first step that startups can take to ensure compliance. Technology also eliminates wait times, eliminates clerical errors, and guards against expensive hacks.
Efficient
Normally, the ID verification procedure is slowed down by manual processing because of mistakes, postal delays, and general workplace apathy. Long processes that require a variety of third-party verifiers frequently result in onboarding failures.
According to a study by Thomson Reuters, commercial customers' KYC applications now take 18% longer to complete. Due to KYC issues, 12% of businesses have switched banks.
Additionally, each time a customer applies for a new financial instrument, they must complete KYC forms. Other products and services are progressively being included in this practice. By incorporating an automated KYC verification solution, startups can significantly speed up their customer onboarding process and get accurate results at the same time.
Convenient for the Customer
Clients become impatient with lengthy or difficult identity verification procedures. Instead, they seek alternatives that are simple and easy to go through. Startups should adopt a system that enables customers to quickly verify their digital identity rather than the conventional way of filling out numerous forms. They should also make sure that customers can easily and quickly get their data validated and maintained.
Furthermore, by using an easy-to-use KYC compliance solution, startups can reduce the expenses of staff training. They can eliminate a considerable amount of the oppressive cost of specialized training and pricey compliance officers.
What Shufti Pro Offers
Robust identity verification measures are one of the keys to the success of any startup. Apart from securing the customers' accounts, these solutions maintain the brand value and prevent startups from getting bankrupt due to non-compliance fines.
Shufti Pro offers a robust KYC verification solution for startups to manage their costs while securing their operations from fraudulent entities. Our cutting-edge technology eliminates middlemen, accelerates workflow, and lowers prices. Startups and FinTech service providers can verify their customers' digital IDs with the help of Shufti Pro's state-of-the-art solution. 
Want to learn more about our KYC verification solution for startups?