BEFORE YOU GO...
Check how Shufti Pro can verify your customers within seconds
Request Demo
No thanks
The growing danger of cybercrime and data breaches has heightened the demand for effective verification solutions. Threats to a company's security could result in substantial financial loss and a damaged reputation. The two most common methods currently used by businesses to verify a customer's identification are biometrics and face recognition.
Video KYC is a quickly developing identification method that uses live video contact with the intended customer in conjunction with identity documentation. Video Know You Customer solutions protect businesses and customers from online fraud by confirming the customer's digital identity. According to recent reports, approximately 97% of clients agree that video interactions help build a solid clientele and inform prospective buyers.
Video KYC Regulatory Requirements
Financial institutions in the United States are not mandated by law to use video KYC at this time. However, Know Your Customer (KYC) requirements vary by nation, and video KYC is required or permitted in certain places. Here are a few notable cases in point:
Spain:

In 2018, the anti-money laundering agency in Spain approved

banking institutions' video KYC

procedures.

European Union:

A qualified electronic signature (QES) certificate can only be granted once an individual has undergone video verification.

India:

In accordance with Section 18 of

India's Master Direction on KYC

, financial institutions in the country may use video KYC in the form of video KYC interviews.
Replace Traditional Verification Solutions with Video KYC
Customers' identities must be verified as the cornerstone of any successful business. Cybercriminals can circumvent the most common identity verification techniques. Companies are increasingly using online verification services to cut expenses in light of the rapid development of technology over the past several years. Customer identity verification is crucial for two reasons: first, it ensures that the company's customers are who they claim to be, hence reducing the likelihood of fraud; second, it improves the customer experience by bringing new services that are easy to use.
Video Know Your Customer (KYC) solutions are an innovative spin on traditional online verification processes, combining video interaction with a verification expert to authenticate users through facial recognition and biometrics. Video KYC service providers are introducing new ideas to e-commerce and corporate operations in this approach.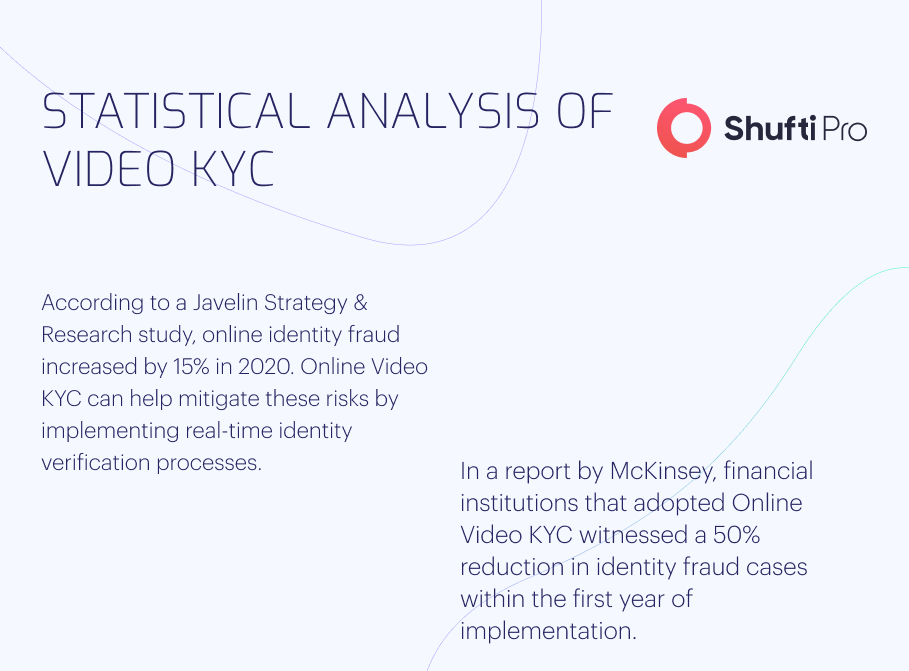 Video KYC for Identity Theft
Businesses use Know Your Customer (KYC) procedures to ascertain the legitimacy of their clientele. The primary concern of  KYC procedures is preventing identity theft. There is a high risk of employee and customer fraud in the present KYC processes due to their reliance on third-party providers. To fix the problems with current KYC procedures, Shufit Pro offers digital and video KYC identification. End-to-end encryption keeps information safe and eliminates the possibility of a breach or theft with a local installation.
Video KYC solutions that include AI-based mechanisms with a satisfactory accuracy rate come standard. In video-based verification, the necessary data from identity documents supplied by the verifying user is extracted using machine learning techniques. The user's liveness is considered when performing authentication based on established protocols.
The customer presents their face to the smartphone or computer's camera for identification, and the backend system then validates their identity. The next stage requires comparing the user's face on the screen and the paper.
Possible Impersonation Risk
The relevance of users' identities must be considered in client onboarding. The possibility of fraudulent or fictitious customer acquisition is always present for businesses. Conspirators typically choose aliases to spread their fraudulent actions. To carry out their criminal plans, they could assume a false identity to avoid legal repercussions or smear the actual person's name.
Video KYC eliminates the risk of impersonation during onboarding by requiring the customer to engage with a KYC expert in a live video setting, reveal their visual identity, and participate in a verification session by exhibiting government-issued authentic papers.
A KYC expert and automated verification systems powered by AI are essential components of the robust Video KYC process. The potential for impersonation is minimised by continuously assessing the verifier in real time.
Identity Theft and Mitigation
Along with the meteoric rise of digital goods and services has arisen the equally alarming phenomenon of identity theft committed via the Internet. According to the FTC's annual report, the agency received roughly 651,000 reports of identity theft and $1.7 billion in losses from online fraud.
The most common form of identity theft cybercriminals commit is the theft of credit card information. Millions of users' payment card details and client addresses were stolen in a cyber assault on MasterCard's Loyalty Programme in Germany in 2019. Due to the prevalence of fraudulent account openings and data breaches, online financial institutions are increasingly at risk of identity theft. Video KYC services make it possible to verify a person's identity with greater precision than a human can do on their own. It is more efficient for computers to search through databases for stolen card details.
Application fraud is another common form of identity theft in which criminals create false identities by forging official documents to create new internet accounts in the victim's name. When verifying a customer's identification online, businesses are increasingly looking for better security solutions to ensure no personal information is compromised. If a company offers online services, video KYC solutions should be part of the security arsenal. By simplifying customer authentication, they lessen the likelihood of identity theft.
Excellent Customer Experience
The credibility of a company's market reputation and its client base's loyalty are mainly built on the experience customers acquire when dealing with the company. Conversion rates to paying customers are influenced by this factor and the company's ability to keep a healthy cash flow. Both newly formed and long-established corporations place customers' needs above all else. Customers can avoid time-consuming in-person identification verification processes by using video KYC protocols instead. Using a live video chat, customers may confirm identities without leaving the comfort of their homes.
Automated verification technologies can make Video KYC processes faster and more accurate. User authentication can be achieved by presenting identity documents or facial recognition software on a mobile device. Using Video KYC services to establish a line of contact is as simple as making a video call to a friend. Businesses can improve chances of making a sale by using video verification solutions to learn more about customers' identities and then catering the material they view to those people's specific areas of interest.
Safe Onboarding
A secure customer onboarding process is the holy grail for businesses. This is because if a customer's security is breached when they utilise a service, they could pose a risk to the company or, alternatively, become a victim of the breach. To stop fraud and misuse of funds, knowing the identity of clients through video KYC solutions is crucial. An experienced observer of a video conversation could detect a fraud attempt using an impersonation or fake documents. Thus, the verification procedure gives up during the onboarding phase and instead reports invalid authentication.
When consumers use a video verification service, they can get help with the onboarding process in real time. Due to the inherent and dynamic nature of the video contact, the procedure is trustworthy. Any security breach in verifying a customer's identification could be disastrous for a company.  The customer's personal information is stored in a database for audit purposes. Using video for Know Your Customer checks removes all loopholes and makes the onboarding process open and honest.
Reduced Operating Expenses
To maintain a healthy cash flow, businesses continually look for ways to cut expenses. The company's growth depends on keeping the incoming revenue to operating expenses ratio stable. Unlike relying on time-consuming and costly manual processes, businesses can save money on operating costs using Video KYC solutions by establishing a more streamlined online identification system.
To increase the possibility of internet firms investing in services, video KYC providers are developing low-cost video verification methods. It is crucial to keep a good client experience while cutting down on the costs of KYC verification. Clients can save money on onboarding costs thanks to video KYC, and the business can save money on its operations costs.
How can Shufti Pro Help Businesses?
Shufti Pro introduces a robust video KYC solution that harnesses the potential of artificial intelligence algorithms, leading to a revolutionary approach to identity verification via video calls. Our platform effectively counters the rising threats of deep fakes, impersonation attacks, and fraud by utilising advanced AI. With Shufti Pro's cutting-edge video verification, businesses can ensure adherence to global regulations, avoiding severe penalties and maintaining their reputation. Beyond compliance, our solution enhances customer experiences, fostering a positive brand image and building trust.
Shufti Pro redefines the landscape of Video KYC verification by offering a streamlined onboarding process that surpasses industry standards. Our approach covers the essentials and ensures an unmatched accuracy rate of 99% in compliance checks and risk assessments. Simplifying global verification, we cater to over 10,000 ID types, 150 languages, and 230+ countries, making the process comprehensive and inclusive. With zero integration complexity, businesses save valuable time, while our interactive back-office feature enables live video interactions, instant verification, and even proof of address validation using original ID documents. Integrating liveness detection through facial recognition bolsters security measures while including a written consent note enhances verification. Shufti Pro's video KYC solution exemplifies efficiency, user-friendliness, and precision, setting new standards in the industry.
Want to know more about how Shufti Pro video KYC solutions help to eliminate the risks of identity theft?