BEFORE YOU GO...
Check how Shufti Pro can verify your customers within seconds
Request Demo
No thanks
In today's digital era, the escalating prevalence of identity theft poses a significant concern, affecting individuals and businesses. Cybercriminals exploit increasingly sophisticated tactics and use vulnerabilities to expose sensitive information, exposing victims to severe repercussions. The Federal Trade Commission (FTC) has received over 1.1 million identity theft reports in 2022. With the increasing instances of identity theft, it has become evident that traditional identity verification methods no longer offer adequate protection. This is where video Know Your Customer (KYC) verification comes in. Let's dive deeper into the most Frequently Asked Questions (FAQs) about video KYC verification. 
FAQ 1: What is Video KYC?
Video KYC is a digital process companies use to verify their clients remotely. It involves conducting a live video session between a customer and a representative of the organisation to comply with KYC regulations. Face verification technology is often used to match the client's face with the picture on the provided document, improving the accuracy of the validation process.
Video KYC offers several advantages over traditional KYC methods. It eliminates the need for physical presence, allowing firms to reach a broader customer base and reducing operational costs. It also enhances security by minimising the risk of document forgery and impersonation, ensuring higher accuracy in customer verification. Video KYC provides customers with a seamless and convenient onboarding experience, enabling them to complete the verification process from their homes.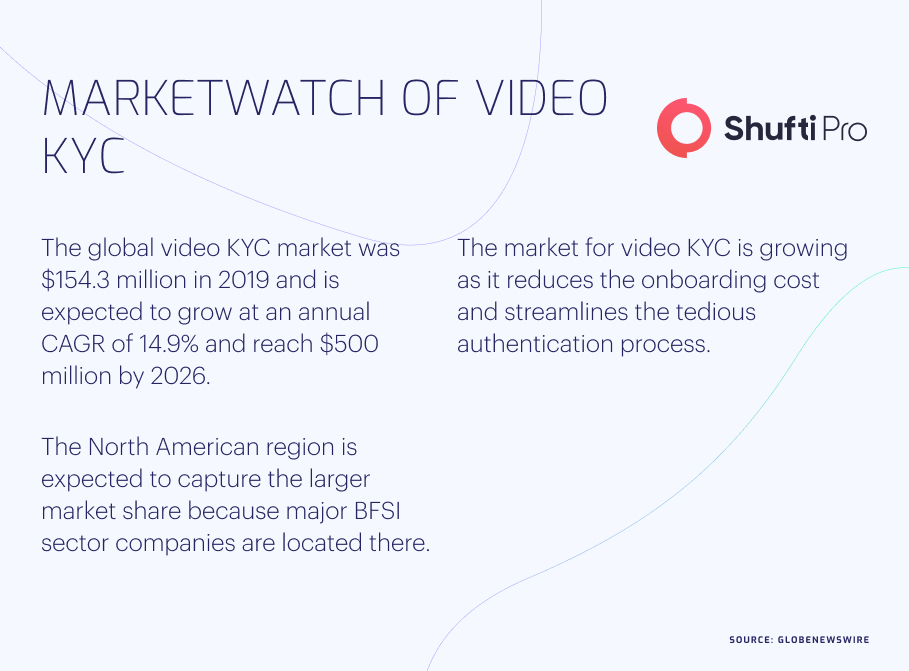 FAQ 2:  How Video KYC Works
Video KYC involves a live video interaction between the customer and a representative of the institution, typically through a mobile or web-based application. During the verification process, the customer must present their original identification documents, such as a passport or driver's licence, in front of the camera. The representative verifies the authenticity of the documents by comparing them with the customer's appearance in real time. The video session is often recorded and stored for future reference to enhance security. Additionally, advanced technologies like facial recognition and document authentication software may be employed to ensure the integrity of the process.
FAQ 3: What is the Difference Between Digital KYC and Video KYC?
Digital KYC and video KYC are two distinct customer identification and verification methods. Whilst they both have the same purpose, there are some significant differences.
Digital KYC refers to the process of verifying a customer's identity through online channels without the need for physical interaction or live video sessions. It typically involves the customer submitting their identification documents, such as scanned copies or digital images, and other relevant information through a secure online platform. The verification is then conducted by the institution using automated tools and databases. On the other hand, a Video KYC solution involves a live video interaction between the customer and a representative of the institution. The customer presents their original identification documents in front of the camera, and the representative verifies the authenticity of the documents in real time. The video session is often recorded for future reference.
They mainly differ in the level of interaction and the mode of verification. Digital KYC relies on the customer's submission of documents electronically, whilst video KYC adds the element of live video interaction for a more thorough verification process. Both methods offer convenience and efficiency, but video KYC provides an added layer of security and reduces the risk of impersonation or fraudulent activities.
FAQ 4: What are the Benefits of Video KYC?
Video KYC offers several benefits compared to traditional KYC processes.
It provides convenience and accessibility to customers. With Video KYC, individuals can complete the verification process remotely, eliminating the need for physical visits to a branch or office. This saves time and effort, especially for those in remote locations or with busy schedules.

Video KYC enhances security and reduces fraud. The live video interaction allows for real-time identity verification, ensuring the person being verified is present and authenticating their identity. This helps prevent impersonation and

identity theft

, making it a robust solution for financial institutions and other businesses.

Video KYC improves efficiency and reduces costs. Automated verification and AI-powered technologies streamline the KYC process, reducing manual effort and associated expenses. This allows businesses to onboard customers faster and allocate resources more efficiently.
Overall, Video KYC offers a seamless, secure, and efficient method of identity verification, benefiting both customers and businesses alike.
FAQ 5: Is Video KYC Mandatory?
In some countries, regulatory bodies have made it mandatory for specific sectors such as banking, insurance, and financial services. These regulations aim to enhance security, prevent money laundering, and comply with Anti-Money Laundering (AML) and Countering Terrorism Financing (CTF) measures.
Video KYC may also be mandatory for specific transactions or account openings that involve higher risk or more significant sums of money. It provides an extra layer of authentication compared to conventional KYC methods. However, it's important to note that regulations can differ across jurisdictions, and businesses should comply with the specific requirements of the regions in which they operate. It is advisable to consult legal and regulatory authorities or seek professional advice to determine whether video KYC is mandatory in a particular context.
How Can Shufti Pro Help?
Shufti Pro offers an AI-powered video KYC solution to 230+ countries and territories. Our robust video verification solution is personalised 
and specially crafted for diverse industries. It verifies identities within seconds, helping firms prevent identity theft and fraud and comply with KYC regulations to avoid hefty fines. 
Still confused about how a video KYC solution protects businesses from identity theft?