BEFORE YOU GO...
Check how Shufti Pro can verify your customers within seconds
Request Demo
No thanks
Cryptocurrencies have been around for a decade and investors have found a feasible option for investment in the form of digital currency. Although high in demand with huge reserves, cryptocurrency still has a long way to compete with fiat currencies and get adopted as a payment mode across the globe. adopt a global mode of payment. Due to high vulnerability, criminals have also found good chances of financial crimes using crypto. With emerging technologies, the nature of crime is getting sophisticated, compelling law-enforcements to adopt advanced Anti-Money Laundering (AML) and Know Your Customer (KYC) solutions to curb fraudulent activities.
Australia has a huge market for cryptocurrency and within the last few years, the country has achieved significant milestones in regularizing it. The crypto-adoption rate in Australia has jumped from 30% in 2020 to 56% in 2022 showing a massive hike in people opting for digital currency. First regulated in 2017, the crypto industry in Australia is in dire need of effective AML solutions to counter bad actors in the system.
Australian Government's Stance Towards Cryptocurrency
Although Australia has not equated digital currency with fiat currency, it has relatively stable regulations towards cryptocurrency. The Reserve Bank of Australia (RBA) has not indicated any immediate plan to issue digital dollars but it has advised Financial Technology (FinTECH) sector to explore the implications and potential use of digital currency in monetary operations. Cryptocurrency exchanges were made legal by the Australian government in 2017 and since that time, all financial regulators have implemented a progressive approach towards it letting a large number of people invest in crypto.
In 2018, several cases of money laundering using multiple crypto coins surfaced which pushed the law-enforcement authorities to take strict action against individuals and exchanges involved in crime. In the wake of this, Australian government amended AML laws to protect crypto investors from financial losses and restrict money laundering through preventive measures. It has become mandatory for all exchanges to identify their users while keeping all financial records and complying with AML/CFT measures.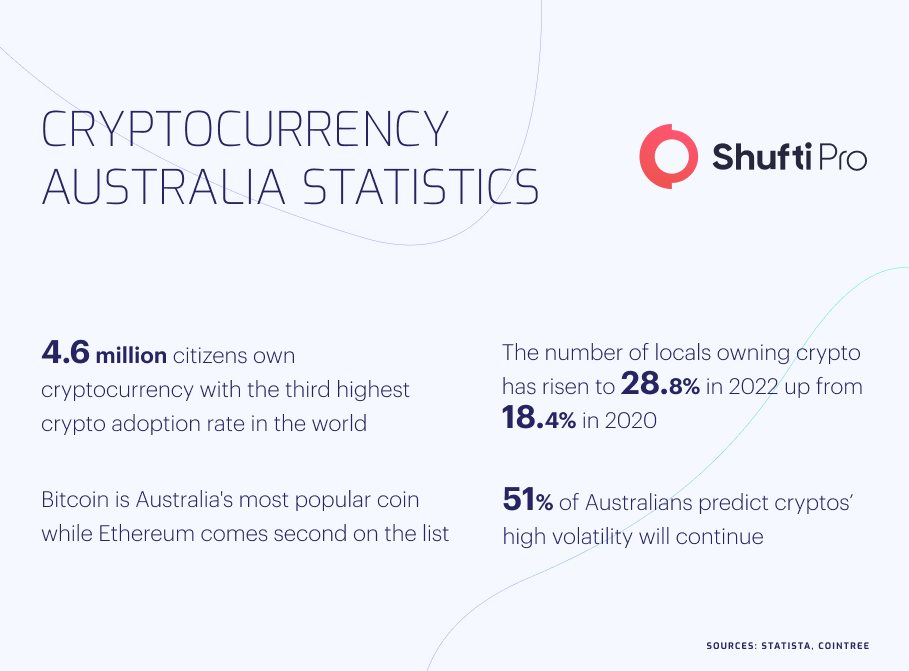 High-Profile Crypto Money-Laundering Cases in Australia
Australian financial regulators have cracked down on several gangs involved in money laundering and terror financing using cryptocurrency. The courts are also working tirelessly to penalize all such criminals to discourage the abuse of cryptocurrency for financial crimes.
Australia Seizes Crypto in J5-Aided Money-Laundering Bust
Australian police in collaboration with five other law-enforcement authorities (J5) conducted a raid in Canberra and seized millions of dollars in cryptocurrency. The gang was involved in drug trafficking while using illicit money to buy crypto, and further laundering it through different exchanges to other countries.
The National Criminal Assets Confiscation Taskforce has confiscated more than $7 million of assets including luxury goods, properties, and cryptocurrencies. Police have filed a lawsuit against culprits and criminals are yet to penalize as per AML/CFT law.
Cryptocurrency Teller Machines and Drug Seized in Raid by Police
In New South Wales, a joint raid by police and other regulatory authorities has resulted in the seizure of drugs and a large number of cryptocurrency teller machines. Investigations have found that criminals were involved in drug trafficking and high-level illegal cryptocurrency mining. They were using the crypto as a source of laundering money out of the country and inquiry of illegal transactions is still going on to decide fate of culprits.
A Deep Dive into Efforts Made By the Australian Government to Regulate Cryptocurrency
Australian Minister for digital economy has recently announced that they are working to enforce strict regulations over cryptocurrency to let people invest safely. The authorities are issuing "Australian Badge of Approval" for all verified exchanges and coins after strict scrutiny. All exchanges with approval badges will be considered legit and safe platforms for investors to invest their money. The government is also in the middle of introducing custody requirements for crypto assets which will let crypto investors access their digital money across the border.
The cryptocurrency transactions in 2022 have surged by 63% which has compelled the authorities to take crypto into tax net by making it secure for investments. The country is also working to broaden its payment laws to cover digital transaction providers particularly Apple Inc. and Alphabet Inc. which will assist consumers in buying/selling cryptocurrencies. Moreover, the Australian government is also first one to implement "Token Mapping" strategy, tracking all crypto transactions and eradicating financial crimes particularly money laundering and terror financing.
Regulatory Bodies Monitoring ML/TF Through Crypto in Australia
The rising crime ratio and financial irregularities in Australia have forced the authorities to legislate laws while forming local bodies to monitor crypto operations. At the time, multiple institutions are working tirelessly to eradicate the chances of money laundering through cryptocurrency.
Australian Transaction Reports and Analysis Centre (AUSTRAC)
AUSTRAC is the primary regulatory body implementing AML/CFT laws on crypto exchanges. AUSTRAC has issued detailed guidelines to tackle the criminal abuse of digital currencies. AUSTRAC is periodically issuing reports highlighting loopholes of cryptocurrency exploited by criminals. AUSTRAC has made it mandatory for exchanges to implement KYC and AML measures to identify investors and screen data against the global sanctions lists.
Australian Securities & Investments Commission (ASIC)
ASIC, working under the guidelines of the Securities and Investment Commission Act is another notable regulatory authority to monitor cryptocurrency in Australia. ASIC has instructed all citizens to report suspicious activities in cryptocurrency operations through their portal. In the recent past, ASIC has sacked several individuals and exchanges involved in money laundering and other monetary crimes.
KYC and AML Compliance for Crypto in Australia
Australia is one of the countries having higher rates of digital transactions and crypto investments. Increasing money laundering cases can put a huge setback to overall cryptocurrency operations and users' experience. Criminals involved in ML/TF usually disguise their identities and use stolen data to exploit the system. KYC measures are the only viable solutions for monitoring crypto and verifying the true identities of users. KYC practices particularly document verification and facial recognition can help the Australian authorities stay compliant with global regulations. Moreover, AML screening checks are also critical for crypto firms to screen data of investors against global sanctions and Politically Exposed Persons (PEP) lists, eliminating criminals from the system.
How Shufti Pro can Help?
Robust Know Your Customer (KYC) and Anti-Money Laundering (AML) screening solutions are imperative for cryptocurrency firms to ensure safety for investors. All these practices are also recommended by global watchdogs including FINTRAC and FATF which have improved the overall system. Shufti Pro's state-of-the-art KYC and AML screening solutions are feasible options for Australian crypto exchanges to stay compliant with international financial standards. With advanced criminal approaches by bad actors, the digital currency has become a vulnerable sector and is in dire need of stringent KYC/AML checks.
Powered by thousands of AI algorithms, Shufti Pro's AML solution has access to 1700+ global sanctions and PEP lists and screens users' data against them while providing output in less than a second with 98.67% accuracy
Want to know more about KYC/AML screening solutions for crypto firms?