BEFORE YOU GO...
Check how Shufti Pro can verify your customers within seconds
Request Demo
No thanks
Compliance with Anti-Money Laundering (AML) requirements is challenging for financial organisations in today's digital age. Criminals are getting more ingenious at finding ways around security measures with every new technological advancement. To counter this, rising technologies like face-liveness detection have emerged to verify digital identities.
The idea of facial recognition technology is not new, but advances in technology have led to widespread implementation. Due to its broad use, it is now used for purposes as diverse as airport screening, identifying criminals, and bank account opening.
In addition, facial recognition technology is used by several web apps, social media sites, and mobile devices to safeguard accounts and make sign-ups frictionless. Facial recognition systems have also been implemented in several businesses to reduce the prevalence of ID fraud and theft. 
 The Significance of Face Recognition in Authentication Procedures
Facial recognition technology can help reduce the incidence of identity fraud in the current climate when such crimes are commonplace. AI-backed facial recognition technology has advanced to identify individual human features successfully. Many organisations can significantly benefit from using this technology to reduce the likelihood of identity theft, account takeovers and much more.
During the previous year, IBM found that fraud has become a growing worry for 72% of corporate leaders. By 2025, it is estimated that global fraud losses will total $US44 billion.
Facial recognition examines the individual's unique facial traits throughout the verification procedure, including the size and shape of the face, eyes, and nose. After that, it creates a digital representation of your face, which you can use later to identify the end-user.
A database of other templates, such as those from government-issued IDs or user profiles, is compared to this one. When a user's credentials are checked against those stored in a database, a positive result means they have been successfully identified and can proceed to use the requested service or platform.
Here are some examples that show the significance of face recognition technology in the FinTech world:
Face Recognition Onboarding For Business Clients By Mashreq, UAE Bank
One of the first banks to allow major corporate banking clients to open online accounts with facial recognition is Mashreq, a digital bank based in the United Arab Emirates.
Applicants with valid Emirates IDs can upload their signatures via smartphones and give their approval via a five-second live video feed, all of which are verified via facial recognition technology via the UAE Ministry of the Interior database.
After striking an agreement with the Ministry of Interior, the Dubai-based financial institution began allowing UAE nationals to register bank accounts using facial recognition technology.
The UAE pass digital identity project reached a significant milestone in June, when 5 million digital IDs were registered. Biometric identity, digital signatures, and verification can all be found in the digital ID.
Remote Account Opening For Various Biometric Passports At Singapore Bank
Malaysian, Indonesian, Mainland Chinese, and Hong Kong citizens who hold biometric passports will soon be able to create bank accounts digitally in Singapore with OCBC, the country's oldest bank.
The new program is designed to help people moving to Singapore for employment, education, or permanent residency. The central business district has long been a favourite among successful people. The OCBC Digital app will use face recognition technology to enable remote registration for new users.
OneConnect Financial Technology, a Chinese conglomerate Ping An Group subsidiary, has developed a digital onboarding procedure based on its Know Your Customer (KYC) approach. The bank serves clients around Asia and Greater China by employing facial recognition technology for in-branch identification.
EU Enterprises Adopted Face Recognition For Client Identification
Facial recognition is an integral part of the Know Your Customer (KYC) mix as companies in the EU and beyond continue to digitise and switch to remote KYC processes.
Let's look at visual examples to show how important facial recognition will be:
More and more businesses and organisations that deal directly with the public, such as banks, online casinos, and government agencies, are turning to face recognition technology to confirm the identities of their customers.

Nearly all airports (

97%

) intend to implement facial recognition systems by 2023. All 20 of the busiest airports in the United States utilise facial recognition systems to check in foreign visitors, including citizens of the United States.

Facial recognition technology to communicate with visitors may be used by 72% of the hotel industry

by 2025

.
Unfortunately, the number of complex facial fraud attempts has increased due to the popularity of facial recognition and the growing reliance of secure organisations on face biometrics for client authentication.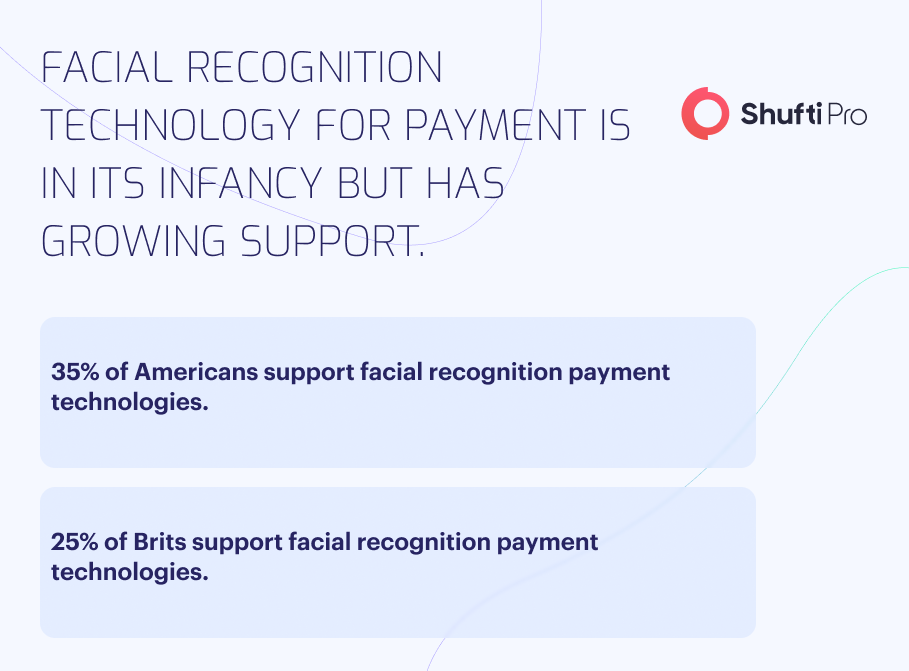 Use Cases Of Facial Recognition Technology in FinTech
Banks increasingly use biometrics like facial recognition to verify customers' identities and protect their funds. It can be used with mobile banking and ATMs instead of a password, token, signature, or PIN for in-branch services. Biometric authentication in banking measures benefits banks by increasing security and improving client service. Check out these biometric banking uses.
The onboarding procedure for new customers at financial institutions can be streamlined with the help of facial recognition technologies. Customers are often required to physically visit a branch and produce documents as part of the Know Your Customer (KYC) verification required by law and an integral element of the onboarding process. However, this might take several days or weeks. Customers have come to expect ease of use from all services they interact with, and technological advancements have made it possible for systems to provide this. Examples of biometrics in banking include facial recognition, which provides both security and speed in customer onboarding.
Several wealthy nations have seen an increase in the use of biometrics in automated teller machines, particularly PINs supplemented by biometric qualities like facial recognition and fingerprint scanning. This is because they function well in ATM setups: they are quick, accurate, and don't take up much room. So, it's unsurprising that more banks are installing biometrics-enabled ATMs.
There has been a meteoric surge in the use of mobile banking apps. According to studies, 79% of smartphone owners have made online transactions in the last 12 months, with 70% of millennials using mobile banking. However, the rising number of fraud incidents since 2015 indicates that these platforms still lack adequate protection. Facial biometric authentication in online banking protects against unauthorised use of banking services, including Know Your Customer (KYC) checks and transaction identification. Banks increasingly turn to facial recognition authentication as a safeguarding strategy because of the importance of protecting their customers' personal information. 
 The Methods Criminals Use to Avoid Being Recognised by Face
 Criminals are always developing new methods to get around the use of facial recognition software during new client signups.
Their goal is to circumvent safeguards by making fake accounts. Some of the most frequent methods they use are as follows:
Presentation Attacks.

Criminals try to fool face recognition systems by utilising fake photos, masks, or even recordings of the real account holder. The goal of these assaults is to trick the system into thinking that the spoofed image is real so that the attacker can then use the account to commit fraud.

Deepfakes.

With the help of deepfake technology, con artists may generate films or images that fool the eye into thinking they are seeing the actual thing. Deepfakes allow an attacker to trick facial recognition software by employing a photo, video, or computer-generated image of a person that looks pretty similar to the target.
According to Jeramie Scott, national security counsel at the EPIC, "Google and other internet giants are increasingly using facial recognition, which is a privacy nightmare without adequate safeguards." Google may say for the time being that app photos will not be used for any other reason, but such promises are meaningless as long as the company is free to change its mind at any time.
Businesses must use multi-factor authentication strategies, such as combining biometric technologies like facial recognition with other verification forms. By using additional security measures, businesses can reduce their vulnerability to fraudulent account creation. Maintaining a reliable and secure client onboarding process also requires upgrading and enhancing facial recognition algorithms to preempt emerging attack attempts. 
Summing Up
 Facial recognition technology mixed with machine learning and artificial intelligence can produce five times more accurate findings than human attempts. Due to its remarkable accuracy, face recognition has become the banking industry's identity verification method.
At Shufti Pro, we have AI-driven facial recognition solutions. Our facial recognition will provide the results you need, whether you need to authenticate the identification of your users, clients, or customers in person or via a digital image or video frame.
In a matter of seconds, our facial recognition system can scan 160+ face points, making it ideal for fraud detection, account security, and user onboarding. With a streamlined facial verification process, you can check hundreds of IDs in an hour, doing away with passwords, decreasing drop-off rates, and improving the customer experience.
Want to learn more about facial recognition services?