BEFORE YOU GO...
Check how Shufti Pro can verify your customers within seconds
Request Demo
No thanks
Imposters often "launder" money acquired through illegal activities, like drug trafficking, so that it can't be traced back to them. Almost 99% of the illegally-acquired cash goes undetected, making an Anti-money Laundering (AML) compliance solution necessary. It's a continuous process that contains everything a business does concerning compliance, such as user-processing policies, internal operations, account monitoring, and money laundering reporting.
An AML compliance programme seeks to recognise and respond to threats such as money laundering, terrorist financing, and fraud. To develop a robust AML solution, enterprises must consider the fundamental pillars of AML compliance.
Diving Deeper into 5 Pillars of AML Compliance
The latest version of the Bank Secrecy Act outlines the fundamental pillars of compliance. Let's dig deeper into the pillars of AML compliance.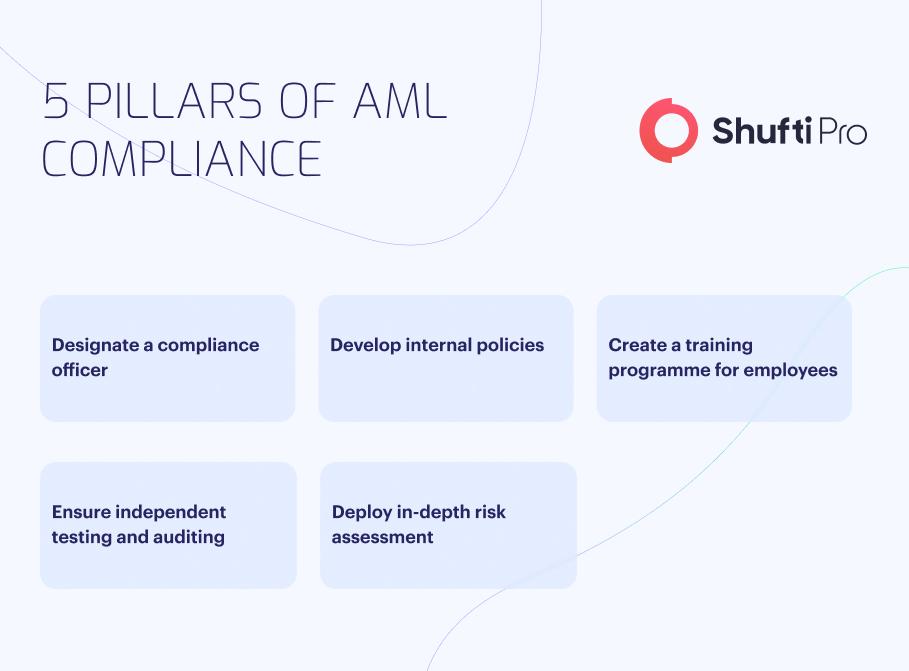 1. Designate a Compliance Officer
The first step is creating a robust AML compliance programme, businesses need to appoint a compliance officer. This designated individual serves as a central figure for all AML-related activities in the organisation. Their job is to assess current processes, determine where the company can improve, and formulate new policies. Not only this, but the compliance officer also provides a strategy that abides by all the latest AML regulations, and it is implemented throughout the organisation.
The ideal officer is familiar with the organisation, has experience setting and supervising regulatory procedures, and proactively resolves issues as they arise. Hiring someone who can better connect with the workforce and communicate the significance of compliance is also essential. With such measures, employees will be less likely to see compliance as a hindrance to their daily operations and more likely to understand why it is essential to abide by AML regulations.
2. Develop Internal Policies
The next step is to draft internal policies, monitoring suspicious activities effectively whilst ensuring that relevant cases are accurately reported to bodies, such as the Financial Crimes Enforcement Network  (FinCEN).
In practice, this is to integrate solutions like identity verification to help check the authenticity of the client data to ensure they satisfy compliance standards. Automated cloud-based systems help reduce the turnaround time between submitting data and getting results. This ensures safely conducting business with legitimate customers and quick detection of any suspicious profiles, mitigating the risk of any fraudulent activity.
3. Create a Training Programme for Workers
After developing an AML policy, the compliance officer and their team should design a training programme to ensure compliance with BSA standards. The training must focus on the latest finance market trends and discuss red flags, including significant transactions and unusual customer behaviour. For example, many financial institutions adopt Environmental, Social, and Governance (ESG) policies to meet customer expectations. Another thing worth considering is giving novices training every few months, ensuring AML compliance knowledge is refreshed and up-to-date with ongoing regulatory changes.
4. Ensure Independent Testing and Auditing
Although training employees and evaluating AML programmes is essential, fulfilling BSA standards is more than this. It requires regular testing and auditing of the company's compliance programme by accredited third parties. The third-party tests help discover loopholes and gaps in the existing compliance programme and give direction in areas which require remediation; it can also provide independent confirmation of compliance, assuring that due diligence is upheld.
5. Deploy Comprehensive Risk Assessment
AML compliance's five pillars now include FinCEN's Customer Due Diligence (CDD) rule, which was implemented in May 2018. The law mandates businesses to validate clients' identities and perform ongoing monitoring to spot and report unusual transactions.
The CDD rule requires a risk-based strategy, organisations must assess the risk that consumers and transaction requests pose, and higher risk calls for greater oversight to reduce the possibility of fraudulent transactions. For instance, requesting further information from a client or looking into additional signs before accepting their account is crucial. This is especially required when the IP address is registered in a nation with a high rate of money laundering.
​​Why are the Pillars of AML Compliance Crucial for Businesses?
Here is how a five-pillar compliance programme helps businesses in this digital age:
Improve Regulatory Compliance
The business is exposed to regulatory risk if it doesn't follow AML regulations. Several penalties exist for failing to file Suspicious Activity Reports (SARs). This isn't just a hypothetical situation, companies pay hefty fines yearly for breaching AML regulations. Establishing a robust AML compliance programme aids in lowering the risk of possible regulatory breaches and penalties.
Boost Customer Satisfaction
Before establishing a relationship, customers seek assurance from your company that their money and financial transactions are secure. If the company does not have a robust AML solution, clients are concerned that they will not have full access to their assets or money if the firm engages in fraudulent activity. This is particularly true when there is a significant breach of AML regulation, and government auditors become involved. A robust AML solution makes customers feel confident that they are ready to handle and reduce money laundering concerns and that they are safe there.
Enhance Operational Flexibility
AML regulations continuously evolve to meet the changing needs of businesses and combat the ever-changing fraud threats. A flexible compliance solution will make it easier for the company to stay updated on the evolving standards and introduce new rules into existing frameworks.
Stay Compliant with Shufti Pro
Shufti Pro is the leading AML solution provider, helping companies reduce the risk of dirty money and abide by global regulations.
Here's what Shufti Pro's AML solution brings to the table:
PEP screening and sanction list monitoring within seconds

Single API integration 

Performing ongoing screening to flag high-risk clients
Still confused about how an AML screening solution works?