BEFORE YOU GO...
Check how Shufti Pro can verify your customers within seconds
Request Demo
No thanks
To strengthen the EU's Anti-Money Laundering and Countering the Financing of Terrorism (AML/CFT) rules, the European Commission issued a new AML proposal on July 20, 2021. The EU AML draft consists of four legislative proposals. These proposals, more commonly referred to as the AML Legislative Package, have been published to streamline compliance processes through the creation of a harmonious and consistent framework of AML/CFT rules throughout the EU. 
The proposals will help tackle issues related to the detection of suspicious activities and transactions, and will also eliminate existing loopholes that criminals currently exploit. As stated in the EU's Security Union Strategy for 2020-2025, enhancing the country's AML/CFT framework will provide Europeans with a chance to protect themselves against terrorism, money laundering, and other organized crimes.
What's included in the New EU AML Proposal 2021?
The following legislative proposals have been laid out:
A New EU Authority for AML and CFT (AMLA)

A Single EU Rulebook for AML/CFT

AML/CFT Rules on the Crypto Sector

A Sixth Directive on AML/CFT, Which Revokes AMLD4
Let's take a closer look at what's included in these proposals, one by one. 
1- A New EU AML Authority (AMLA)
The European Union was brought into the global spotlight after various member states launched an investigation into Denmark's largest bank, Danske Bank, that facilitated suspicious transactions worth over 200 billion euros through its small Estonian branch between 2007 and 2015. Historically, the EU has had to rely on national authorities for the implementation of AML policies in such instances. 
To fix this, the formation of a new Anti-Money Laundering Authority (AMLA) has been positioned at the heart of the new AML Proposal. The AMLA will aim to address the current shortcomings in AML/CFT supervision within the EU. It will act as the central authority that monitors coordination between national authorities to ensure that anti-money laundering rules are applied with consistency across all the member states. The AMLA will also enable cooperation among national FIUs (Financial Intelligence Units) and facilitate joint analyses among them for the efficient detection of illegal cross-border financial flows. 
Suggested Read: Danske Bank Facing the Long-term Cost of Money Laundering
2- A Single EU Rulebook for AML/CFT
The second proposal suggests the transfer of provisions from the AMLD4 (Fourth Money Laundering Directive) to a Regulation – one that will be directly applicable in all EU Member States. This step is being proposed to address the European Commission's concern that while the AMLD4 has widespread application, the directive is currently fragmented. 
The single rulebook for AML/CFT in the EU will provide a number of key changes to create harmony. For instance, it will provide more elaborated rules on CDD (Customer Due Diligence), Beneficial Ownership and the authority and tasks of financial supervisors and FIUs. Additionally, the existing centralized bank account registers will become interconnected, and their access will also be provided to law enforcement agencies. This will not only expedite fraud investigations and recovery of stolen assets, but will also create transparency in the AML framework.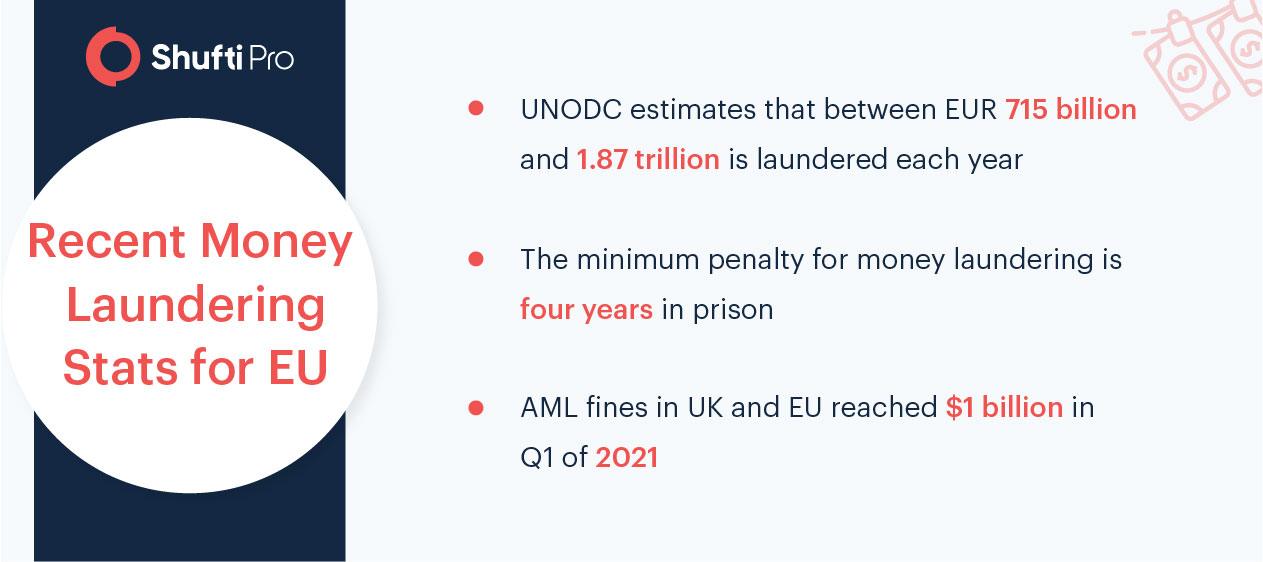 3- Expanding Traceability Requirements on Crypto
At the money, AML/CFT rules for crypto in the EU are only applicable to certain types of service providers. This fragmentation leaves room for criminals to exploit the loopholes to their advantage. Here's what the European Commission's report states:
"The lack of such rules leaves holders of crypto assets exposed to money laundering and financing of terrorism risks, as flows of illicit money can be done through transfers of crypto assets."
The new EU AML proposal will bring the entire cryptocurrency sector under the scope of AML regulations, mandating all service providers to perform due diligence on their customers. Additionally, anonymous cryptocurrency will be prohibited under the new rule. This suggestion has been added to ensure complete traceability of cryptocurrency transactions, allowing the timely prevention and detection of money laundering and other prevalent crimes committed through digital currencies such as Bitcoin. Furthermore, stringent data collection standards in the crypto space have been proposed. 
Suggested Read: Money Laundering Through Cryptocurrency: Red Flags and AML Risks
4- AMLD6, Which Revokes AMLD4
The last proposal suggested the implementation of the 6th Anti-Money Laundering Directive, repealing the current AMLD4. This Directive will contain guidelines that will be transposed into national law, such as the AML rules on national supervisors and FIUs in the Member States. 
In short, the Directive will reiterate relevant provisions of AMLD4, and add further amendments to it. These include clarifications on the powers and tasks of FIUs and financial supervisors, entities that manage beneficial ownership information, the introduction of tools to streamline risk-based supervision, details regarding the cross-border interconnection of bank account registers, and other provisions that support cooperation between National Crime Agencies, FIUs and other competent authorities. All these amendments are deemed essential by the European Commission to win the battle against money laundering and terrorism financing.
Suggested Read: EU's Sixth Anti-Money Laundering Directive (AMLD6)
Other Key Takeaways from EU's AML Legislative Package
Apart from the above-mentioned proposals, the European Commission has also pointed out how large cash payments are being used by criminals to launder dirty money. Because of this, revision of the 2015 Regulation on Transfers of Funds has also been proposed. Under the proposed rule, an EU-wide limit of €10,000 on large cash payments will be placed. What is more, is that the scope of this proposal has also been extended to include cryptocurrency transactions to bring down money laundering cases in the bloc. 
What's Next?
The EU's new AML Proposal will now be discussed by the European Parliament and Council. Currently, the European Commission is seeking stakeholder views on each of the proposed legislative measures. The consultation period is set to close on 7 October 2021.
Once the Directive has been transposed and the new AML framework has been approved, the AMLA is expected to become functional from 2024 and will commence its work of direct supervision slightly later. 
Need to automate compliance with global AML regulations? Try our 7-day free trial today or talk to our experts for more information!